MLB.com Columnist
Richard Justice
Hottest teams in AL, NL: New York, New York!
Yankees, Mets letting youth lead the way in postseason push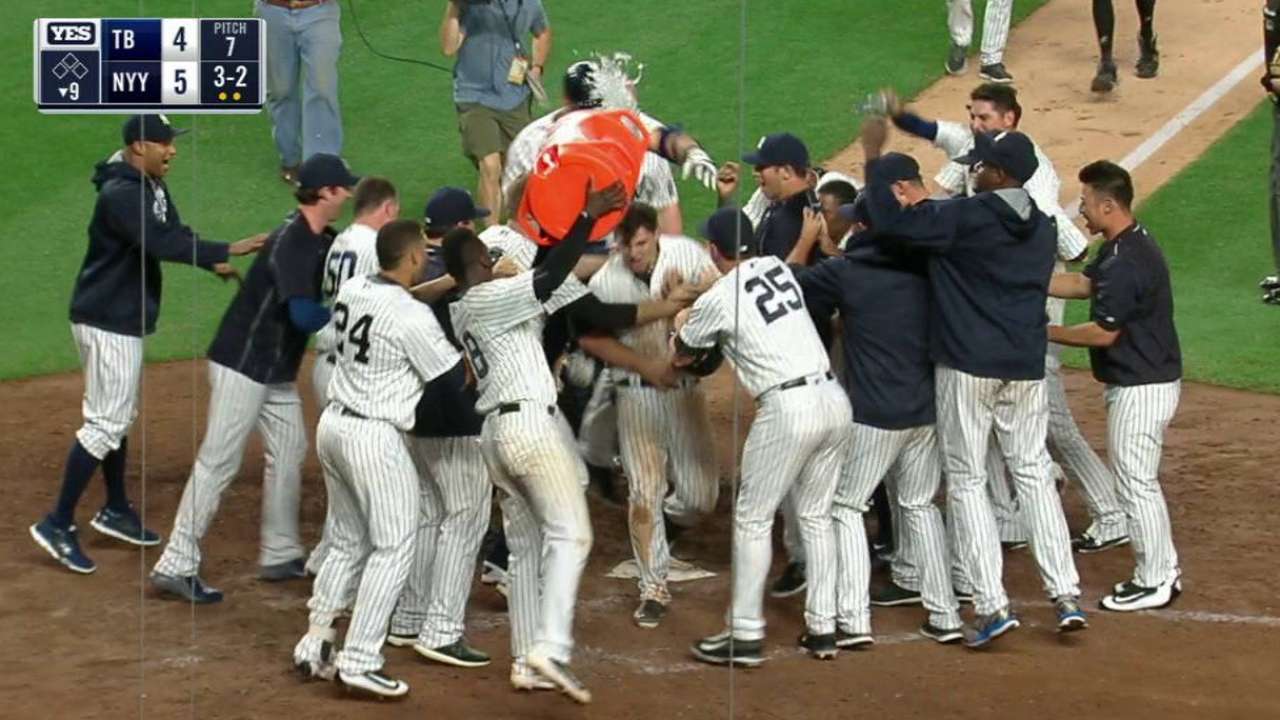 Suddenly, these New York baseball teams just might be the most interesting in the entire sport. They're living charmed lives, both of them, the Yankees and Mets.
No big deal there. Both were built to win in 2016. It's how they're winning that's so amazing. Here's to youth and energy. Here's to talent, too. Let's not sell these guys short in that part of the deal.
It's just that, well, it wasn't supposed to be this way. Not these names. Not this season.
Tyler Austin and Gary Sanchez?
Seth Lugo and Robert Gsellman?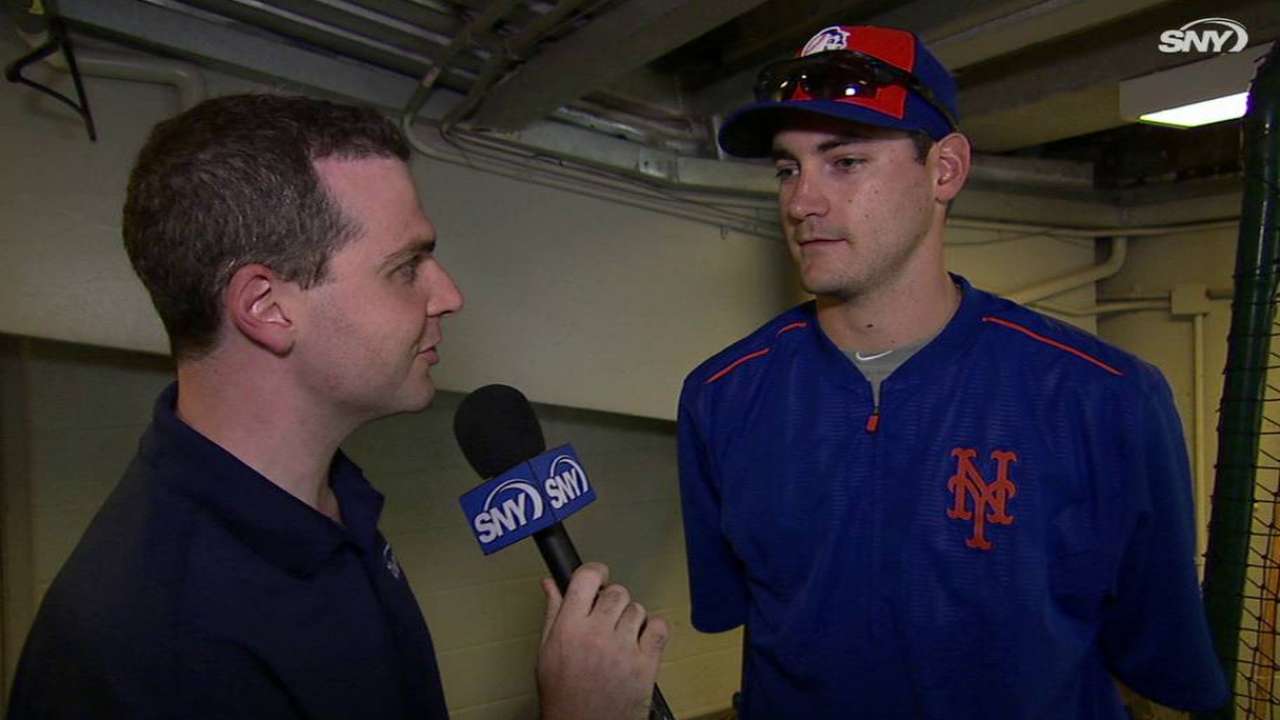 If you needed a reminder that everything has changed in baseball in recent years with how teams look at player development, this is it. Baseball has decided that those old timetables regarding player development don't matter much. It's OK to challenge young players, because if the talent is there, it'll eventually win out.
At some point this season, a lot of us figured this wasn't going to be a New York baseball summer. Once the Mets were gutted by injuries, once the Yankees decided to reload, well, see you in Spring Training, fellas.
Only that's not Major League Baseball in 2016. Kids rule. Kids thrill. Kids create possibilities.
Now this whole thing is shaping up so improbably that there seems to be some magic at play. How can these teams not end up playing postseason baseball after the strange path they've taken?
Everything the Yanks did on Thursday night sums up what baseball in New York is at the moment. Manager Joe Girardi trotted out a lineup that had five position players 26 or younger, including 23-year-old a-star-is-born catcher Gary Sanchez and 25-year-old first baseman Tyler Austin.
And when Austin led off the ninth inning on Thursday night at Yankee Stadium with the score tied at 4, it was as if the script was written in advance.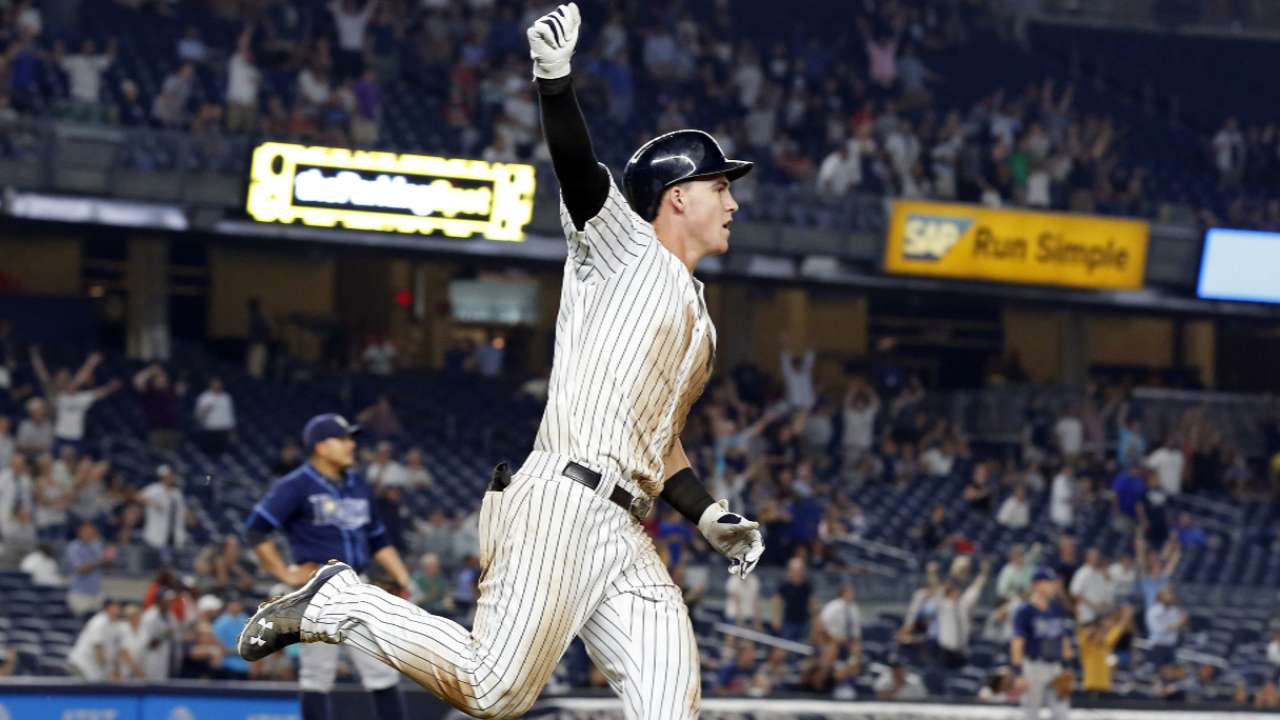 Austin and another young Yankees prospect, Aaron Judge, arrived four weeks ago with resounding home runs in their first career at-bats. It was as if this franchise with so much history had been reborn.
And so, it seemed almost preordained on Thursday night that Austin would hit the seventh pitch he saw from Tampa Bay reliever Erasmo Ramirez, a 92-mph fastball, over the wall in right field for a 5-4 victory, New York's fifth straight win.
As Austin circled the bases, his teammates spilled joyfully onto the field to greet him at home plate. Not just the kids, either. There was veteran Brett Gardner running to douse him with a celebratory shower.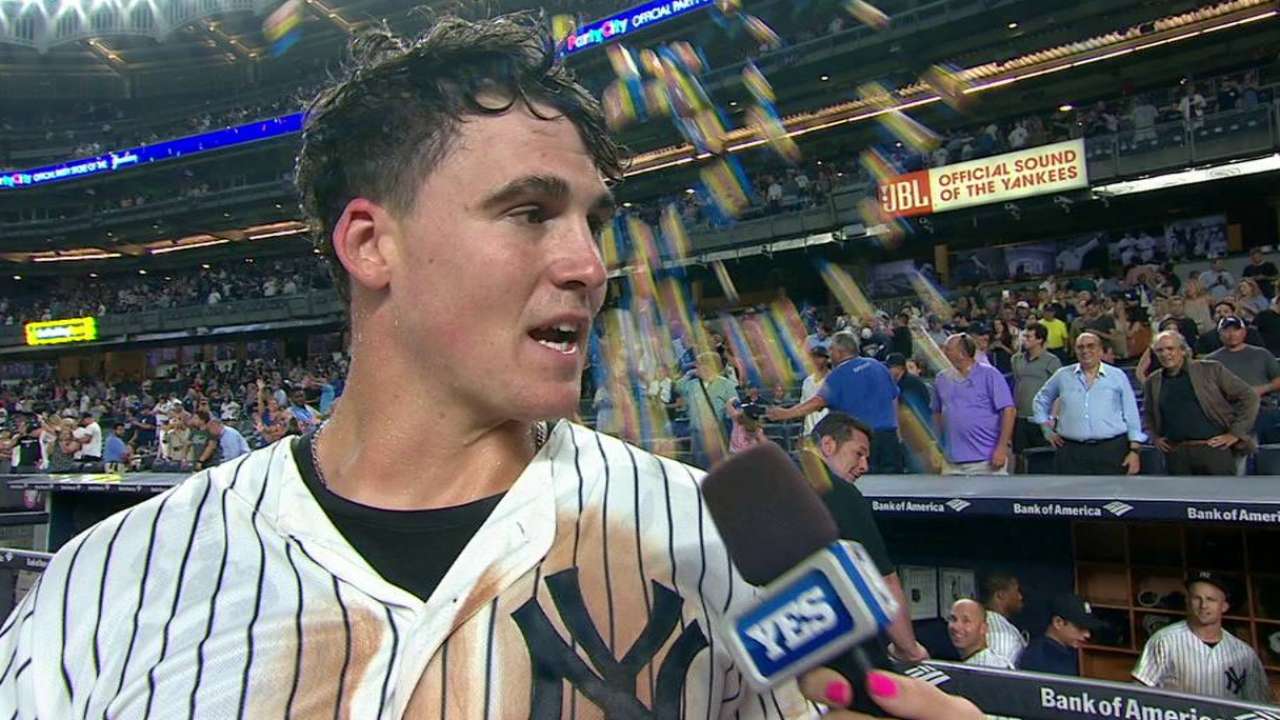 This victory was the 22nd in 35 games for the Yanks since the non-waiver Trade Deadline in which they dealt Aroldis Chapman, Andrew Miller and Carlos Beltran.
Those deals did two things. They strengthened the Minor League system to the point that it might now be the best in baseball. And it opened the door for Sanchez, Austin, etc., to play.
General manager Brian Cashman didn't know what the immediate impact of getting rid of so much veteran talent would be. He only knew that the Yankees weren't good enough as they were built and that it was time to deliver the Baby Bombers to the Bronx.
Now the Yanks are 74-65 -- nine games above .500 for the first time this season -- and four games out of first place in the American League East (their smallest deficit since April 27). They're still trailing three teams, but they are closing in. And they're two games out in the race for an AL Wild Card berth.
Who knows how it'll play out? Want to tell the Yankees it can't be done? That's the beauty of youth. These young guys have brought a vibe that has impacted every corner of the clubhouse.
The Mets have some of this magic, too. They're a half-game ahead of the Cardinals in the National League Wild Card race. They did not play on Thursday, but a loss by the Cardinals pushed them alone into the second spot.
The Mets have won 14 of 18, a stretch that began shortly after manager Terry Collins called his players out, questioning their effort, desire, etc. He surely couldn't have expected this kind of sprint back into contention for a team that doesn't have David Wright, Neil Walker, Steven Matz, Jacob deGrom, Lucas Duda and Juan Lagares.
The Mets do have Lugo and Gsellman, the rookie starters who are 5-1 with a 2.13 ERA during this run. They also have 24-year-old right-hander Noah Syndergaard pitching perhaps the best baseball of his career.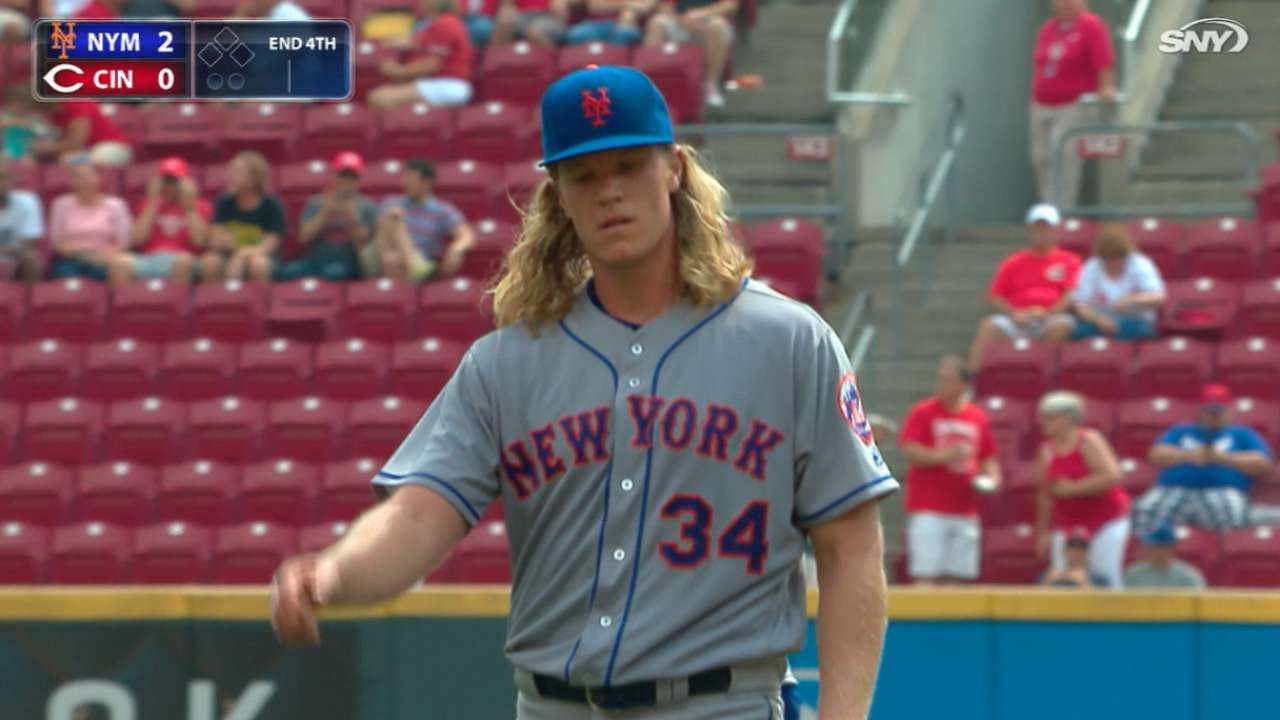 And the Mets are 13-3 since center fielder Yoenis Cespedes returned from the disabled list. These Mets have some magic of their own, hitting 27 home runs in 13 games and coming from behind in six of their last nine victories.
Their remaining schedule is the easiest among all NL contenders. As for the Yankees, they've got three games against the Dodgers and 20 against the other four AL East contenders.
On the other hand, these two teams have come so far that anything seems possible, and that's the beauty of it all.
Richard Justice is a columnist for MLB.com. Read his blog, Justice4U. This story was not subject to the approval of Major League Baseball or its clubs.