Manfred discusses state of game at university forum
Commissioner fields questions from fans, Pulitzer Prize winner Berkow at Drew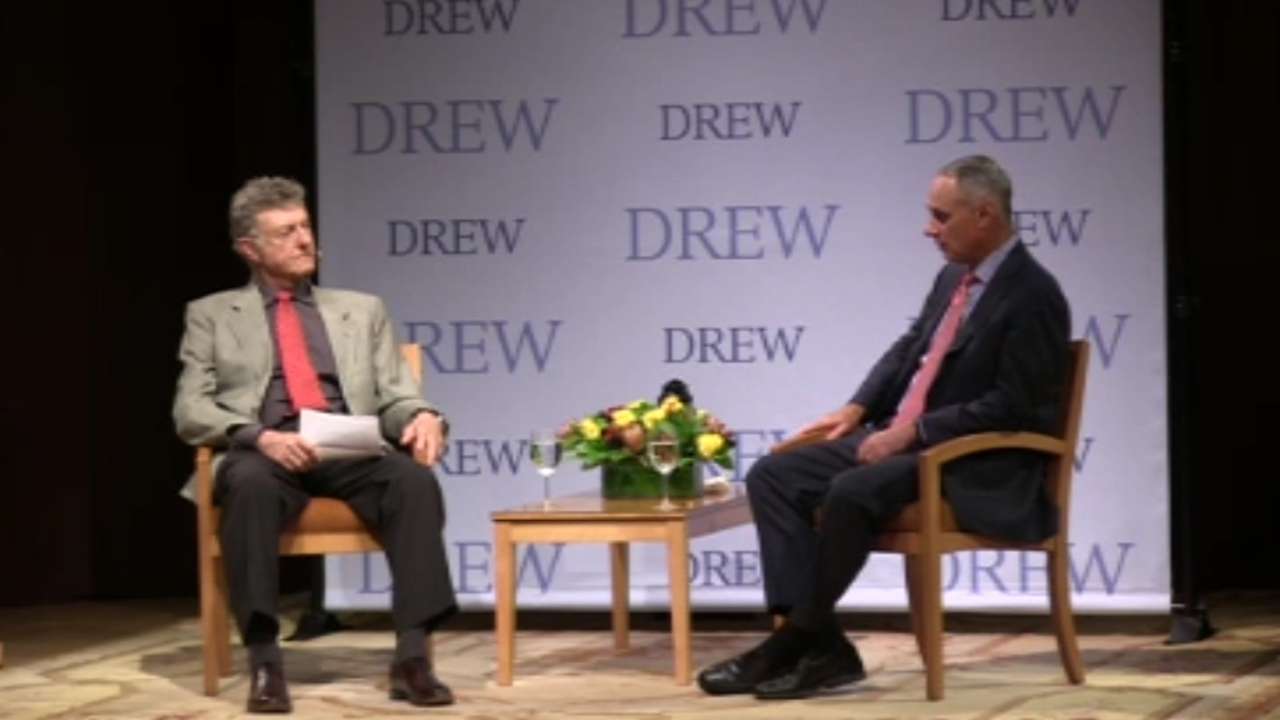 MADISON, N.J. -- As baseball has evolved over the years, one of the most notable changes has been that most managers summon the bullpen after a starting pitcher reaches 100 pitches or so.
One baseball fan who doesn't adore that tendency is Commissioner Rob Manfred.
Speaking at Drew University in the first installment of this season's Drew Forum Lecture Series at the Dorothy Young Center for the Arts on Thursday night, Manfred fielded questions from Pulitzer Prize-winning journalist Ira Berkow and members of the audience.
When asked about limiting the number of pitches starters throw, the Commissioner chuckled, acknowledging that he understands the reasoning behind the decisions but also sees its drawbacks.
"Our sport has become an all-out sport," Manfred said. "What I mean by that is, when I go to Cooperstown, I get to talk to the Hall of Famers. And most of the Hall of Fame pitchers will tell you they didn't go all out on every pitch. It was more nuanced than that. Today, it's all about the velocity, how hard you throw. And on the offensive side, it's the same thing. Fewer singles, more home runs, right?"
Manfred noted that in basketball, for example, Warriors superstar Stephen Curry is on the court most of the game and will definitely be playing in the final minutes if the game is on the line.
"Instead, we take our star [pitchers] out in the sixth inning, and they're not there when the game is supposed to be the most exciting," Manfred said. "It's an interesting point that deserves to be talked about."
That was just one of the insights Manfred offered during the hour-long event, and the relaxed format allowed the Commissioner to be more expansive. So while he touched on some familiar topics, Manfred was able to add some depth to his responses.
For instance, Manfred said -- as he has many times -- that he believes expansion is in baseball's future, in part because having 32 teams rather than the current 30 would streamline scheduling.
Manfred made it clear that Mexico would be on his short list of possible destinations. Noting that he's been to the country three times since becoming Commissioner, Manfred said: "I think Mexico is a really important opportunity for baseball. Baseball is part of the culture. It would be a great media market for us."
Manfred said that he's "optimistic" that an agreement can be reached on a new Collective Bargaining Agreement without a work stoppage, as the current agreement runs through Dec. 1. But he also talked about one of the key issues believed to be important to the Major League Baseball Players Association: Finding a way to reduce the wear and tear on players who play 162 games in 183 days.
Manfred explained that players dislike split-admission doubleheaders. And while he pointed out that traditional doubleheaders have a big economic impact at a time when the average Major League attendance is around 30,000 per game, Manfred offered that such an alternative might be more viable than reducing the number of games played during the regular season.
Manfred also hinted that allowances may be made for teams that play in nationally televised Sunday night games before playing in a different city the following day.
Manfred also talked at length about how welcoming Alex Rodriguez back to the game after he served a one-year suspension was the right thing to do and can only help labor relations.
"When you negotiate a penalty, the penalty is the penalty," Manfred said. "Then the individual has the opportunity to resume his career. That's the deal. It wasn't to suspend Alex Rodriguez for a year and then to vilify him forevermore. It's the quid pro quo of the deal. I think it's an essential element of the deal.
"We had an obligation to help him resume his career. It did lead to a very harsh penalty, but the flip side of that is that once you serve that, you get to start over again. You've paid your dues."
In light of the recent debate regarding pro athletes -- led by San Francisco 49ers quarterback Colin Kaepernick -- silently protesting during the national anthem, Manfred was asked about "The Star-Spangled Banner" in the game of baseball.
Berkow asked the Commissioner whether he thinks the national anthem should be played before all MLB games. The United States is the only country that routinely plays its anthem before sporting events, and it started in Major League Baseball.
"One hundred percent, for me," Manfred said, generating a prolonged ovation. "I am fundamentally very patriotic. I believe our game is part of the American culture, and our fans expect us to show respect for all symbols of America. I understand that some people see [that] as excessive pride in our great country. Personally, I think there's no such thing as excessive pride."
While on campus, Manfred also visited a sports business class. And, on stage, he was presented with a handsome oil portrait of his favorite player, Mickey Mantle, that he promised would hang on his office wall in Manhattan.
Paul Hagen is a national columnist for MLB.com. This story was not subject to the approval of Major League Baseball or its clubs.