Gomez has fit in nicely since joining Rangers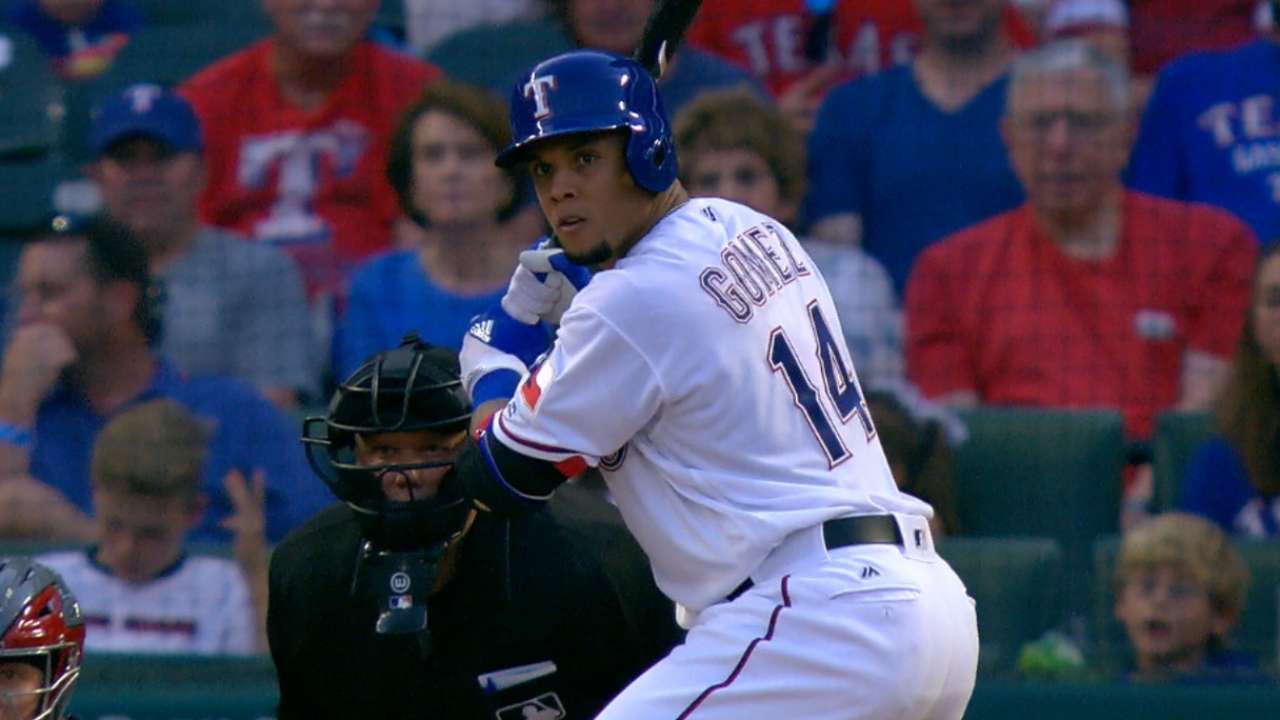 SEATTLE -- Carlos Gomez celebrated his two-week anniversary with the Rangers on Thursday by getting his first day off since joining them Aug. 25.
He has found it to be an anniversary worth celebrating. The Rangers are thrilled with what Gomez has done for them and he has experienced a professional rebirth since getting released by the Astros last month.
"It's the best thing that could happen to me," Gomez said. "Seeing the energy here, a new opportunity has been given to me. It has been really good. This team is like family. You're supposed to be here by 3 o'clock but everybody is here by 1 because it is so much fun."
Gomez was released by the Astros after hitting .210 with five home runs, 29 RBIs and 100 strikeouts in 295 at-bats.
"I had a rough start, didn't produce, there was a lot of stress," Gomez said. "It was more mental than anything. Then I came here, they gave me a job and believed I could be productive. The most important thing is I'm healthy. I want to play and I love to play."
Gomez began his time with the Rangers by hitting a three-run home run in his first at-bat, a huge blow in a 9-0 victory over the Indians. Then he suffered through an 0-for-18 stretch. But, after extensive work with hitting coach Anthony Iapoce, he is 9-for-24 (.375) with eight walks in his last eight games.
"The things we asked him to do, he has done," Rangers manager Jeff Banister said. "I look at the plus-speed plus the combination of the on-base percentage and walks. We asked him not to be the central point of the offense but just get on base, and if he has a chance to drive in runs, put together a professional at-bat. Carlos has assimilated himself into our team just the way we thought he would."
Gomez also has had no trouble alternating between left and right field even though he has been a premium center fielder for most of his career.
"If you're an athlete, you make the adjustment," Gomez said. "The most important thing is to go out and play hard."
Rangers beat
• The Rangers' Minor League Players for August were outfielder Jairo Beras (Top Player), pitcher Yohander Mendez (Top Pitcher), pitcher Adam Choplick (Reliever), infielder Drew Robinson (Defender).
• Carlos Beltran hit a three-run home run Wednesday, giving him 27 home runs and 85 RBIs on the season. He is the first switch-hitter in Major League history to have that many of both in an age 39-or-older season.
• Reliever Tanner Scheppers, who pitched for the first time this season Wednesday, was the 31st pitcher used by the Rangers.
T.R. Sullivan has covered the Rangers since 1989, and for MLB.com since 2006. Follow him on Twitter @Sullivan_Ranger and listen to his podcast. This story was not subject to the approval of Major League Baseball or its clubs.