Mottola getting up to speed with Rays hitters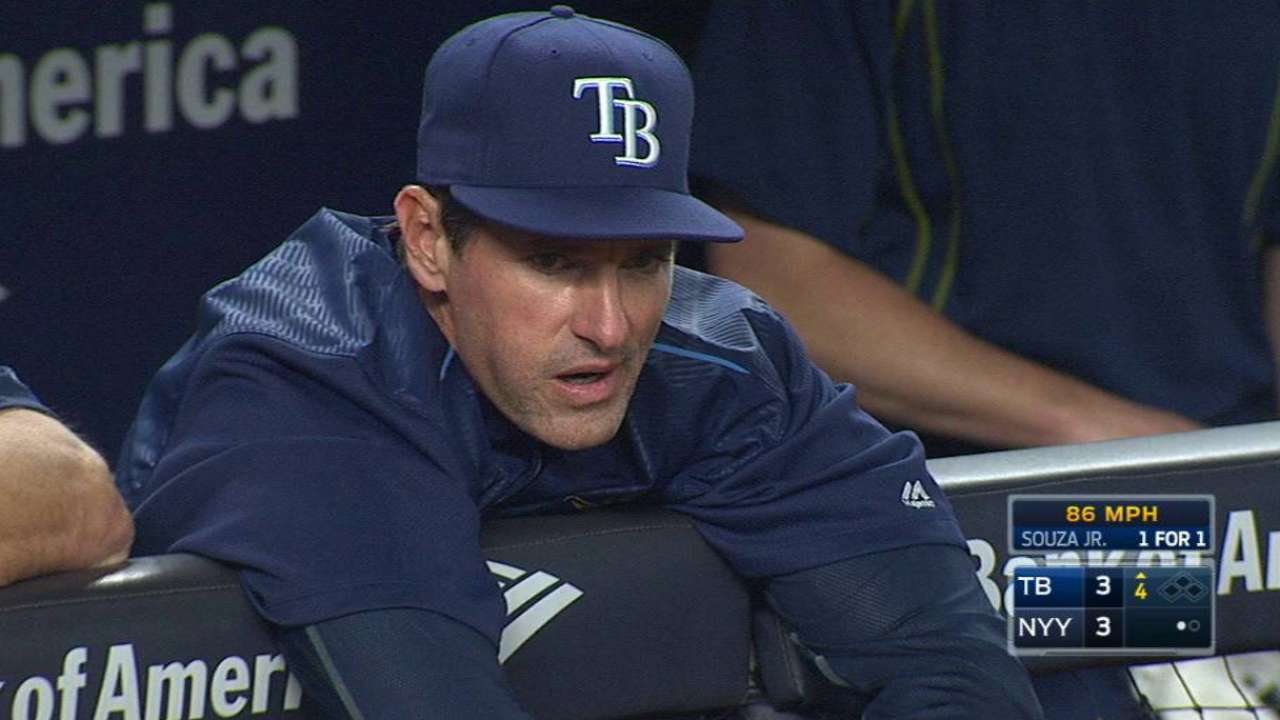 NEW YORK -- New Rays hitting coach Chad Mottola spent his first day on the job doing exactly what he expects to do for the next few weeks.
Even before his first game, Mottola was meeting with his hitters, watching and listening and trying to learn. For a coach who says his biggest strength is communication, these will be crucial days as the Rays look into the offseason and ahead to 2017.
"It's going to take a little time to settle in," said Mottola, who was promoted to the big league job when the Rays dismissed Derek Shelton on Tuesday.
Mottola had been the Rays' Minor League hitting coordinator the last three years, so he already knows many of the hitters he'll be working with. He also worked with Brad Miller and Nick Franklin in the offseason in Orlando, Fla.
Still, there's a difference in working with guys for a few days in the Minor Leagues or a few weeks in the offseason. Mottola and the Rays believe the next few weeks will be invaluable in gaining an understanding of how he can help hitters during the season.
"Every hitter has a different routine, and a different mindset," manager Kevin Cash said. "You're not going to learn that in a weekend. It's really the month-long thing that's going to help."
Cash and Mottola were teammates in the Minor Leagues with the Blue Jays, where Mottola also got his coaching start. He was the Blue Jays' Major League hitting coach in 2013, and he said former Toronto hitting coach Dwayne Murphy was a significant influence on his coaching style.
Mottola said he liked that Murphy kept things simple, and emphasized being ready from the first pitch. Murphy also pushed his hitters to be aggressive at the plate.
"I believe that's where it starts," Mottola said. "Hunt fastballs, and be aggressive on fastballs. Where it starts is being ready for the fastball, being ready to hit."
The 44-year-old Mottola batted .200 in 125 career big league at-bats. A first-round Draft pick -- chosen fifth overall by the Reds, one pick before the Yankees drafted Derek Jeter in 1992 -- he spent 16 seasons in the Minor Leagues with eight different organizations (including 56 Triple-A games with the Durham Bulls in 2003).
"At times, it was not much fun [moving around]," Mottola said.
But it helped get him exposed to lots of different coaches with lots of different styles.
Mottola is still developing now, and he said he was attracted to the Rays' organization by their reputation for thinking outside the box. Mottola said he has already built a relationship with the Rays' analytics department and wants to work in their information.
Mottola will also use video, as all modern hitting coaches do, but Mottola warned that overusing it can lead to problems.
"I like video in practice," Mottola said, "but it can really cloud the mind."
With events moving quickly the last few days, Mottola's mind might feel a little clouded. But he reported to Yankee Stadium on Thursday ready to take on his new job, and ready to get to work.
Danny Knobler is a contributor to MLB.com based in New York and covered the Rays on Thursday. This story was not subject to the approval of Major League Baseball or its clubs.