Giants need to find balance on and off the field
Intangibles a factor heading down stretch as club battles for playoff spot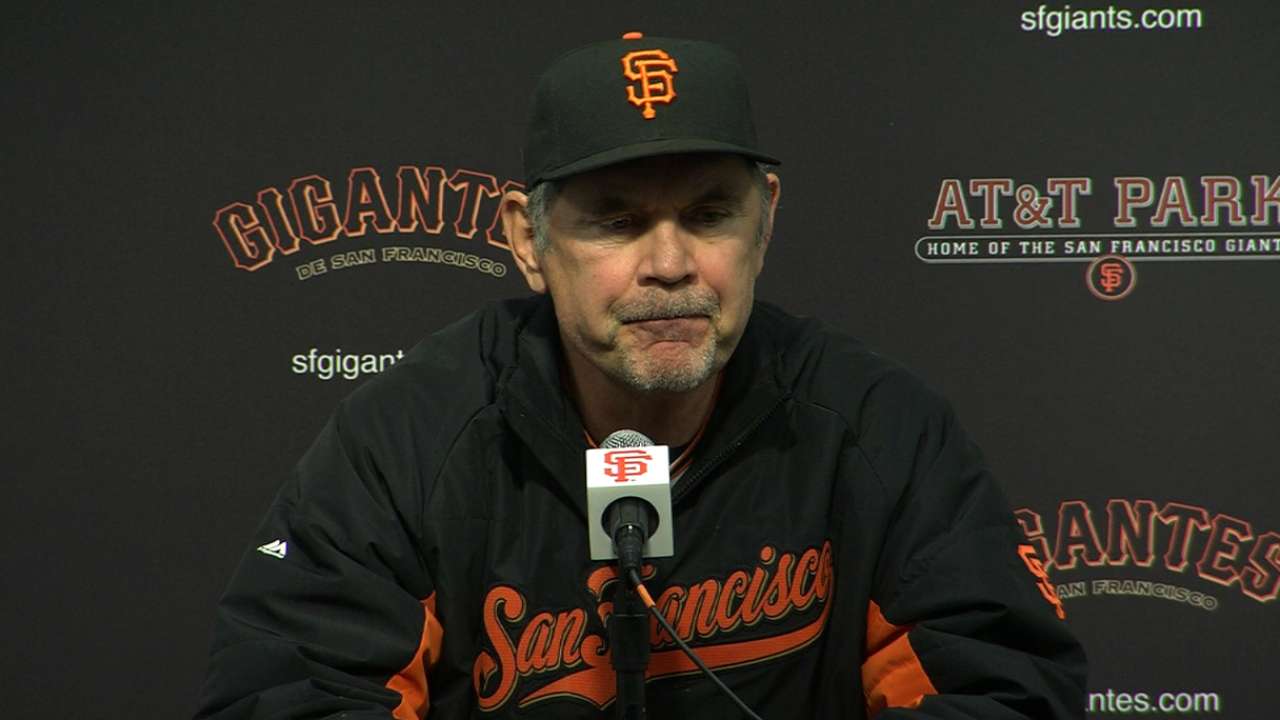 SAN FRANCISCO -- The Giants have thrived in recent years by combining tangible success, such as on-field performance, with intangible qualities, most notably character.
That balance has been upset since the All-Star break, and recapturing it -- at least for the dwindling days of the regular season -- could prove too challenging for even the considerable skills of manager Bruce Bochy and the club's front office.
Listing the shortcomings that have dragged the Giants from owning the Majors' best record at the All-Star break (57-33) to compiling the worst record in the bigs during the second half (17-32) entering this weekend's series at Arizona is relatively simple.
Identifying the intangibles is more problematic. These often emerge behind closed doors. Clubhouses and the players within them don't yield secrets easily.
It can safely be said, however, that third baseman Matt Duffy's departure for Tampa in the Matt Moore deal upset the chemistry that the Giants have held so dear through most of Bochy's 10-year managerial tenure. They jettisoned the winner of last year's Willie Mac award whose sheer passion for the game earned him that honor. No longer could San Francisco brag about the all-homegrown infield which seemed to be such a source of pride.
Duffy wasn't indispensable, and maybe his Achilles strain would have limited his value as a player. His inclusion in the package of players the Giants yielded for Moore reportedly was necessary to execute the trade. Nevertheless, something was irretrievably lost with Duffy's departure.
And nobody can deny that Duffy's injury, combined with the ailments that concurrently sidelined second baseman Joe Panik and right fielder Hunter Pence, significantly impeded the Giants' progress.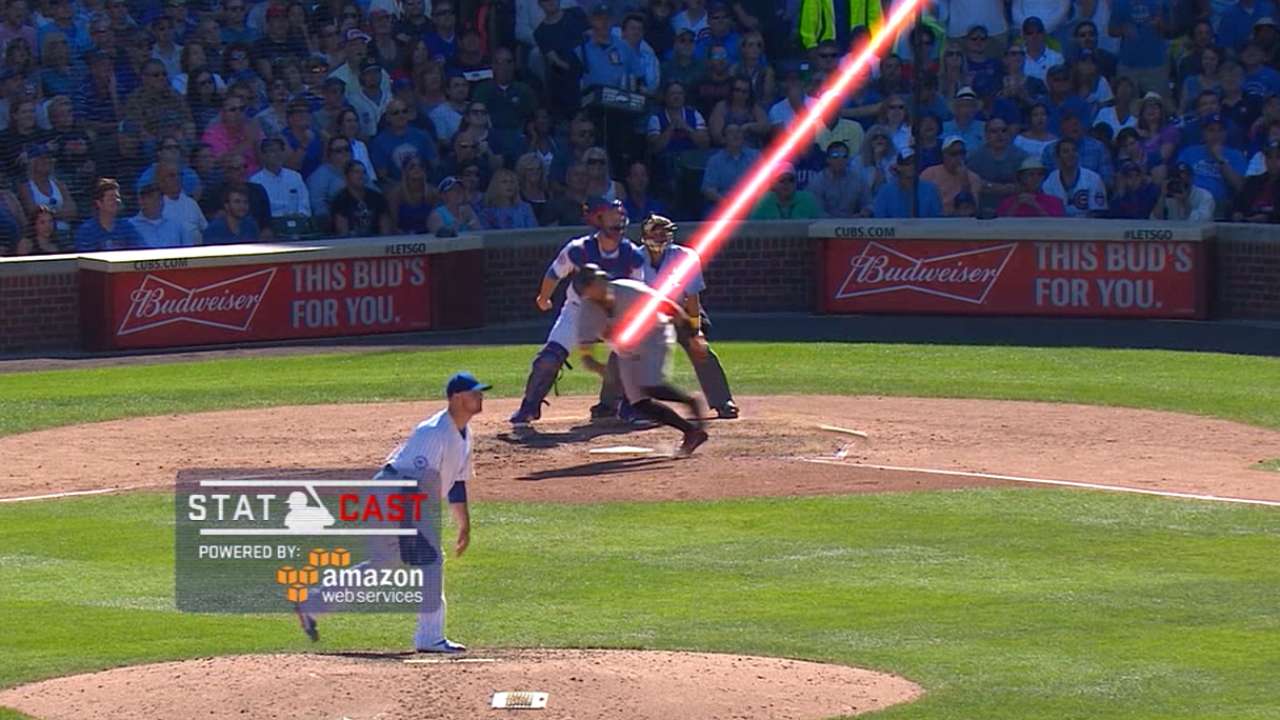 Maybe Duffy's absence is merely a minor factor in the Giants' swoon. But as any veteran baseball observer will insist, little things make a difference. Consider: San Francisco is 6-14 in one-run games since the All-Star break. Weak hitting and subpar pitching have created this record. If the Giants were merely .500 (10-10) in those contests, they'd trail first-place Los Angeles by just one game in the National League West. Instead, they're struggling to stay in the Wild Card race.
It also could be suggested that they have lost too many games that they should have won. Perhaps they have absorbed an excess of body blows that have left them game yet wobbly.
Their 7-6, 10-inning loss at San Diego on July 16, the second game following the All-Star break, featured Santiago Casilla's fifth blown save. Four days later at Boston, they displayed old-fashioned Giants pluck, trimming an 8-0 deficit to 8-7 before losing, 11-7.
That was tolerable. What wasn't tolerable was scoring two runs or fewer in 11 of their next 20 games. Then came a defeat that, to some Giants insiders, dented their spirit. One day after a 6-2 triumph over Baltimore on Aug. 13, San Francisco led, 7-1, before the Orioles scored seven runs in the final three innings to win, 8-7. That launched the first of two four-game losing streaks in an 11-game stretch.
Bochy has repeated that the focus and effort which the Giants devote to each day's game remains sharp. As usual, he's correct. But in professional sports, focus and effort should be a given. San Francisco lacks the panache that distinguished its championship teams. If that's too fancy a word, call it swagger instead.
The Giants don't have a Juan Uribe, who didn't just walk through the clubhouse. He strutted. He believed that opponents had to beat him, not the other way around.
They don't have a Pablo Sandoval, who never felt overmatched by any pitcher. Sure, Sandoval had a weight problem, and the Giants would have been unwise to retain him when he opted for free agency after the 2014 season. But while his belt was bursting, so was his chest -- with confidence.
They miss Tim Lincecum, who could intimidate opponents with his first few warmup pitches. They miss the competitiveness of Jake Peavy and Matt Cain, who are still on the team but apparently don't have the fury in their arms that they possess in their souls. Lincecum's gone, of course. And Peavy and Cain might be done as consistent winners, though they deserve chances to prove they can still pitch.
So what we have here might be a transition, with the likes of Duffy and Lincecum/Peavy/Cain morphing into Eduardo Nunez and Moore. Maybe the latter pair will help rally the Giants in the near future, though the club's first-half proficiency without them hinted at a promising October.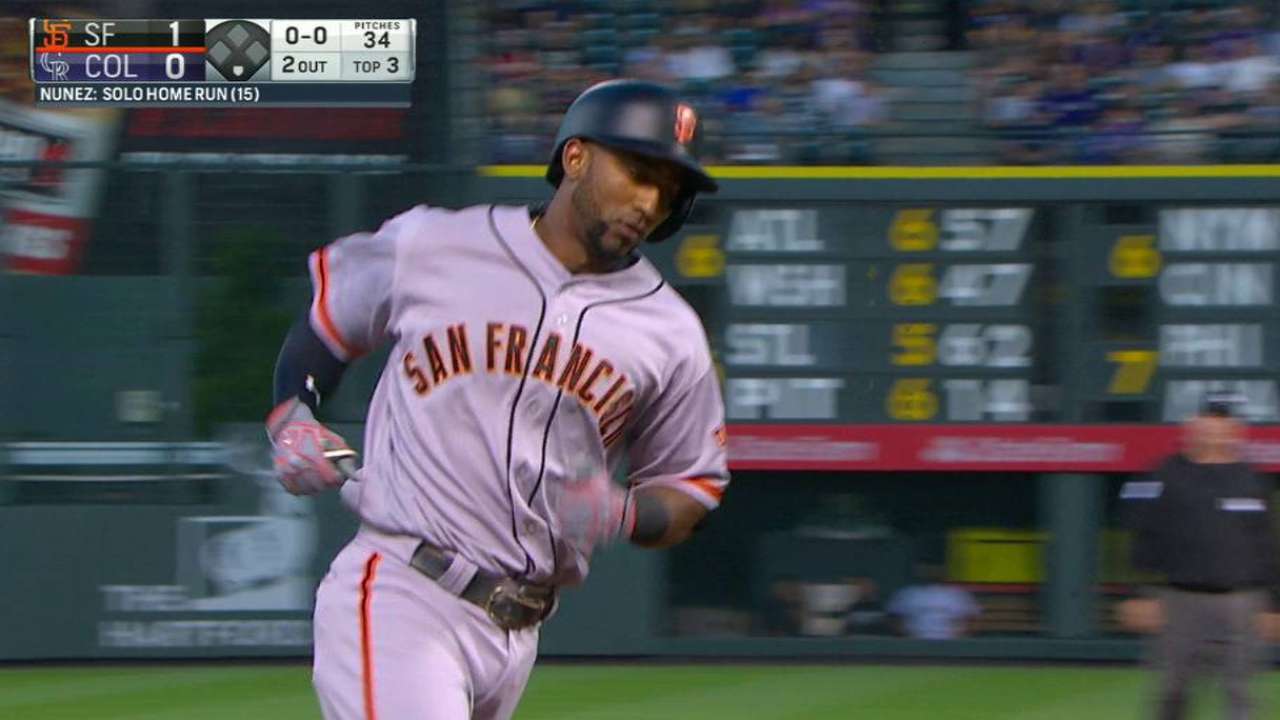 The state of the Giants cannot be pinned to any single reason or individual. Team slumps as well as team surges are always collaborative.
The offense has been slightly better than anemic. The Giants reached their nadir by batting .099 (16-for-161) during the five-game stretch encompassing last weekend's Cubs series and the opener of their just-completed visit to Colorado. Since the beginning of baseball's modern era (1900), only the 2012 Twins have hit below .100 in any five-game span, according to the Elias Sports Bureau.
That's a lot of teams and a lot of five-game spans.
The difference between Brandon Belt's first-half production (.302/.407/.521 with seven home runs and 36 RBIs) and his second-half numbers (.209/.347/.362 with five homers and 21 RBIs) has been stunning. Brandon Crawford's nosedive (from .281/.353/.447 with nine homers and 61 RBIs before the All-Star break to .253/.303/.423 with three homers and 16 RBIs since) has been almost as pronounced. Buster Posey's home run drought has lasted a career-high 150 at-bats.
It was too much to expect starters Madison Bumgarner (10-4, 1.94 ERA, .197 opponents' batting average), Johnny Cueto (13-1, 2.47, .224) and Jeff Samardzija (9-5, 3.91, .251) to sustain their first-half pace. But the fact remains that since the All-Star break, Bumgarner (4-4, 3.66, .242), Cueto (1-4, 3.90, .268) and Samardzija (2-4, 4.18, .241) collectively have gone from formidable to ordinary.
Judging newcomers Nunez (.228 batting average as a Giant, .296 previously) and Moore (2-4, 4.31 ERA with San Francisco) on their results since joining the team is wholly unfair. They were obtained for their potential long-term contributions, not just for short-term impact. More time must pass before their acquisition can be fully evaluated.
Meanwhile, the Giants have 23 more games to determine the course of this season.
Chris Haft has covered the Giants since 2005, and for MLB.com since 2007. Follow him on Twitter at @sfgiantsbeat and listen to his podcast. This story was not subject to the approval of Major League Baseball or its clubs.