Santana joins Napoli with 30th home run
Duo becomes first to reach milestone on Indians since '02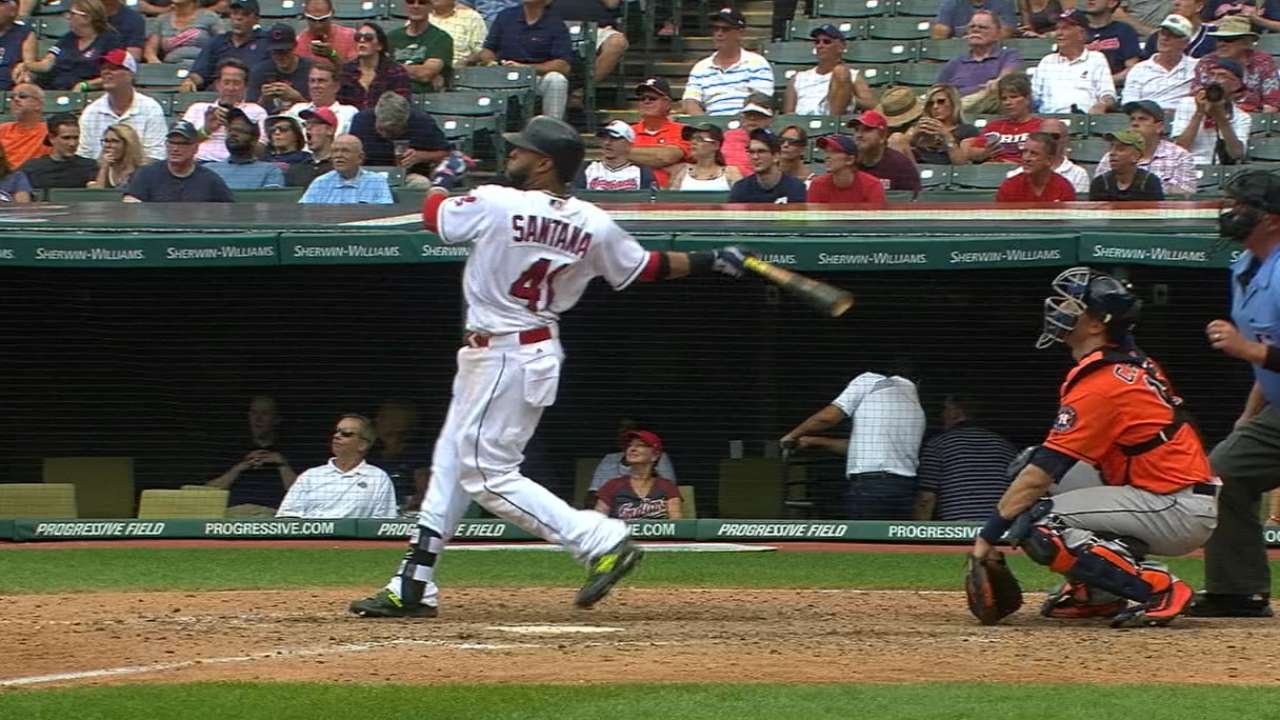 CLEVELAND -- After being mobbed by his teammates in the dugout, Carlos Santana sat down for a brief moment alone. There, teammate Mike Napoli stood in front of him and beckoned for Santana to stand back up, where the two shared a hug.
"He said 'congrats,'" Santana said after the Tribe's 10-7 win over the Astros on Thursday at Progressive Field. "He told me to keep working and help to try to win the game."
Napoli's congratulatory message came moments after Santana belted a two-run homer on a line drive to right in the fifth, putting Cleveland up, 10-3. For Santana, it marked his 30th homer of the season. His previous career high was 27, a feat he had accomplished twice in his career.
Santana joins Napoli (31) as the only Indians players to reach the 30-homer threshold thus far this season. They are the first Tribe duo to launch 30 blasts in a season since 2002 when Jim Thome had 52 and Ellis Burks swatted 32.
"I'm so happy, especially today, getting the top in my career," Santana said. "And I'm happy for [Napoli]. He's done a good job, too. We have to keep it going."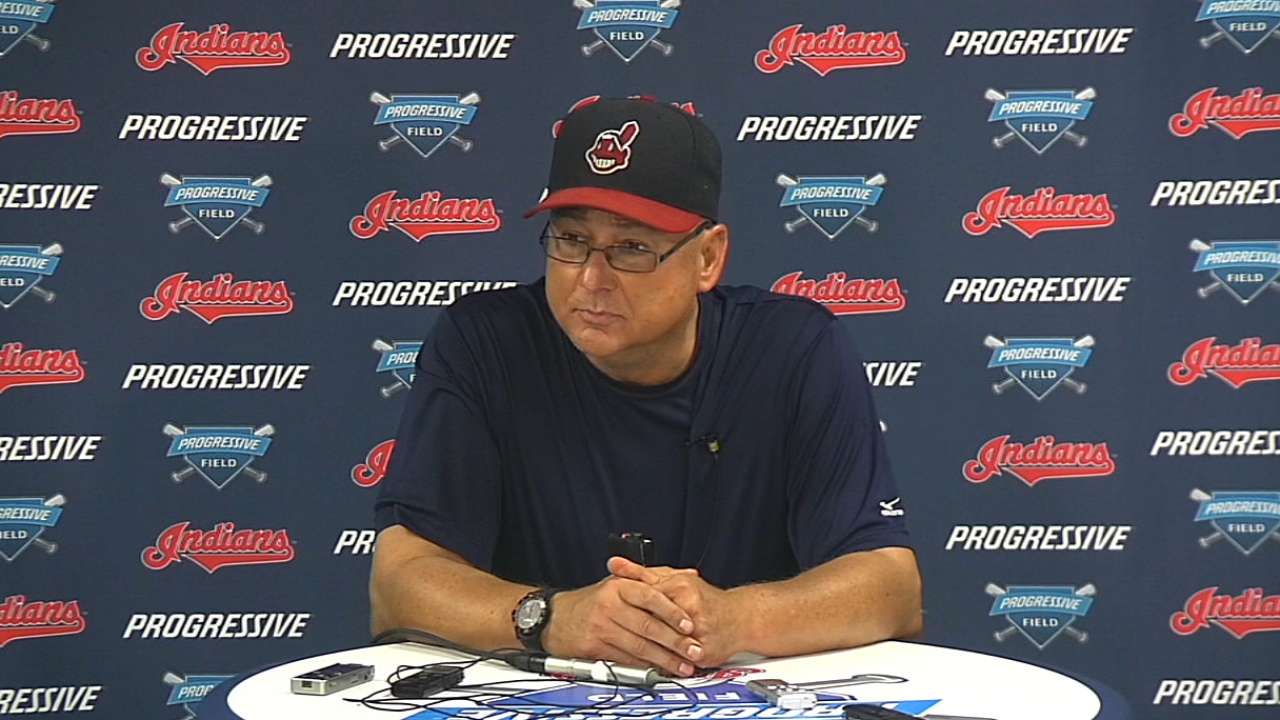 Together, the pair have helped the Indians muscle their way to a six-game lead in the American League Central with 23 left to play. But this power duo was in the works months ago, when Napoli spoke with his fellow slugger in the spring.
"I remember saying in Spring Training that we were both going to hit 30," Napoli said. "I think it's a pretty cool and a special moment for me and him. He's done a lot to help us this year."
In the offseason, Napoli was brought in to provide a right-handed power bat and play significant time at first base. It was unknown at the time what kind of effect the move would have on Santana, who had previously manned first.
Instead, the move has worked to perfection, and Santana's willingness to sacrifice for the greater good has been a key reason. He has served most of his time at DH (81 games). Though some games -- like Thursday -- he does hold down first base.
"I think Carlos has done a number of things this year that are improved over the past," Indians manager Terry Francona said. "It's been so much fun watching it happen."
Santana has also been open to batting in different spots in the lineup. He has logged 73 games from the leadoff position, 51 from the fifth spot and seven as a cleanup hitter.
As a result, Santana has turned in one of his best seasons.
"[Santana is] joining in more as a teammate and handling moving back and forth and hitting first, hitting fifth," Francona said. "Nothing has taken the smile off his face, and that's a really good thing."
But the season is not done yet. Cleveland is one of five teams with a pair of players that have hit 30-or-more dingers.
"That's played a big part in our success this year," right-hander Trevor Bauer said. "Hopefully, they get to 40. That'd be great."
Shane Jackson is a reporter for MLB.com based in Cleveland. This story was not subject to the approval of Major League Baseball or its clubs.