Motte returns to 'pen after lengthy layoff
Rockies reliever had rotator cuff strain; Weiss feels LeMahieu can win batting crown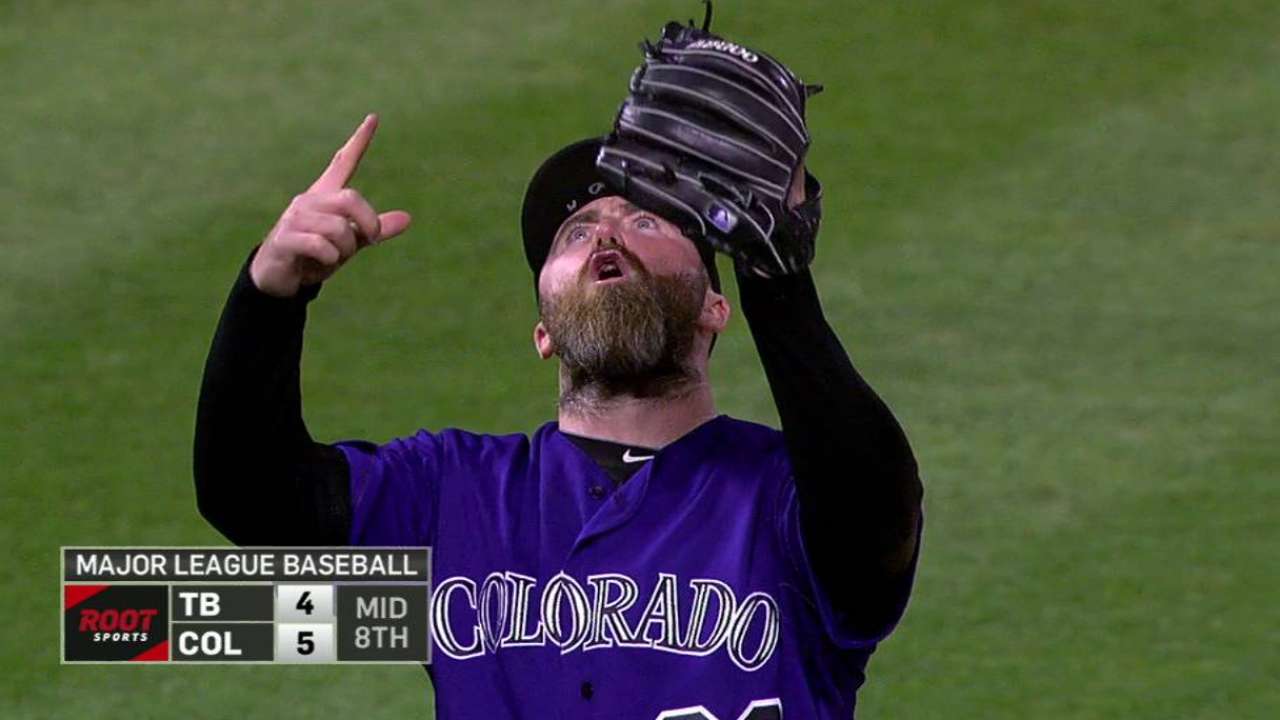 SAN DIEGO -- The Rockies activated right-hander Jason Motte from the 15-day disabled list before Thursday's 14-1 loss to the Padres, and outrighted left fielder Rafael Ynoa and first baseman Ben Paulsen to Triple-A Albuquerque after both were designated for assignment Tuesday.
With the addition of Motte, who was dealing with a right rotator cuff strain, Colorado has 37 players on its active roster -- 19 of whom are pitchers.
Motte has thrown just 20 2/3 innings, posting a 5.66 ERA, but hasn't pitched since July 25. With that, Rockies manager Walt Weiss is planning on going slow with the 34-year-old righty.
"He's been gone a long time," Weiss said. "You're not just going to fire him into the high-leverage situations right away, but it will be good to see him back out here in competition. He's been away for a while."
With the expanded roster, Weiss has the luxury of working Motte back in whenever he wants, and said this was the most flexibility he's had as a manager.
"A lot of options. You know, I told the guys the bottom line is we're going to try and win games," he said. "We're going to try and win as many games as we possibly can and I'm going to use the guys that I feel can help us win games.
"And then the guys that we called up are guys that we felt could help us win. So I think they'll all get opportunities at some point, but there are plenty of options."
Weiss confident in LeMahieu's batting title chances
Through Thursday's action, Rockies second baseman DJ LeMahieu was second in baseball with a .342 batting average, tied with the Astros' Jose Altuve and trailing only the Nationals' Daniel Murphy (.345) in the National League.
LeMahieu was a career .284 hitter before his breakout 2016 season, but Weiss said his mentality gives him every opportunity to become the fifth NL batting leader representing Colorado in the past 10 years.
"I would never doubt DJ," Weiss said. "You see how far he's come in just a couple years. A lot of that has to do with what he's made of, really. [He] shows up every day trying to get better, and that's how he works, how he competes.
"So, yeah, I expect DJ will be in that race right down to the end."
LeMahieu has always posted high BABIP numbers, which likely stems from calling Coors Field home, but this season he has shown marked improvement in his contact rates.
The 28-year-old entered Thursday with the highest contact percentage and zone contact percentage of his career, in addition to his lowest swinging strike rate. Among qualified batters, LeMahieu was fourth in baseball with a 90.1 contact percentage, and fifth with a 95.2 zone contact percentage.
Carlos Collazo is a reporter for MLB.com based in San Diego. Follow him on Twitter @CarlosACollazo. This story was not subject to the approval of Major League Baseball or its clubs.