In fateful 3rd, Hoffman unable to limit damage
Rockies rookie righty allows seven unearned runs following Adames' error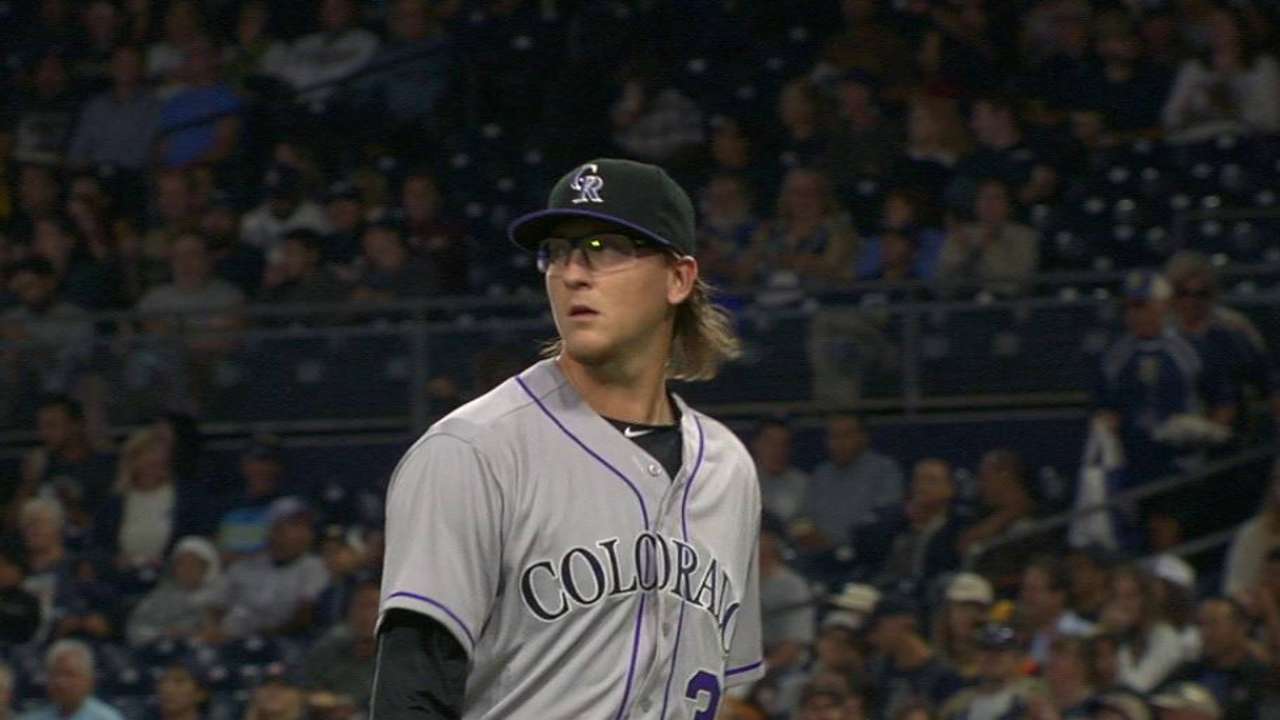 SAN DIEGO -- Things were looking just fine for Jeff Hoffman at the start of the Rockies' 14-1 loss to the Padres on Thursday night.
The 22-year-old righty worked around a leadoff single in the first inning and then struck out the side in the second.
But things quickly fell apart in the third, after Cristhian Adames' two-out error snowballed into seven unearned runs and the end of Hoffman's outing -- the shortest of his young career.
After the game, Hoffman wasn't putting any of the blame on that play that appeared to be the turning point.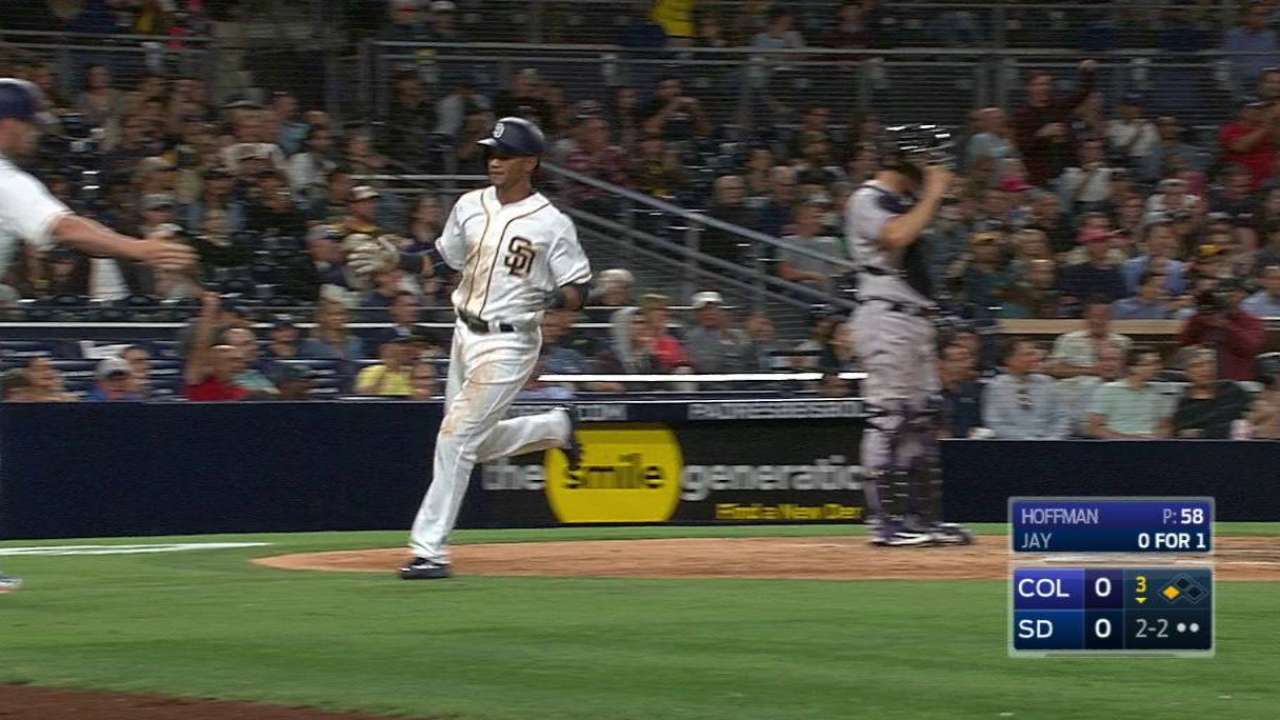 "I didn't lose focus [because of the error], I just think a couple pitches leaked back over the plate and found barrels," he said. "The error doesn't mean anything. That stuff happens, you've just got to go out and make the next pitch and get out of it."
Getting out of it proved to be an insurmountable task, as Hoffman surrendered three consecutive singles, a home run, a walk and another single before Colorado manager Walt Weiss pulled his rookie righty.
"[Hoffman] just needs to get in better counts," he said. "Errors certainly hurt; they scored I think all seven with two outs after the error, but you've got to put the inning down at some point.
"I think it's just a matter of command, getting in tough counts. And it's tough to pitch that way up here. He's got the weapons to be real good, he just [needs to] command it a bit better."
Hoffman said the changeup that Ryan Schimpf hit a three-run homer on got too much of the plate, but in general it was more an issue of getting behind in the count. Of the 17 batters he faced, nine of those plate appearances started with a ball.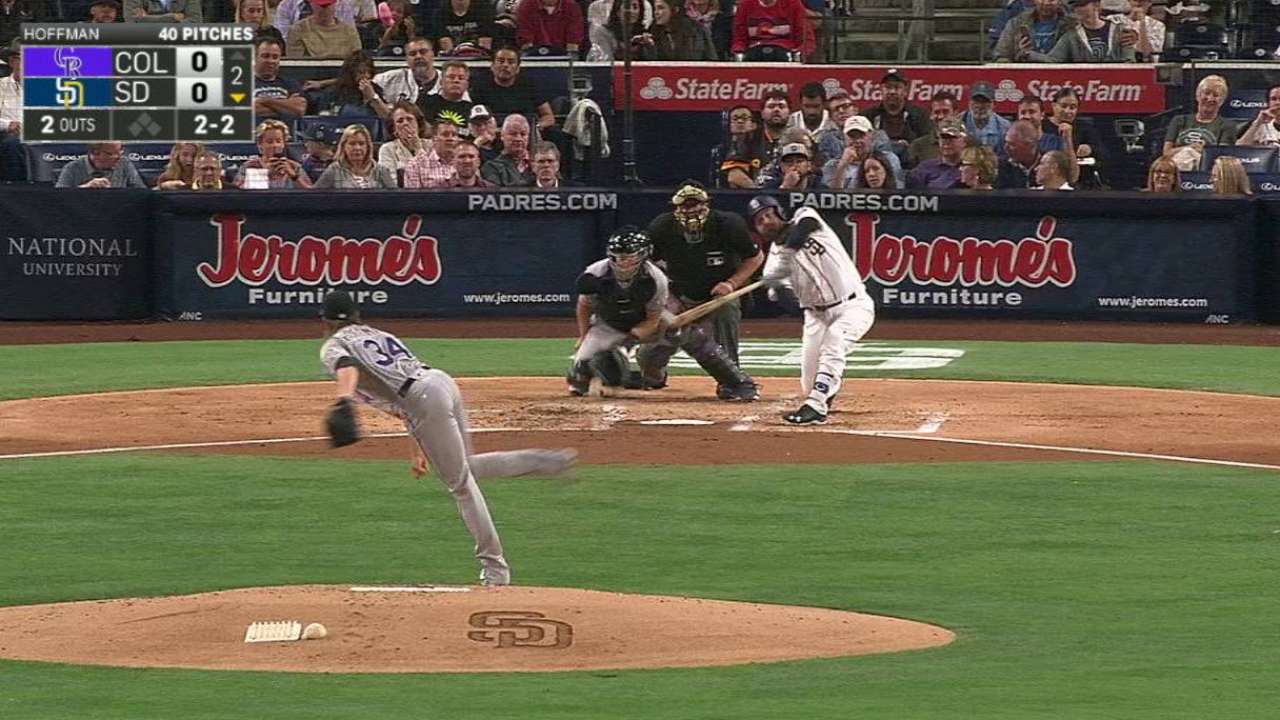 "Tonight it seemed like I was 2-0 to pretty much everybody," Hoffman said. "Even in the inning that I struck out the side I was 2-0 to all three of those guys.
"It's just [a matter of] not trying to expand too early. Staying to the third of the plate, not trying to nit pick at the edges. I think when we stay to the thirds on the perimeter of the plate -- I think that's when we're the best."
Weiss said that the silver lining of an otherwise forgettable night was being able to see players like Jordan Patterson -- who walked in the eighth -- and German Marquez -- who threw 2 1/3 innings of relief -- make their Major League debuts.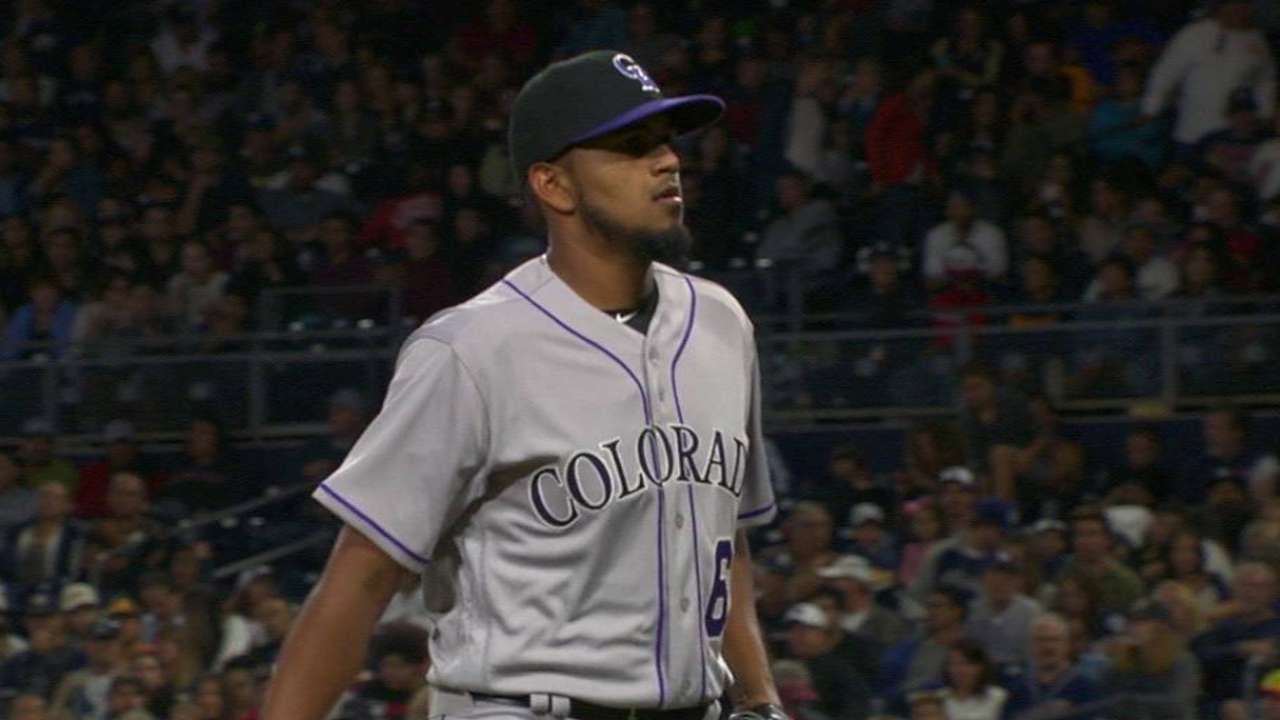 While it wasn't the outcome the Rockies were looking for, the team will have to take solace in making it a learning moment, for both Patterson and Marquez, as well as Hoffman.
"Sometimes guys make an error behind you," Weiss said. "We talk about picking each other up. You gotta pick that guy up. And, you know, Hoffman's a young kid and doing this for the first time at the Major League level. So there's some things he's going to learn along the way, but he's going to be a good one."
Carlos Collazo is a reporter for MLB.com based in San Diego. Follow him on Twitter @CarlosACollazo. This story was not subject to the approval of Major League Baseball or its clubs.