Role unclear, but Severino delivering on promise
Fireballing righty yet to surrender run since transitioning to bullpen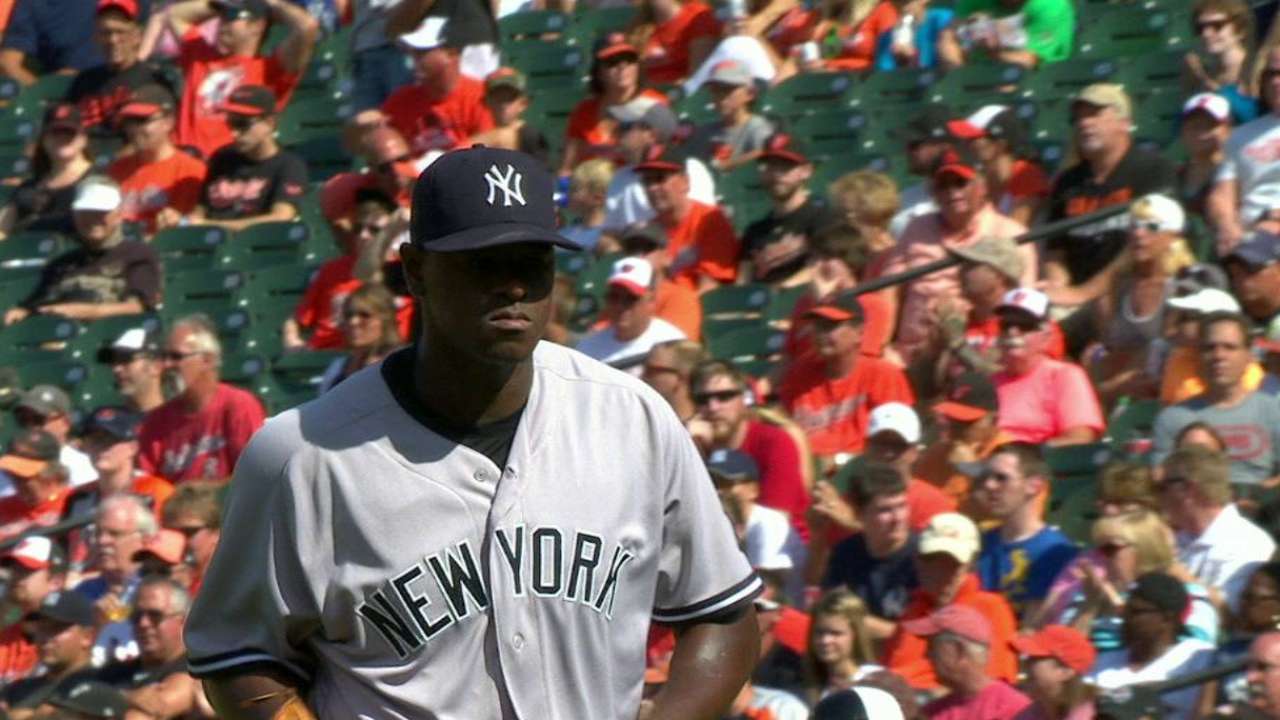 NEW YORK -- Luis Severino has made it clear that his preference would be to be in the starting rotation, and the Yankees say that is still where they envision him long term. But for the moment, the young right-hander has become an extremely valuable weapon out of the bullpen.
Severino made his sixth relief appearance of the year in Wednesday's 2-0 victory over the Blue Jays, firing three scoreless, one-hit innings. In 14 1/3 innings out of the bullpen, Severino is guarding a 0.00 ERA with six walks and 16 strikeouts.
"His mentality is a little bit different," catcher Brian McCann said. "He attacks a little bit more, and obviously with the velocity sitting there at 98, 99 [mph]. He's a starter, though. He's got the mentality of a starter, he's got the stuff of a starter and he just needs more reps."
The Yankees didn't expect to be in this position after Severino excelled in 11 late-season starts last year, going 5-3 with a 2.89 ERA. Opening the season in New York's rotation, Severino was hammered to an 0-8 record and 8.58 ERA in nine starts, and general manager Brian Cashman said that a subpar changeup was the most glaring problem.
"The one thing we can't forget on him is he's 22 years old -- 22 1/2 as of today, actually -- and he was so impactful for us down the stretch as a starter last year at the big league level," Cashman told WFAN. "That's who we believe he is. This year, he has lost command and feel of his changeup, which has left him exposed at this level."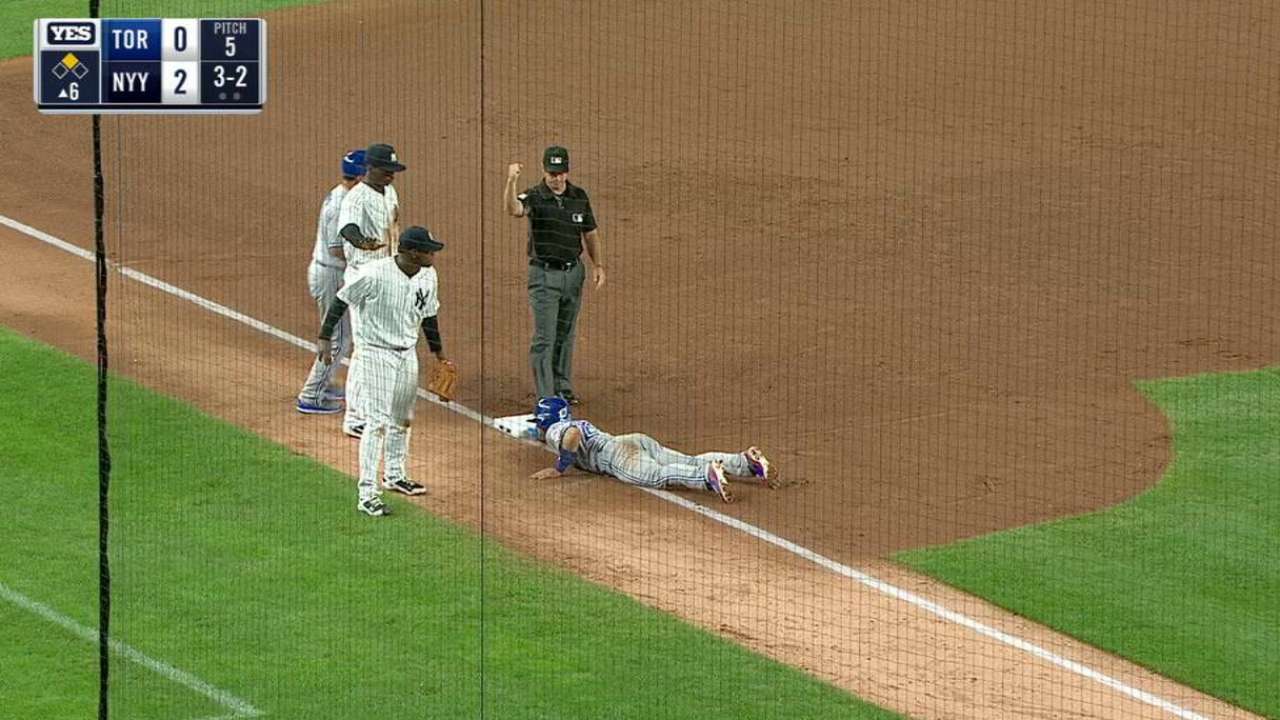 Severino said that the problem was more with his fastball command, but he was instructed to keep working on the changeup while with Triple-A Scranton/Wilkes-Barre, where he was 8-1 with a 3.49 ERA in 13 games (12 starts) this year. In his short relief bursts, he has dominated without needing to mix in the soft stuff.
"When they call me, I just come in and attack the hitters," Severino said. "That's what I'm doing. … Of course, the bullpen is a great role. In my mind, I want to be a starter because I've always been a starter and I like it."
Catcher Austin Romine said that Severino is challenging hitters fearlessly, wielding a slider that has good tilt and depth. According to Brooks Baseball, Severino has used just two changeups in his three September appearances, while firing 56 heaters and snapping off 42 sliders.
"He's got a different edge out of the bullpen," first baseman Mark Teixeira said. "I don't know exactly what it is, maybe he's not holding anything back. He's throwing 98 mph, and he's being a little more aggressive. Whatever it is, I like it."
The Yankees have not given up on Severino as a starter -- had he not pitched on Sunday against the Orioles, Severino would have started on Wednesday instead of Bryan Mitchell. But as the Yankees fight for a postseason berth, Severino may be most useful right where he is.
"We think he is a starter," Cashman said. "If, over time, it proves otherwise, then obviously that's where failed starters go, they go to the 'pen. And some of them become exceptional, like a [Dellin] Betances and others like a [Tyler] Clippard, who we currently have.
"He's 22 1/2. He's still growing, he's still learning, he's still adapting. And as long as he stays healthy, we're excited that he's in the pinstripes."
Bryan Hoch has covered the Yankees for MLB.com since 2007. Follow him on Twitter @bryanhoch, on Facebook and read his MLBlog, Bombers Beat. This story was not subject to the approval of Major League Baseball or its clubs.