Pompey an eager student of pinch-running
Blue Jays callup takes pride in preparation for late-game scenarios
NEW YORK -- Very few September callups have the chance to impact the pennant race and help their team steal a run at the most critical time, but Dalton Pompey is hoping to do just that during the Blue Jays' second consecutive postseason chase.
The 23-year-old Pompey understands his role on the field: Wait until the later innings of a close game, come in as a pinch-runner and swipe a bag or two to help Toronto pick up a late tally. But it's the behind-the-scenes work both pregame and during the game in which the young outfielder takes the most pride.
Much like a hitter's preparation for any given series, Pompey's groundwork involves watching video to examine a pitcher's repertoire, his move to first base compared to home plate, as well as the tendencies of the catchers behind the plate.
"It's certainly a different routine," Pompey said about his role with the Blue Jays in comparison to starting every day in Triple-A. "I'm not getting ready for 7:05 [p.m.], but for the late innings. First game of every series, I'm gathering as much information as I can. There are some intricacies guys do with their glove, with their foot, with their back leg and with how they lean that I pay close attention to. There are all kinds of things in this role that you can look at and that you have to be alert for at any time."
That detail then comes into play during the middle of the game, when Pompey starts to look at the lineup card, study game scenarios and pay close attention to how several of his teammates take leads against the opposing pitchers, anticipating an opportunity to make a mark on the game.
"He's aware of the situation," Toronto first-base coach Tim Leiper said, noting that Pompey will often come to the park and work on his jumps and baserunning techniques prior to batting practice. "He knows what he's doing, he's accepted it and he wants to be great at it. You see it in his preparation of watching video, running early before anyone comes out and then examining pitchers during the game. That's why he's had so much success at it."
Leiper's comparison for Pompey is to that of a competitive sprinter acquiring top speed when he needs to, obtaining an extra gear depending on pitch recognition and situation, while using all the information at his disposal and not relying on speed alone. The two of them will go through detailed notes prior to each series, with Pompey then taking that information to prep and then quickly refresh when coming in to pinch-run.
Examining MLB's Statcast™ data, Pompey still slightly trails fellow speedsters Terrance Gore, Billy Hamilton and Jarrod Dyson in the top speed category on successful stolen bases. In fact, Pompey's baserunning numbers also show that he doesn't lead the Blue Jays in any singular advanced metric over the past two seasons, although the sample size remains relatively small.
Despite that fact, Pompey has still been the team's most successful basestealing threat since 2014, swiping 11 bases while being thrown out just once, and going 4-for-4 during last year's postseason, including back-to-back steals of second and third as the potential tying run in Game 6 of the American League Championship Series.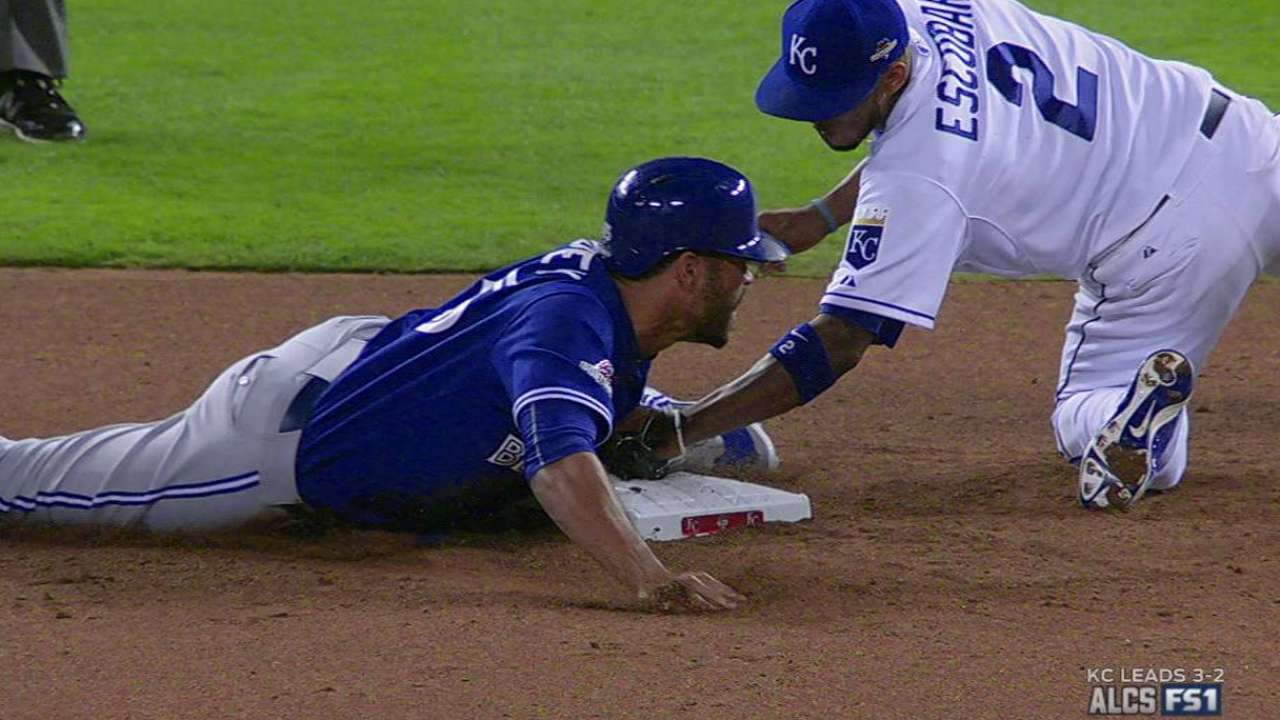 "He turns and obtains maximum speed very quickly," Leiper said. "A lot of that has to do with the fact that he's fearless and trusts his instincts. No one likes when you steal and get thrown out, and he realizes we're doing this for a reason and we're willing to take the risk.
"We all saw what he did last year and how he's able to impact the game. He's so comfortable with what he's doing, and knowing in each direction where his body needs to be to explode to second or get back to first on a good pickoff. That's what sets him apart from other guys."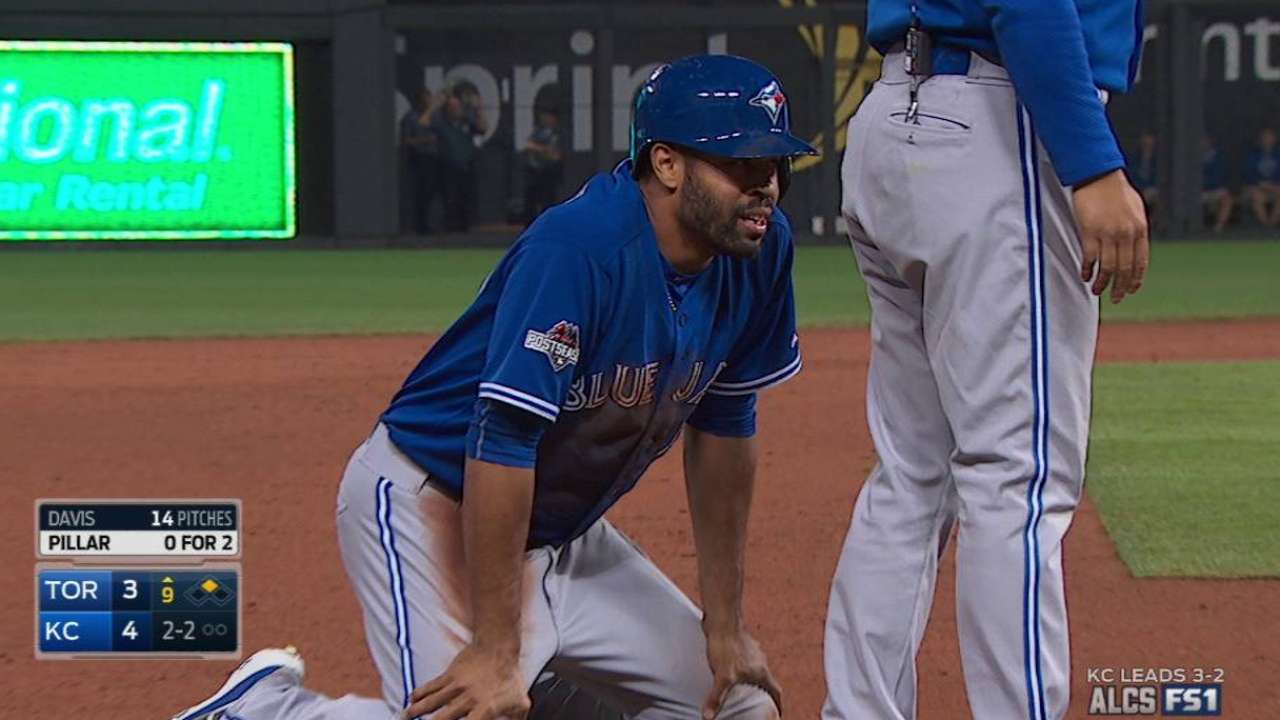 While Pompey's 2016 season has admittedly been "unexpected" with a pair of injuries at the Minor League level, and statistically below his own expectation, the Mississauga, Ontario, native has made his focus late in the season to excel at his role.
Like last season, Pompey's baserunning ability could turn into a spot on the postseason roster. Pompey vividly remembers standing at third base when the Royals escaped the ninth-inning jam to win Game 6 of the ALCS in 2015, and the John Fraser Secondary School product is hoping to help write a new script this season.
"I know that after last season ended on that sour note, I was looking forward to this year in any possible capacity to help the team," Pompey said. "Having grown up around Toronto, I know how much this means to people. I'm grateful to be here now to do what I can do to impact this race. That's all that matters."
Alykhan Ravjiani is a reporter for MLB.com based in Toronto. This story was not subject to the approval of Major League Baseball or its clubs.