MLB.com Columnist
Hal Bodley
Don't underestimate Rays' impact on AL East race
Red Sox, Blue Jays and Orioles know they can't take Tampa Bay for granted
ST. PETERSBURG -- Just when it appeared the Orioles were poised to complete a sweep of last-place Tampa Bay, the Rays' bats came alive, their bullpen was perfect and they jogged off the Tropicana Field turf with a 7-6 victory.
For the O's and other contenders who are in the thick of the tightly-knotted American League East, facing teams such as the Rays this month is like walking in a mine field.
After blowing the Rays away on Monday and Tuesday, the Orioles were victims in Wednesday's matinee to a team merely playing out the schedule.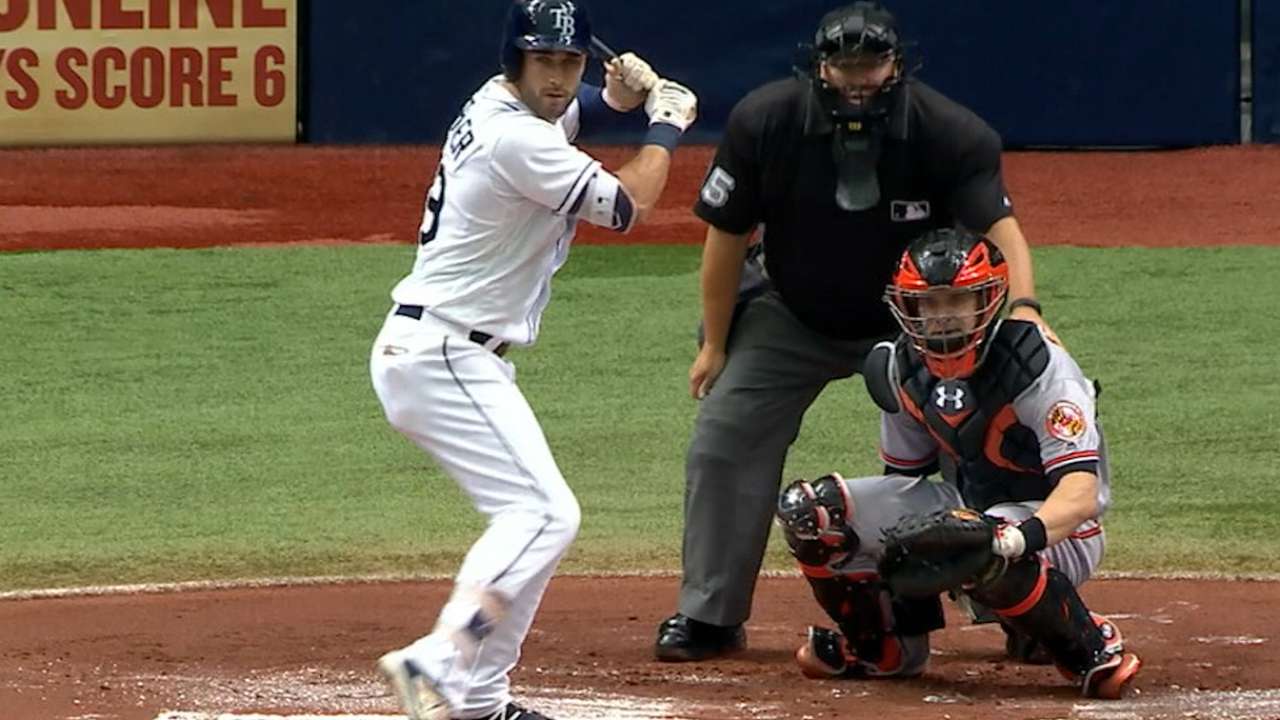 Winning games you're supposed to win in September often becomes more difficult than battles with a division contender.
Look at the Blue Jays. They fell out of a first-place tie with the Red Sox on Wednesday, losing to the suddenly rejuvenated Yankees while Boston was breezing past last-place San Diego, 7-2.
Baltimore missed a chance to move up a notch, but the O's remain in third place, two games back of the Red Sox before playing in Detroit after Thursday's catch-your-breath day off. After the weekend set at Comerica Park, the Orioles go to Boston for three games at Fenway.
But ...
The O's have four games left with the Rays and three against the D-backs, who've lost 81 times and are only a game ahead of the Padres for the National League West basement.
It's been said that it's demeaning to label teams with losing records as "spoilers" but that's exactly what they can be. But because they can make a difference, they believe they have something to play for. It's not just pride.
"Of course, we'd rather be in it, but we're playing some games that mean something for other people," said Tampa Bay All-Star third baseman Evan Longoria. "Even when you're out of it, playing in that environment, you're more locked in than you normally would be. It also tests some of our guys who haven't been in those situations before, playing under pressure."
There's probably no team in the division with a better chance to control the outcome than the Yankees, who won their fourth straight Wednesday to complete a three-game sweep of the Jays.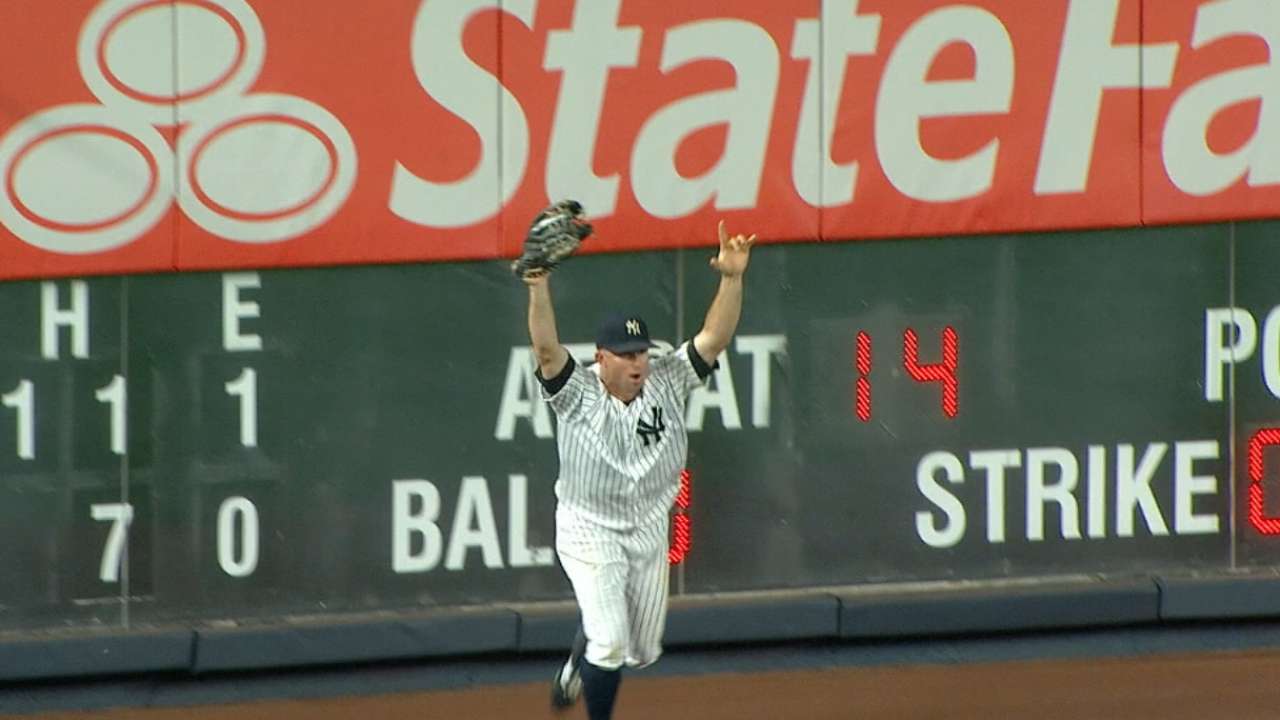 Ever since the Yanks virtually raised the white flag at the non-waiver Trade Deadline by sending away several premier players, they've been playing with reckless abandon -- nothing to lose and everything to gain.
In fact, veteran Orioles manager Buck Showalter said Wednesday that the Yankees are one of the teams he fears most down the stretch.
Here come the Rays. They're at Yankee Stadium for four games beginning Thursday night.
And after that, Tampa Bay goes to Toronto. Despite their disappointing season, the Rays could be a thorn in the side of the defending division champion Blue Jays.
Back to the Yankees: With Wednesday's 2-0 shutout, they've won 10 of their past 14 games, and they are just 2 1/2 games back for the second AL Wild Card spot. They're eight games over .500 for the first time this season.
"We're just having a good time," first baseman Mark Teixeira said. "It's fun watching these young guys contribute, whether it's offensively or the pitching staff. ... It seems like every single day, a guy that hasn't been with us most of the year [is] coming up and doing a great job for us."
Showalter believes when the pressure of expectations is no longer prevalent, players often perform better, especially young players.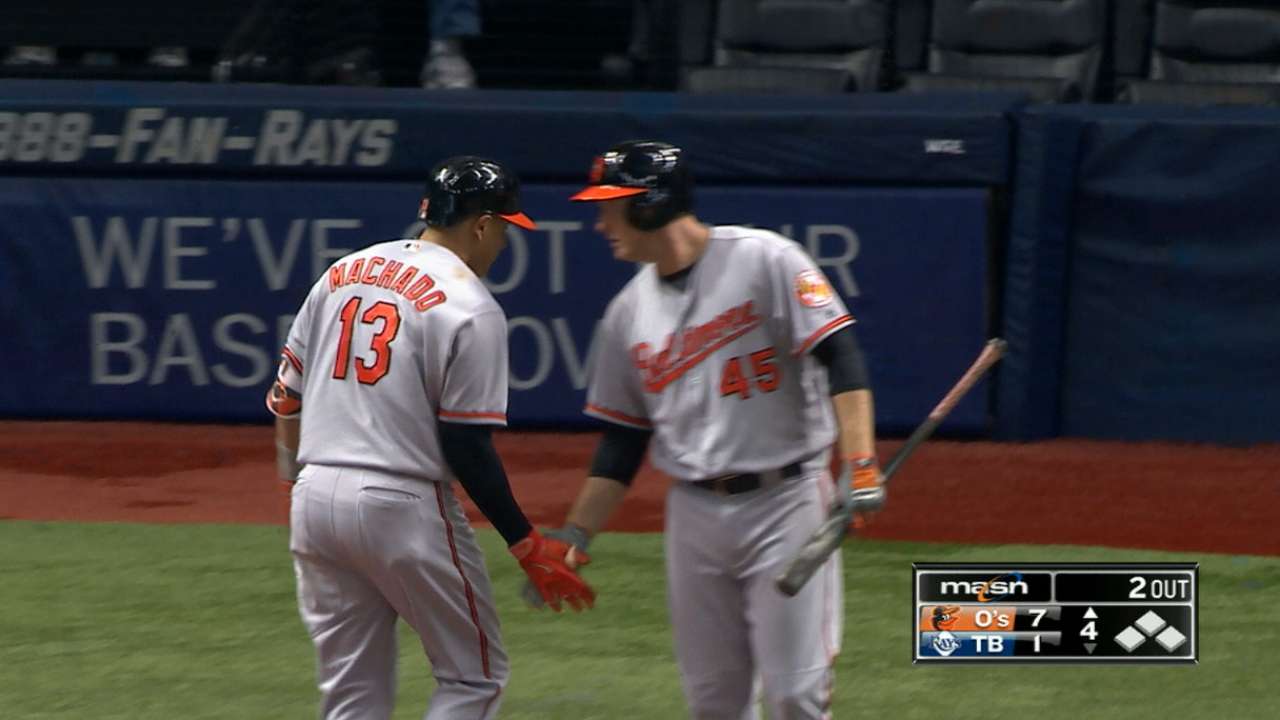 "This creates a real good mindset, because it's a matter of the players asking, 'What can we get out of these games to be better next year?' "
Seldom has a team played a more dramatic spoiler role than Showalter's O's on the last day of the 2011 season.
Baltimore rallied for two runs in the ninth inning against closer Jonathan Papelbon to stun the Sox, 4-3, and eliminate them from an AL Wild Card berth.
"When we eliminated the Red Sox, there was nothing vindictive about it," said Showalter. "It was a way for us to finish good, and a way for us to feel good about the offseason and a lot of the things we had done.
"We kind of showed our hand about where we were and what we could get out of these games to be better next year."
And the Orioles were. In 2012, they returned to the postseason for the first time since 1997 by winning the AL Wild Card.
"There are really no losers up here [in the Major Leagues]," Showalter added. "They're just teams that haven't had the seasons they hoped they would have. Those at the top are just the best of the best."
Showalter was on a high of sorts as he talked, because injured pitcher Chris Tillman -- their ace with a 15-5 record who has been on the disabled list with right shoulder bursitis -- will return to the rotation and start Sunday. Reliever Darren O'Day, who has been suffering from a rotator cuff strain, should be back next week.
When you're supposed to win, "expectations weigh heavily on a lot of people, because there's such a sense of finality," said Showalter. "We play a sport where all year there's another game, another week, another month. And then comes September baseball.
"A team that can keep that motivation, driving it when you're tired and sore, beat up is big. The mental discipline is important. No other sport has anything like our September baseball."
For teams whose expectations ended weeks ago, there's renewed motivation this month. That's what the Sox and Jays and O's fret about.
"If you're not going to be in it, you might as well play the guys who are," said Rays manager Kevin Cash. "We're going into some intense atmospheres; we're looking forward to that.
"I'm impressed with the way our guys responded after losing two to the Orioles. We're going to Yankee Stadium, Toronto and Baltimore. Those ballparks will have a lot of energy. We'll have something to do with the races."
Yes, they can be spoilers, but they don't want to be called that.
Hal Bodley, dean of American baseball writers, is the senior correspondent for MLB.com. Follow him @halbodley on Twitter. This story was not subject to the approval of Major League Baseball or its clubs.