Resilience, grit put Porcello on cusp of 20 wins
Right-hander justifies faith of Dombrowski, Cherington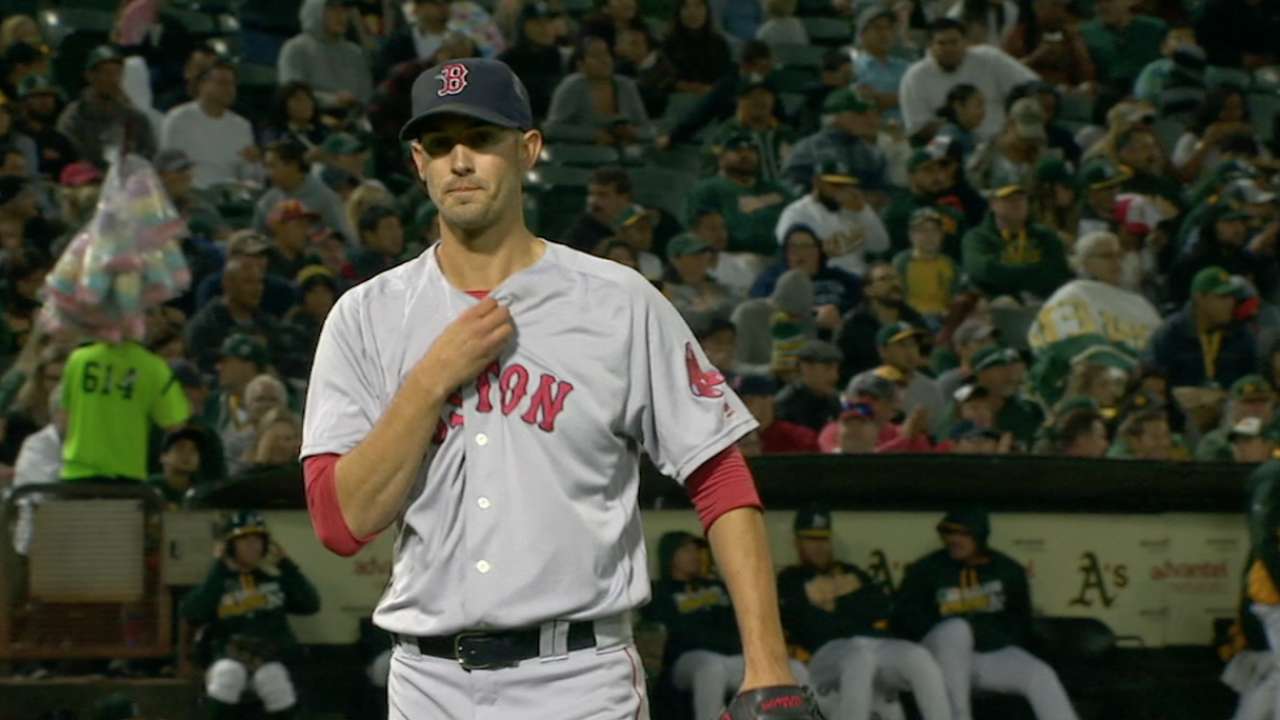 SAN DIEGO -- The man who threw his first Major League pitch at the age of 20 all those years ago is now on the cusp of his first 20-win season.
For Rick Porcello to get to this point (19-3, 3.23 ERA) in his eighth season is a credit to his combination of unflappability and determination that Dave Dombrowski saw in him all those years ago, and what Ben Cherington had uncovered before bringing the righty to Boston.
It was Dombrowski who was convinced that giving Porcello a full-time spot in the Tigers' rotation less than two years after he had graduated from high school would have no adverse impact on the young right-hander.
"He was not in awe of the situation," said Red Sox president of baseball operations Dombrowski, who took Porcello with the 27th pick in the 2007 Draft while serving as Detroit's general manager. "He was a mature person for his age. He was a competitor. We thought if something were to ever happen at that age, which you have to take into consideration, that it wouldn't hurt his career.
"We knew that. We felt that. And he made us better. We were looking for young starters. We were looking for starting pitching at the time and he was one of our five best guys. We just felt that he could handle it."
And it was Cherington who not only traded Yoenis Cespedes to Dombrowski's Tigers for Porcello, but signed him to a four-year, $82.5 million extension before he even threw a pitch in a regular-season game for the Red Sox.
Cherington, who was feeling the heat as Porcello endured a humbling first few months in Boston last year, didn't get to see the situation play out as he had forecast until he was no longer working for the Red Sox.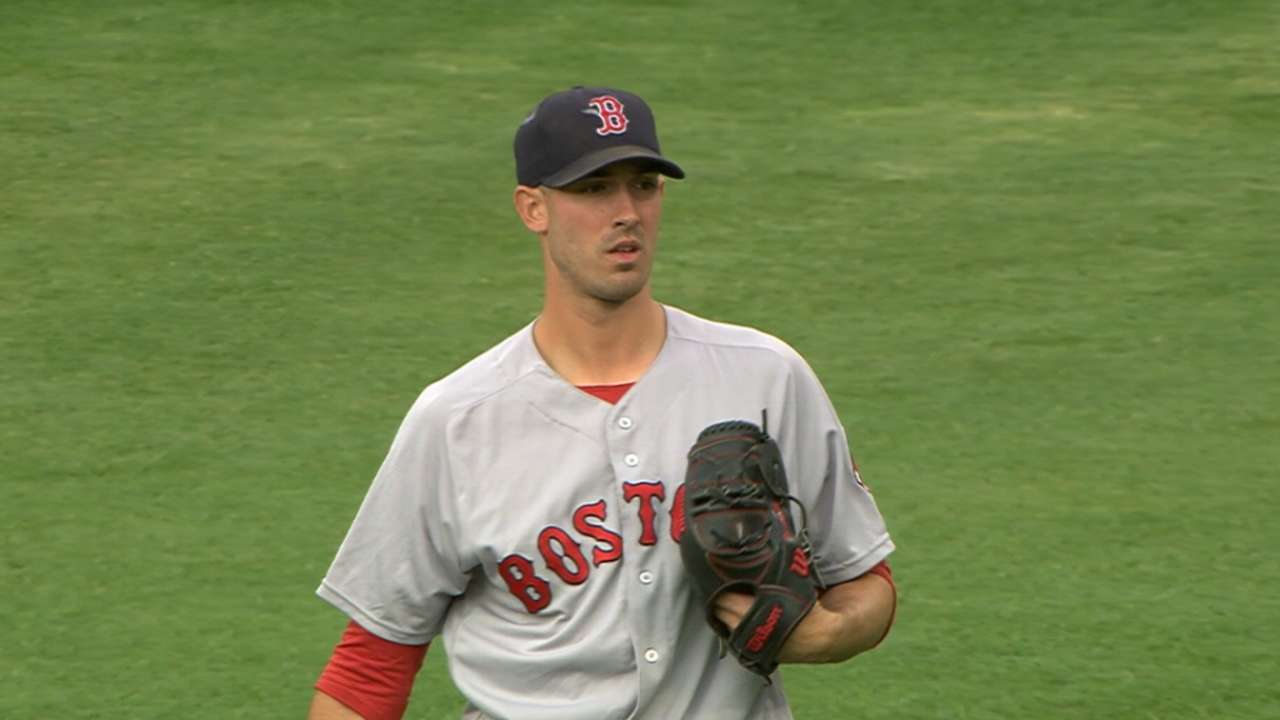 "Rick was a really good pitcher in Detroit and was entering his prime," Cherington told MLB.com earlier this week. "We had strong reports on his character and intelligence. As we got to know him over the winter and in Spring Training, those attributes were confirmed. It was clear to us he was someone we wanted on the team past 2015. He deserves all the credit for having the mental toughness to make adjustments and thrive in his new environment."
As for Porcello, the ups and downs that brought him to this point, in some ways, create a sense of pride. His ascension has not been a straight line: He had that impressive 14-win rookie season of 2009, but then an ERA that nearly touched 5.00 the following year. In 2012, Porcello led the Majors in a dubious category -- hits allowed. In fact, after his rookie year, he didn't have an ERA below 4.59 until '13.
Porcello learned to pitch at the Major League level instead of in the Minors, and he did it for a Detroit team that was typically in the postseason race.
"What would I do differently? There were definitely a lot of challenges, but you live in those challenges wherever you are -- whether it's college or Minor Leagues or the big leagues," Porcello said. "It's basically how many punches can you take and get back up and re-figure it out or take two steps forward or one step back or whatever it is and keep pushing. I wouldn't want to change anything or take a different path. I'm blessed to be in the position I'm in right now."
With the Red Sox leading the Blue Jays by just a game in the American League East, Porcello will lead his team into a three-game weekend series at Rogers Centre while trying to become Boston's first 20-game winner since Josh Beckett in 2007.
It would be gratifying for Porcello to reach the milestone in Toronto, where he had the low point of his Red Sox career last July 1. On that day, Porcello was hammered by the Blue Jays for seven hits and seven runs over just two innings, at which point his ERA rose to 6.08 for the season.
"It's a hard game," said Porcello. "Sometimes it takes a long time and it takes a lot of struggles, and even when you feel like you've got it figured out and you feel like you're on top of it, you can start to struggle again. You've got to find your way back up. It's peaks and valleys."
Now eight years in and still just 27 years old, Porcello appears to be at the point where the peaks are going to start outnumbering the valleys by a lot. Just don't insult Porcello by telling him he's having a breakout season.
"Hopefully it's not one of those things where it's a ceiling," Porcello said. "I feel like I can continue to get better and improve on certain parts of my game that can help us win."
The technical adjustments that have led Porcello to this special season aren't transformative. He has simply gained better command of his sinker while also making subtle adjustments made possible by years of experience.
"Consistency on the ground, really. That's the bottom line. Consistently executing quality pitches and doing different things along with that," said Porcello. "Changing eye levels, changing speeds and doing that efficiently. Not one good pitch, one bad pitch. Staying on top of things. I've been able to do that start after start."
Ian Browne has covered the Red Sox for MLB.com since 2002. Follow him on Twitter @IanMBrowne and Facebook. This story was not subject to the approval of Major League Baseball or its clubs.