Hendricks' rise no surprise to one scout
Talent evaluator Heafner liked what he saw when right-hander pitched for Dartmouth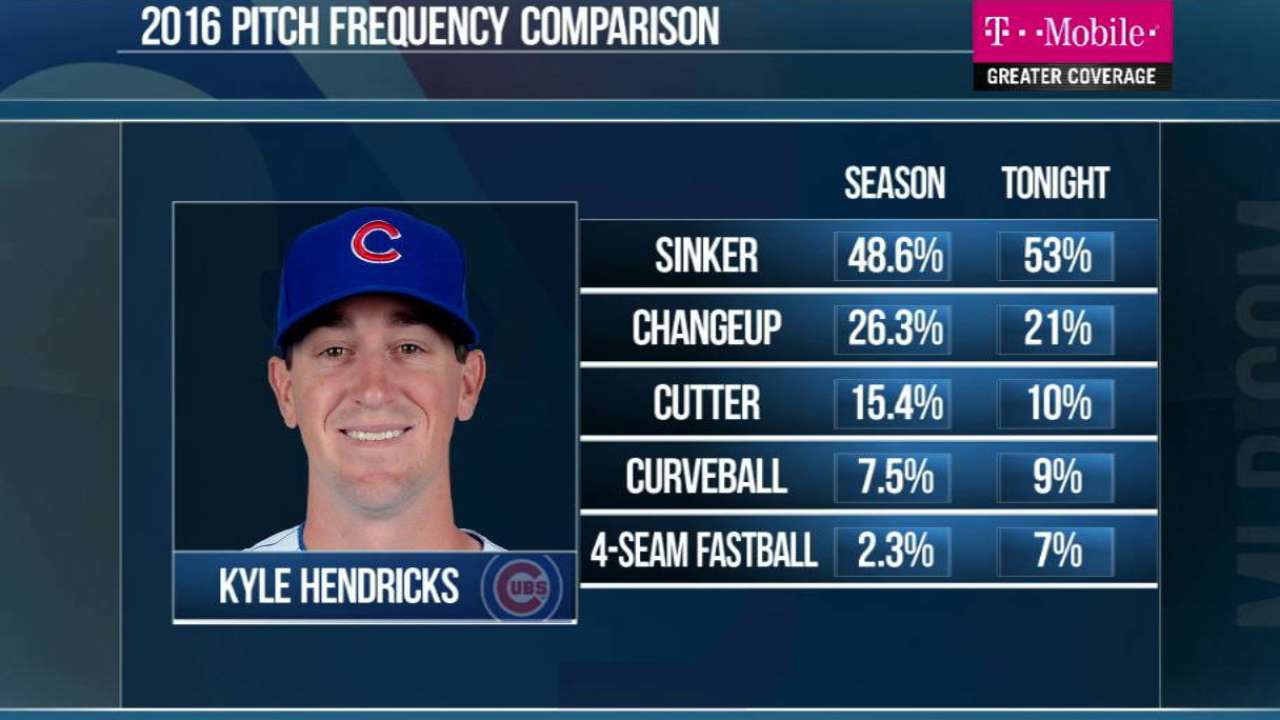 CHICAGO -- Not many teams take a chance on a pitcher who doesn't light up the radar gun, but scout Jay Heafner remembers watching Kyle Hendricks pitch at Dartmouth College and liking what he saw. And Heafner isn't that surprised that the Cubs right-hander is leading the Major Leagues in ERA.
"I think what he does is a little bit different, and as a scout, you try to find things that are different," Heafner said. "To be somewhat of an anamoly and not throw quite as hard as everybody else, I'm sure some guys say he throws under the hitting limit or speed limit or whatever. I didn't see it that way. I saw him being smarter than the hitters and adjusting to them. It's pretty cool to watch."
Heafner, 32, now in his eighth season as an amateur scout with the Rangers, was in charge of the Northeast region when Hendricks was pitching for Dartmouth, which isn't exactly a hotbed of Major League talent. It would be a better story if Heafner was the only scout in the stands, but that wasn't the case. Because Hendricks was drafted out of high school by the Angels, teams were keeping an eye on him. Hendricks couldn't turn down the academics at Dartmouth, and he went there to pursue a degree in finance.
"I think all 30 teams up in the Northeast saw him at some point in time to varying degrees," Heafner said. "It was just a matter of who liked him or not. It wasn't like he was a hidden gem. With Dartmouth, they have a decent program, but they're not going to [the College World Series in] Omaha every year.
"Kyle was the perfect combination of intelligence and he had a baseball aptitude, the aptitude to pitch, to use the type of stuff he has. It was kind of like the perfect storm in what you want in a pitcher."
In Hendricks' junior season, he compiled a 2.47 ERA in nine starts, striking out 70 over 62 innings. The Rangers did their homework, sending their regional crosschecker, the scouting director and the director of player personnel -- which at the time was A.J. Preller, now the general manager for the Padres. It wasn't a tough sell for Heafner.
"You could see the pitchability, his ability to get outs, even though he didn't throw 95 mph," Heafner said. "Especially in the amateur ranks, you rarely see a guy who not only throws the strikes that Kyle could throw, but just work the different parts of the plate and change eye levels."
Heafner saw Hendricks, 26, do just that on Monday, when he picked up his 14th win of the season in the Cubs' 7-2 victory over the Brewers.
"Rarely do you tell a guy who throws 88, 90 [mph] to pitch at the top of the strike zone, but you can with Kyle; one, because of the life on his fastball; and two, because of the equalizer, the changeup that he has," Heafner said. "I think his success, especially this year, is his ability to pitch outside of the strike zone. He's always filled it up with strikes, but his ability to use corners and, this year, his ability to make pitches out of his hand look like balls that wind up in the strike zone, I think he's added that to his repertoire."
The Rangers selected Hendricks in the eighth round of the 2011 Draft, but he didn't get too far in their system. He was included in the July 2012 trade to the Cubs for Ryan Dempster. Heafner still follows Hendricks.
"I'm his biggest fan, probably other than his parents," Heafner said.
In college, Hendricks was throwing up to 94 mph, but scouts can put their radar guns away when he pitches now.
"He figured out the more he went up and climbed up the ranks that he was more effective in that 87-90 [mph] range, using his life, and working balls in and out of the zone," Heafner said. "It's kind of refreshing to see a guy like that. In this day and age, everybody wants to see Aroldis Chapman throw 1,000 mph, and it's kind of fun to watch a guy who pitches with a below-average fastball and has been dominant, at least this year. It's fun to watch."
How dominant? Hendricks now has given up three or fewer earned runs in each of his last 19 starts dating to May 22, the longest streak by any big league pitcher this season. He's 12-4 with a 1.60 ERA in that stretch. His 2.07 ERA leads the Major Leagues -- ahead of Madison Bumgarner (2.51), Noah Syndergaard (2.56), Jon Lester (2.61), Jake Arrieta (2.84) and Max Scherzer (2.88).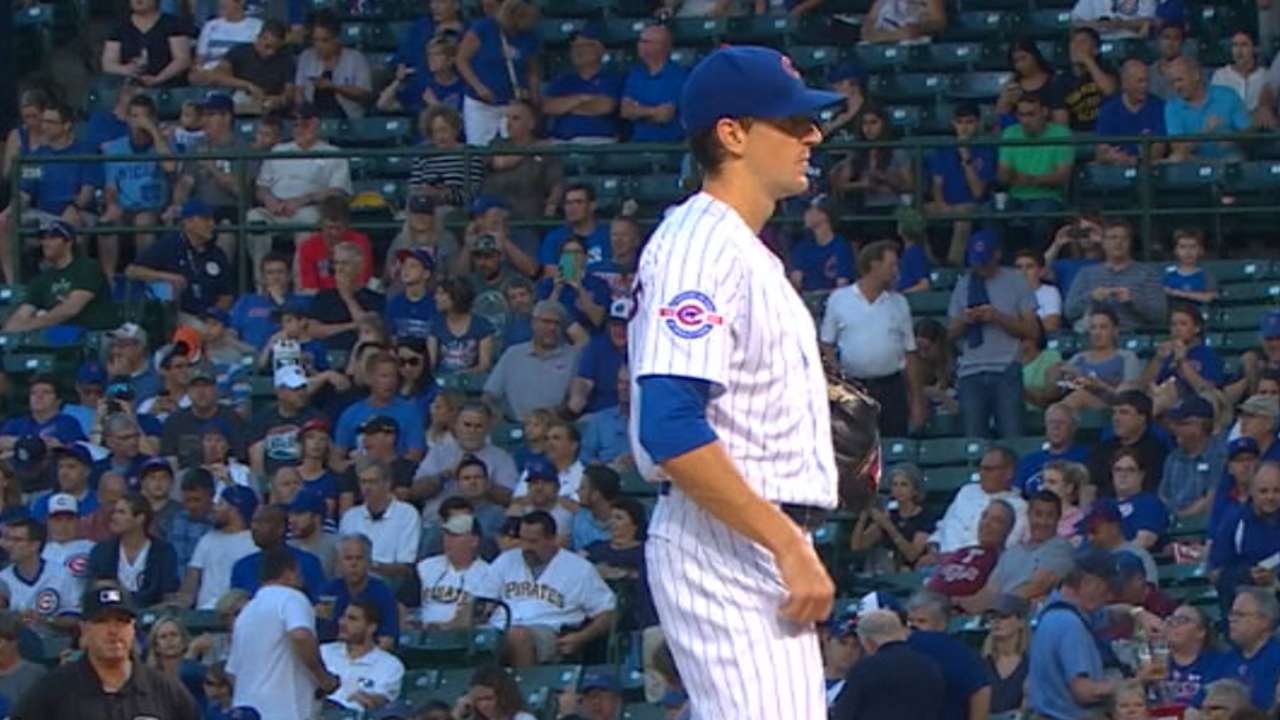 "I guess it's tough to really envision that, even though I wouldn't say it shocks me, especially with his ability to manipulate the ball out front and his overall touch and feel with the ball," Heafner said of Hendricks' elite status.
So why aren't more kids trying to emulate Hendricks?
"It's partly our fault as scouts," Heafner said. "We're the ones walking around with radar guns everywhere we go. We're probably to blame just as much as anybody. With Twitter and everything, everybody wants to tweet, 'Oh, so and so hit 95 mph.' [Velocity] is just one tool."
Hendricks' smarts paid off on Monday. Heafner watched as the right-hander worked the outer part of the plate early in the game, and then switched to more inside pitches after the Brewers' Chris Carter homered in the second inning.
"[After the second], he made the immediate adjustment of coming back in, and he started getting more ground balls and weak popups and stuff," Heafner said. "He's done a really good job evolving and adjusting to hitters as they adjust to him."
Heafner will send Hendricks a text message every now and then, especially after a good outing. He'll even talk about a particular at-bat. They did that when Hendricks was in college.
"Because he was a pitchability guy, in scouting, you want to make sure he had some idea of pitch sequences, setting hitters up, and he always did," Heafner said.
There's another aspect of Hendricks that can't be recorded by a radar gun. Heafner recalled a lunch the two had during the winter before the Draft.
"There were a couple guys who were pretty high-profile guys going into that Draft," Heafner said. "I remember Kyle telling me, 'Jay, I promise you I'm better than these two guys. I've seen them pitch. I know I'm better than these guys.' It wasn't a false bravado type of thing. This was genuine, and it really helped me believe in him at the same time. It was pretty cool."
Carrie Muskat has covered the Cubs since 1987, and for MLB.com since 2001. She writes a blog, Muskat Ramblings. You can follow her on Twitter @CarrieMuskat and listen to her podcast. This story was not subject to the approval of Major League Baseball or its clubs.