Giants' stout 'pen effort collapses in final frame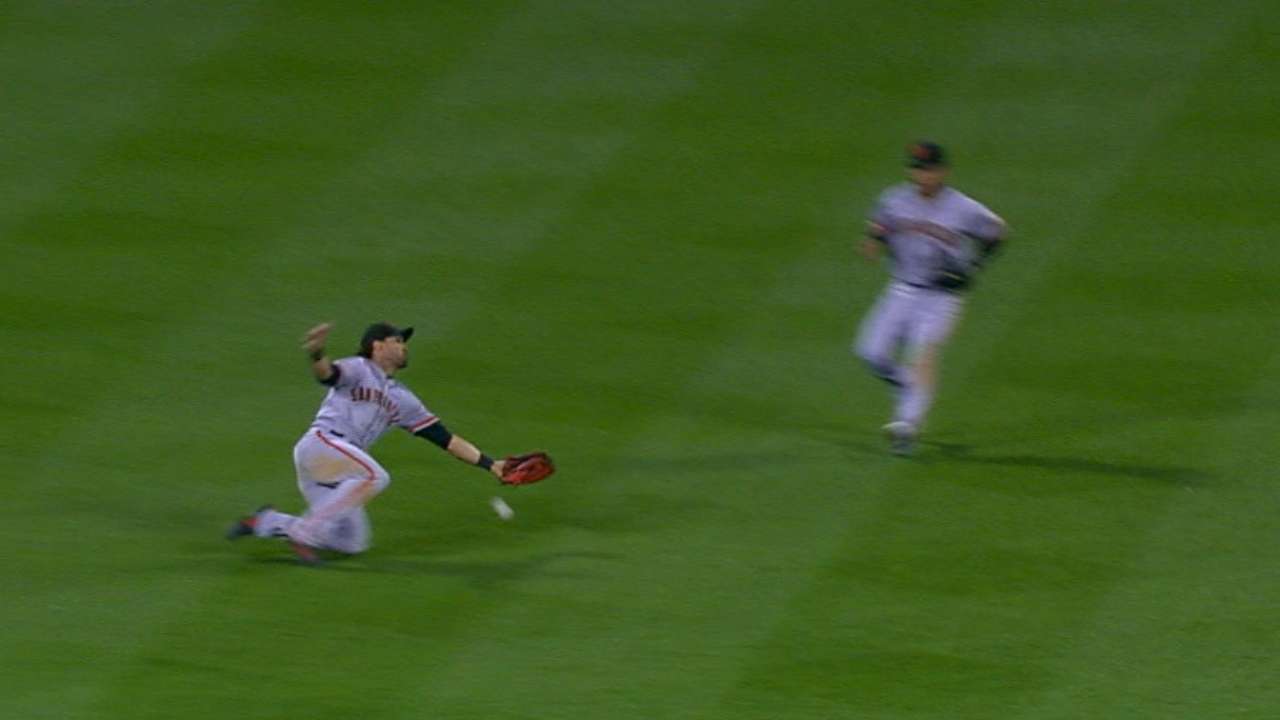 DENVER -- Giants manager Bruce Bochy used five relievers to shut down the Rockies in the sixth, seventh and eighth innings Wednesday, holding a two-run lead and allowing just one hit. That set him up well to use his closer as the sixth and final pitcher to start and finish the ninth, but the inning didn't play out the way anyone planned en route to a 6-5 defeat.
"It couldn't have gone better," Bochy said of the three spotless innings from his first five firemen. "Everybody did such a great job. The 'pen did a great job in the sixth, seventh and eighth. Just couldn't hold on. You've got to win games you're supposed to win. That's two that have gotten away from us here."
The Rockies finally ended their futility when Nolan Arenado drove closer Santiago Casilla's 1-2 cutter 434 feet into the left-field seats for his Major League-best 37th home run, cutting the lead to one.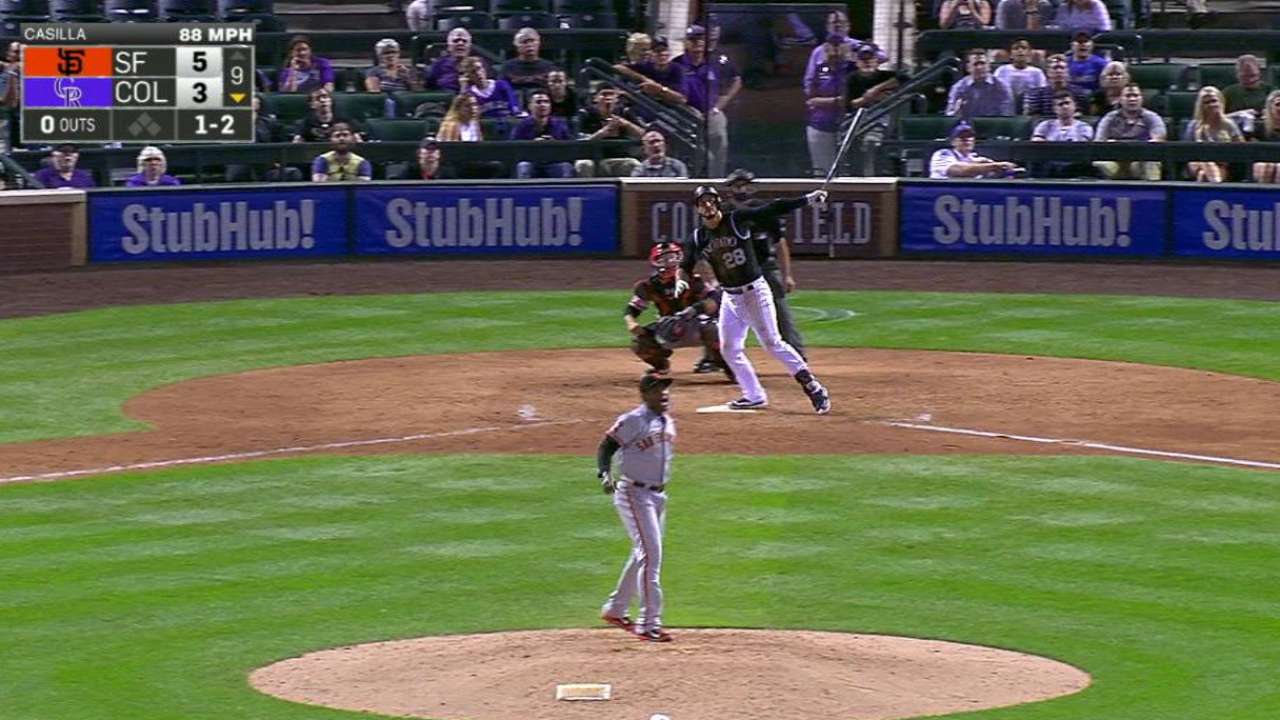 Casilla struck out the next batter, then yielded a single to rookie Tom Murphy. Bochy pulled Casilla for a left-on-left matchup, pitting Josh Osich against pinch-hitter Charlie Blackmon.
With 14 relievers in the 'pen, including six southpaws, traditional notions of a closer's role grew blurred. The bulked-up bullpen can mix and match ad infinitum.
"Yeah, it does," Bochy said when asked if the volume of arms can change the regular relief roles. "It allows you to get the matchup that you want, like I did there in the eighth with Smitty [Will Smith], and [Sergio] Romo and [Javier] Lopez. And even in the ninth. I had Osich ready. He hit a batter. That hurt. Got first and second and a blooper falls in, and that's the difference in the game."
Bochy said the move was part matchup and part concern for Casilla's effectiveness with his cutter and curve both elevated.
"A little bit of both," Bochy said. "Two hard-hit balls. He had a lefty up there, and I had a pretty good lefty down there, Osich, who has done a great job getting lefties out. He just hit him."
Osich had been spotless since returning from the disabled list Thursday, making three appearances spanning two innings and allowing no hits or runs. He left after hitting Blackmon when the Rockies put right-hander Nick Hundley in the game to pinch-hit.
"I understand," Casilla said when asked about Bochy's decision to give the ball to Osich. "He's the manager, and he's doing what's best for the team."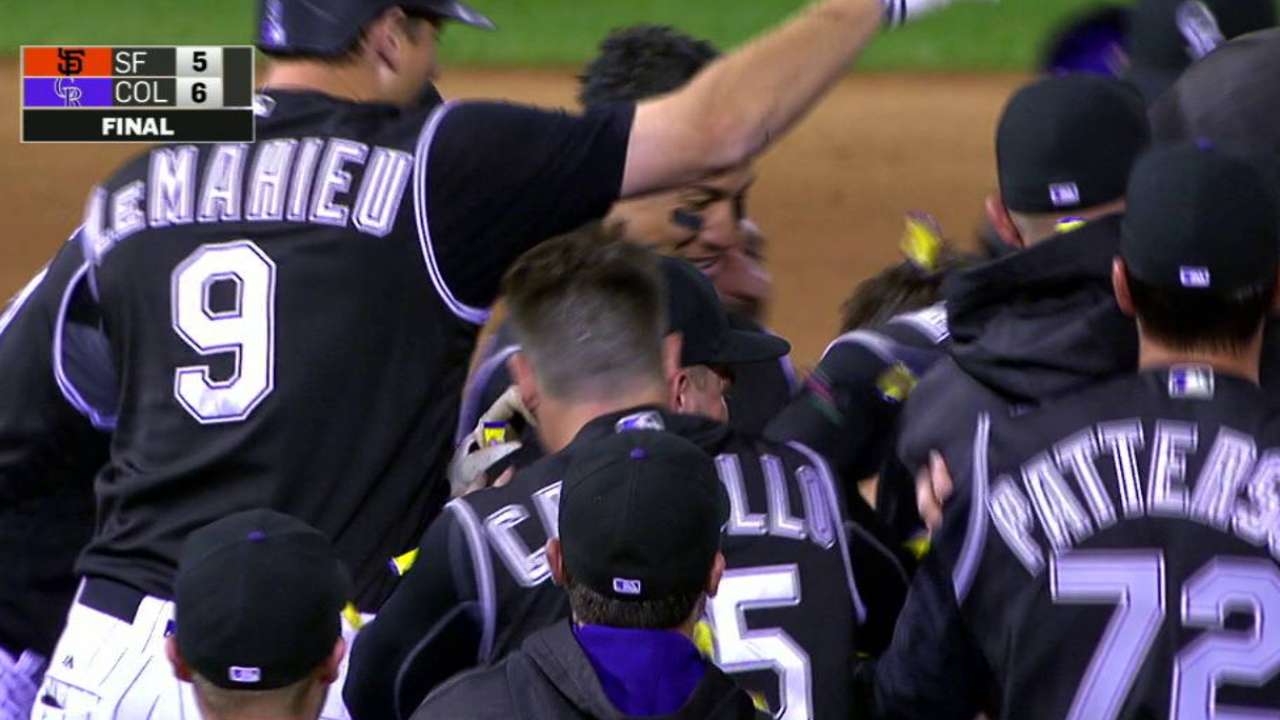 With Hundley in the game, Bochy brought in right-hander Joe Nathan in his second appearance since rejoining the Giants and his first with the game on the line.
"That's the name of the game," Nathan said. "It's not an easy gig. That's why we're put in those tough spots, and that's our job to get out of those."
With the outfielders playing deep, Hundley blooped a single that Angel Pagan couldn't come in fast enough for, loading the bases.
"We were playing no-doubles," Pagan said. "It's a ball that was hit soft, and I put my best effort from playing almost at the warning track. It was a good effort, but I couldn't make the play.
Pinch-hitter Cristhian Adames had the final word, as he took a misplaced two-seamer from Nathan and drove it to the right-field wall for a game-winning double.
"I kind of pulled one, left it in a bad spot, he put a swing on it and the rest is history," said Nathan.
With the Giants' lead in the Wild Card race cut to a half-game over the Mets and Cardinals, Casilla's hold on the closer role might also be history.
"I understand that in the past, things went my way," Casilla said. "This year, things aren't going my way, but that's baseball for you. Sometimes things go the right way, and sometimes things don't go your way."
Owen Perkins is a contributor to MLB.com and covered the Giants on Wednesday. This story was not subject to the approval of Major League Baseball or its clubs.