Lind finds 'sweet spot' early in 1st-inning slam
Mariners first baseman homers twice, drives in 5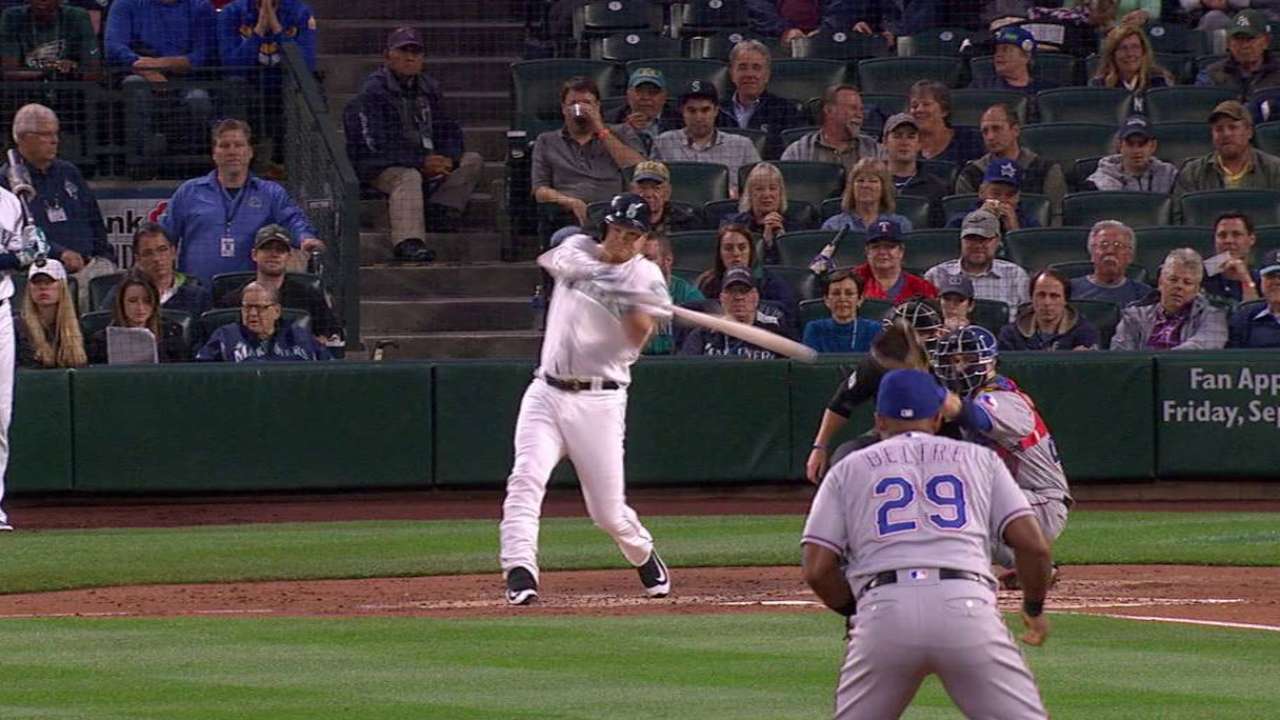 SEATTLE -- With the bases loaded in the first inning on Wednesday night, Adam Lind found the "sweet spot" on an 88 mph fastball from Rangers starter A.J. Griffin.
"I knew I would at least get a sac fly," Lind said.
• Grand slams mean 40% off pizza
He got a whole lot more than that. The fourth grand slam of Lind's career easily cleared the center-field fence at Safeco Field. It was the Mariners' fourth grand slam this season -- Robinson Cano, Seth Smith and Nelson Cruz each have one.
Lind drove in five runs in the Mariners' 8-3 win. He also hit a solo shot to left in the third inning for his second multi-homer game of the season.
"We've seen it in patches throughout the course of the year," manager Scott Servais said. "He just hasn't put together a normal Adam Lind year. But you look up at the end of it, he's still got 20 homers, he's had some games like this where he can really carry you, it just hasn't been that consistent."
As the left-handed half of a first-base platoon on a team that faces a lot of lefties, Lind's playing time hasn't been all that consistent, either. Wednesday was only Lind's second start in the last seven games. He had only four at-bats in that span: three against the Angels Sunday and one as a pinch-hitter Tuesday.
"I played in the NL Central last year," the former Brewer said. "It was predominantly a right-handed pitching division."
But, he claims, the down time has been no big deal.
"Sometimes it can be a good thing, especially this time of year," Lind said. "Sometimes it can be a bad thing. But tonight I guess it was good."
Maddie Lee is a reporter for MLB.com based in Seattle. This story was not subject to the approval of Major League Baseball or its clubs.