Broxton robs Rizzo of HR in 9th to thwart Cubs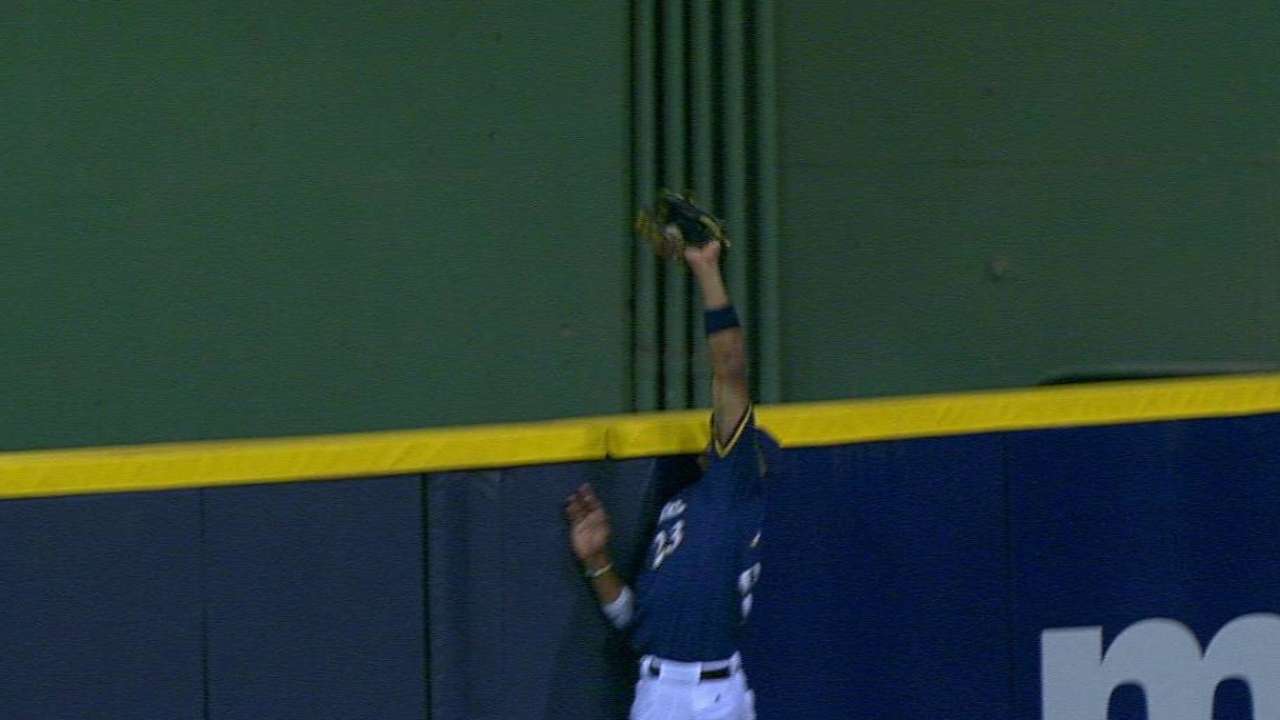 MILWAUKEE -- Baseball is a crazy, crazy game. Just ask the Brewers' Keon Broxton and Tyler Thornburg.
Prior to Wednesday night's game against the Cubs, outfielder Broxton and reliever Thornburg struck up a conversation in the Miller Park outfield on the specifics of robbing home runs. Hours later, Broxton gave Thornburg a practical, game-saving lesson when he took a homer away from Anthony Rizzo to preserve a 2-1 win.
The oversized warning track and the angle of the wall in the right- and left-center gaps would create less-than-ideal chances of bringing back homers, Thornburg thought.
No, the outfield confines are actually well-suited for homer thievery, Broxton told -- and later showed -- the pitcher.
"He thought that the size of the warning track would be a problem," Broxton said. "I told him I could see the surroundings, I could see the billboard above me once I get close to the wall. It never really bothers me. To actually have to show him how it really is tonight was pretty funny."
With one out in the ninth, Broxton soared well above the 8-foot wall in left-center to take away Rizzo's would-be game-tying homer off Thornburg. The Brewers' closer then got Ben Zobrist on a more routine flyout to end the game.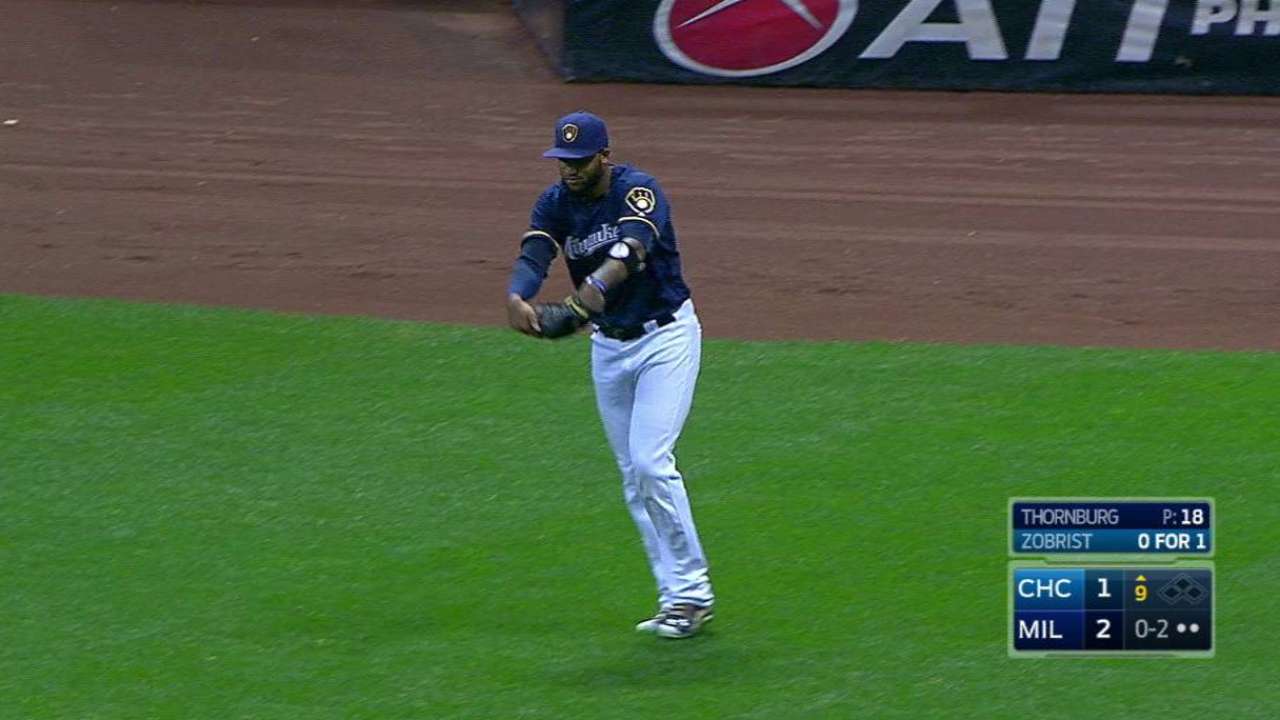 "I think that's every outfielder's dream, in the ninth inning to be able to make a play like that," Brewers manager Craig Counsell said. "You could tell by the way Keon reacted. You don't get opportunities like that [very often]."
Rizzo lofted the ball with a 36-degree launch angle for a projected height of 115 feet, according to Statcast™. Broxton had 6.54 seconds to track the ball down -- plenty of time to gear up before timing his leap.
"As soon as he hit it, I said, 'It's right at the wall,'" Cubs manager Joe Maddon said. "Of course, that kid is so athletic, Broxton, he was able to go over it. We didn't have good trajectory tonight on some of the balls that were hit well."
Said Counsell: "The key is [Broxton] got there fast. He got there in plenty of time, and then he was able to get his feet set and get a little distance from the wall so he could get up. And he got up pretty good."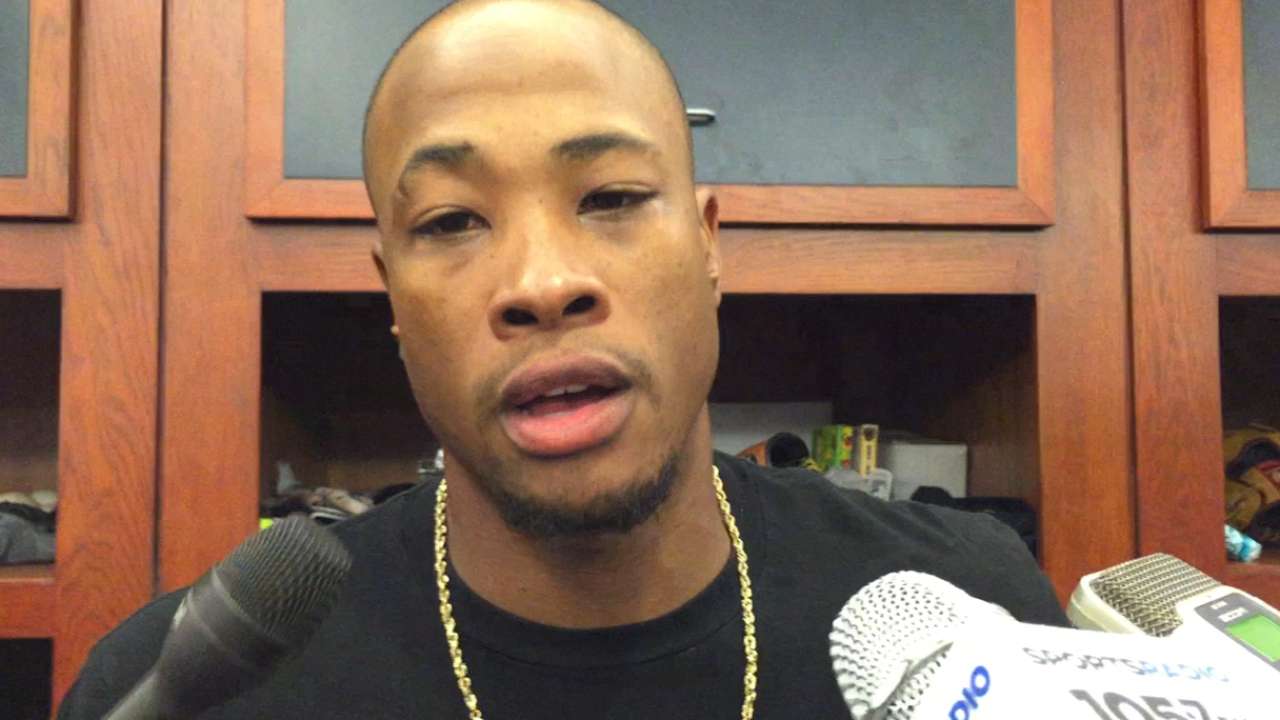 For Broxton, the catch not only preserved a win aided by two Jonathan Villar homers, but served as retribution for Rizzo making another of the season's top catches on a ball hit by the Brewers' center fielder. On Aug. 17 at Wrigley Field, the Cubs' first baseman acrobatically scaled the tarp and wall in foul territory to catch Broxton's popup.
"It's weird that I made it off Rizzo," Broxton said. "I don't know if you guys remember that Peter Pan catch that he made at his place against me, so it's nice to get him back."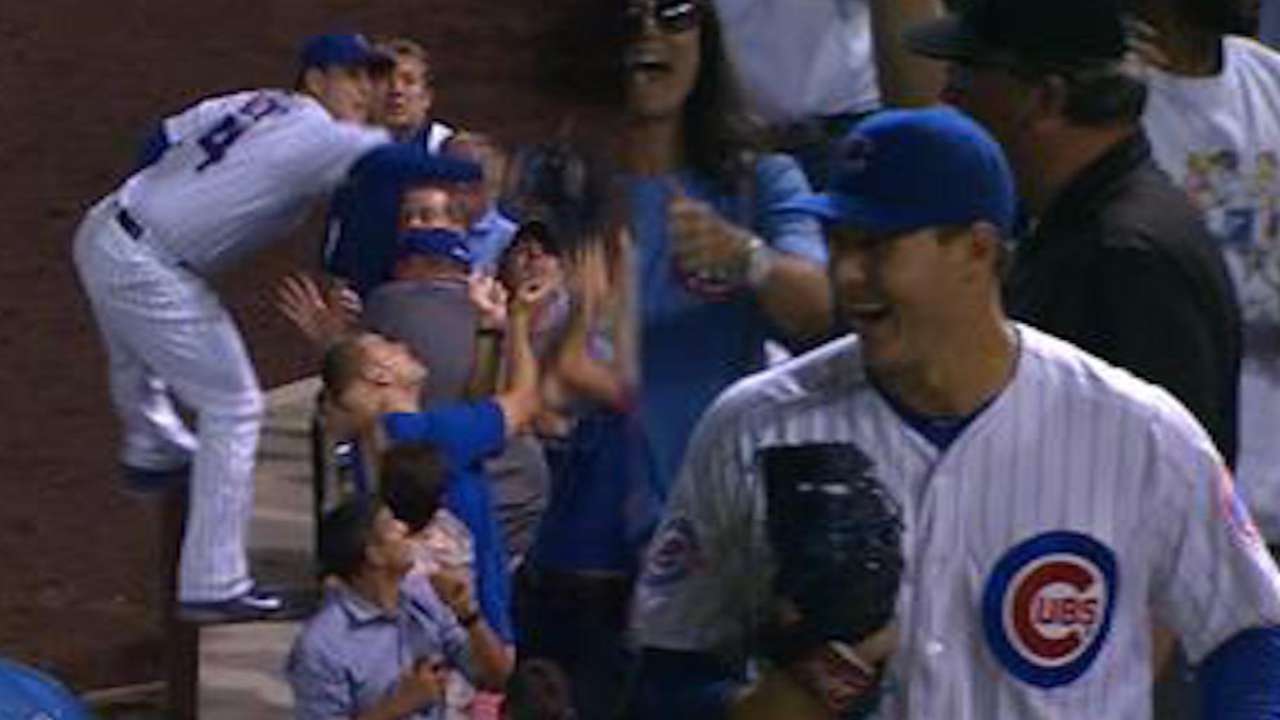 Could pregame chats about fielding between Broxton and Thornburg soon become commonplace?
"It's honestly the first time we've had that conversation all year," Thornburg said. "We're talking about we're in September. I feel like, tomorrow, I'm going to go up to him and start talking to him about catching routine fly balls or coming in on bloopers, maybe. Something like that, a little less stressful."
Curt Hogg is a reporter for MLB.com based in Milwaukee. This story was not subject to the approval of Major League Baseball or its clubs.