Vi-yard: Villar homers from both sides
Crew third baseman hits 14th, 15th HRs to go with 52 steals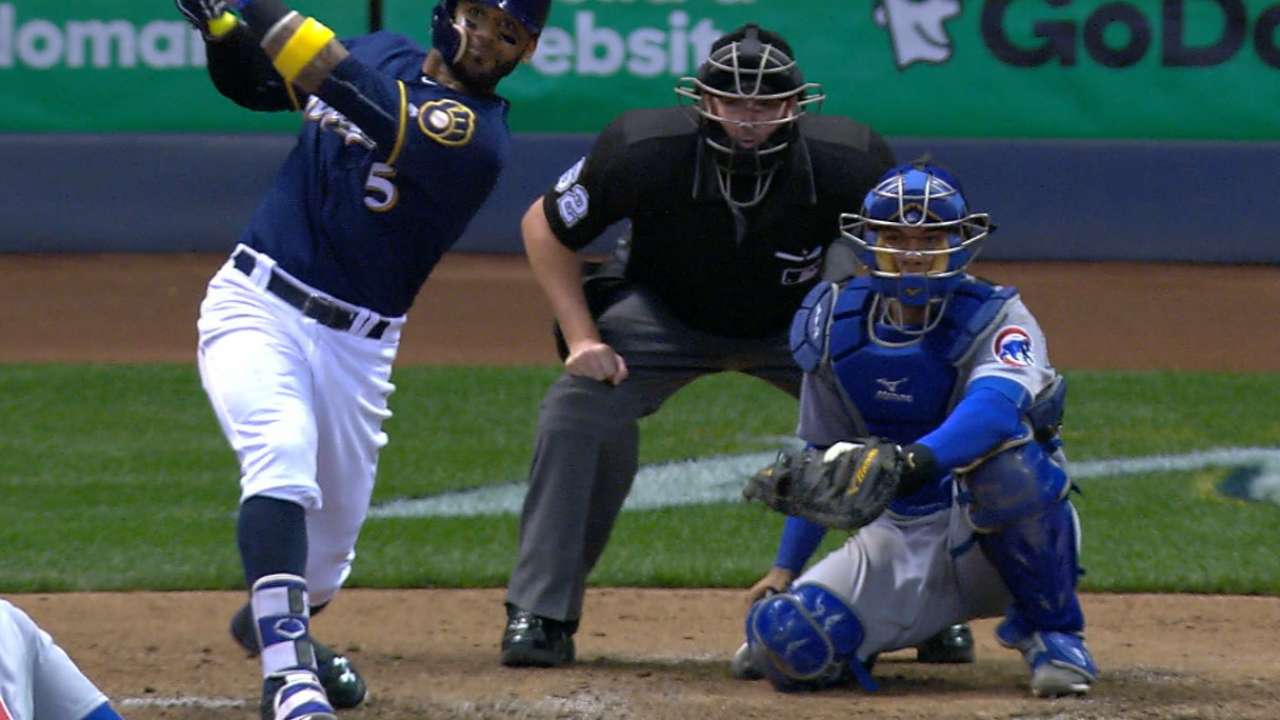 MILWAUKEE -- Jonathan Villar's recent power surge produced some Brewers history in Wednesday's 2-1 win over the Cubs, when the switch-hitting third baseman became the first Milwaukee player in 17 years to homer from both sides of the plate.
Villar batted right-handed against Cubs lefty Mike Montgomery leading off the fourth inning and homered for the Brewers' first hit. In the eighth, batting left-handed against Joe Smith, Villar smashed a 436-foot shot off the center-field scoreboard for the winning margin. It was Villar's longest home run of the Statcast™ era.
The last Brewer to homer from both sides of the plate in a game was Jose Valentin, who did it July 1, 1999 -- against the Cubs at Wrigley Field. Dale Sveum accomplished the feat twice, in 1987 and '88, and Ted Simmons also homered from both sides of the plate in 1982.
Villar became the eighth player to do it this season. The Tigers' Victor Martinez and the Nationals' Danny Espinosa have each done it twice in 2016.
"I don't feel happy for me. I feel happy for the team because we won," Villar said, who passed the credit to Brewers hitting coach Darnell Coles, and to center fielder Keon Broxton for robbing a Cubs homer in the ninth.
"That's not my game," Villar said. "That's Broxton's game. If he didn't take the ball away, it's a tie game."
Villar has homered in three of the Brewers' last four games, and Wednesday marked his first career multi-homer game. He has 15 home runs this season to go with 52 stolen bases, giving the 25-year-old a chance to become baseball's first 20/50 player since 2007 (Hanley Ramirez and Eric Byrnes).
Villar is already the first player with at least 10 homers and 50 steals since Carl Crawford for the Rays in 2009.
"I think we saw potential," Brewers manager Craig Counsell said. "His home runs have come, like most guys, in some bunches. There's certainly power potential in there. He's done a really nice job of just letting it play out this year, of understanding who he is as a hitter and just kind of letting it play out."
Adam McCalvy has covered the Brewers for MLB.com since 2001. Follow him on Twitter @AdamMcCalvy, like him on Facebook and listen to his podcast. This story was not subject to the approval of Major League Baseball or its clubs.