Leake takes positive first step in return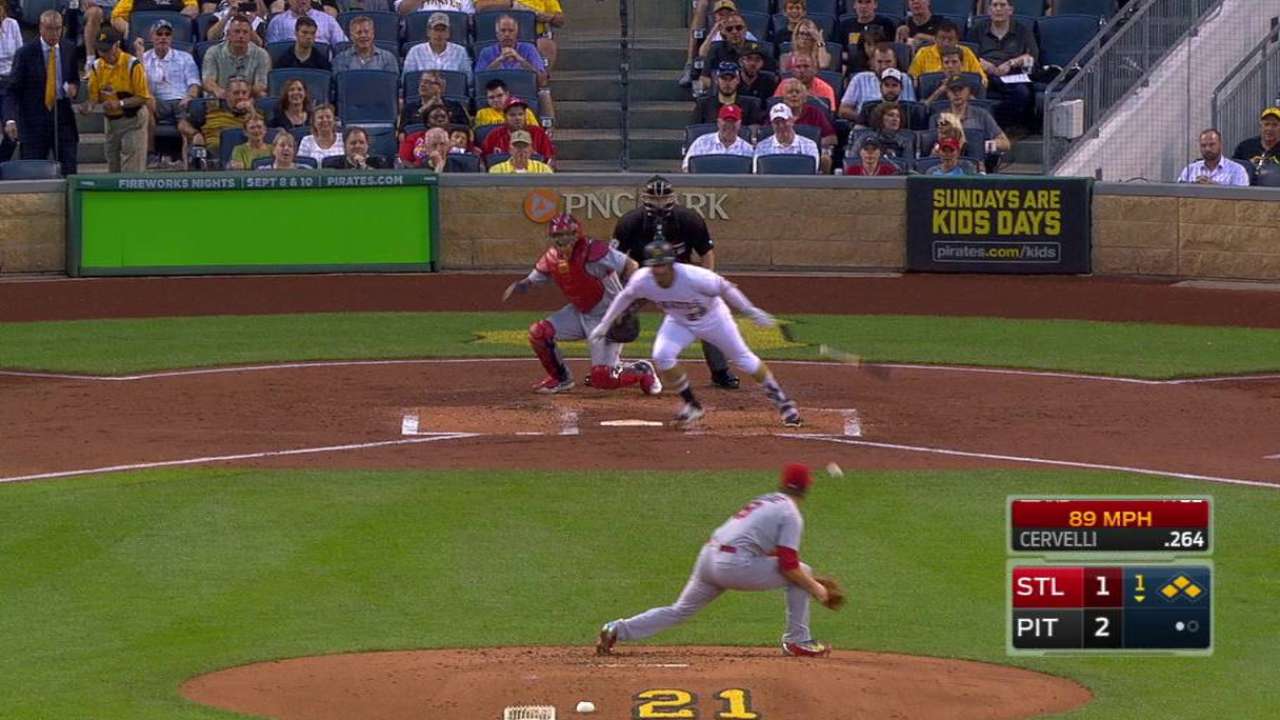 PITTSBURGH -- When the Cardinals made the decision earlier this week to hand Wednesday's start to Mike Leake, they did so with understood uncertainty. Manager Mike Matheny realized that turning to a pitcher coming off a 16-day layoff in which he was fatigued and left bedridden by shingles was a calculated risk in the waning days of a pennant race.
What the Cardinals received from Leake in a series finale they would lose, 4-3, to the Pirates wasn't his best. But given the unique circumstances, it was considered by all parties to at least be a positive first step.
"Overall, I was impressed that his stuff was as good as it was," Matheny said after watching Leake throw 4 1/3 innings. "We knew what we saw in the side [session on Sunday], but that isn't always the exact same thing you're going to see in the game. But he was good. He competed and kept us in that game."
The night started without such assurances, as the Pirates laced consecutive ground-ball singles off Leake to open the first. He appeared to have a play on the second one but pulled his glove back, believing that second baseman Matt Carpenter might be able to snare it behind him, but Carpenter wasn't there.
"It was a ball that I would be stabbing at, so it was one of those that at the time I thought they might be able to get there," Leake said. "But they weren't. Hindsight."
What might have been a double play complicated an inning in which Leake would allow four hits, walk one and put his team behind, 2-1. Had he looked back to the bullpen after loading the bases on his 22nd pitch, he would have seen rookie Alex Reyes warming up.
An inning-ending double play sat Reyes down.
"We kind of went in not knowing what we were going to see," Matheny said. "If he's making good pitches, he's going to pitch. If he's not, then we have to adjust. That puts us on high alert that we just don't want to go very far. But after that he started making good pitches."
Leake scattered five hits the rest of the way, and the Pirates scored once more. Leake, who had posted a 2.84 ERA in three starts before being shut down with shingles, has work to do to regain the command and crispness of his pitches. He was most relieved by his stamina, noting that he had energy throughout the 75-pitch outing.
"Now I'm back on track and will get ready for the next one," he said.
With endurance no longer a concern, Leake should not be limited in his pitch count when he returns to the mound in five days. That is an important footnote for the Cardinals, who continue to seek stability in both their rotation and bullpen.
Though Leake's 4.61 ERA is the highest of any of his seven big league seasons, the Cardinals will lean on him for innings. His schedule won't be easy, either. As the rotation is set up, Leake's next three starts will come against the first-place Cubs (twice) and Wild Card-contending Giants.
"We absolutely need him," Matheny said. "If he keeps doing what he was doing today, he's going to give us a chance to win. He has all season been able to figure out a way. You look out there and he's still in the game and able to give us a chance."
Jenifer Langosch has covered the Cardinals for MLB.com since 2012, and previously covered the Pirates from 2007-11. Read her blog, follow her on Twitter, like her Facebook page and listen to her podcast. This story was not subject to the approval of Major League Baseball or its clubs.