Left knee giving Martin issues during at-bats
Catcher lifted for pinch-hitter during ninth inning of loss to Yankees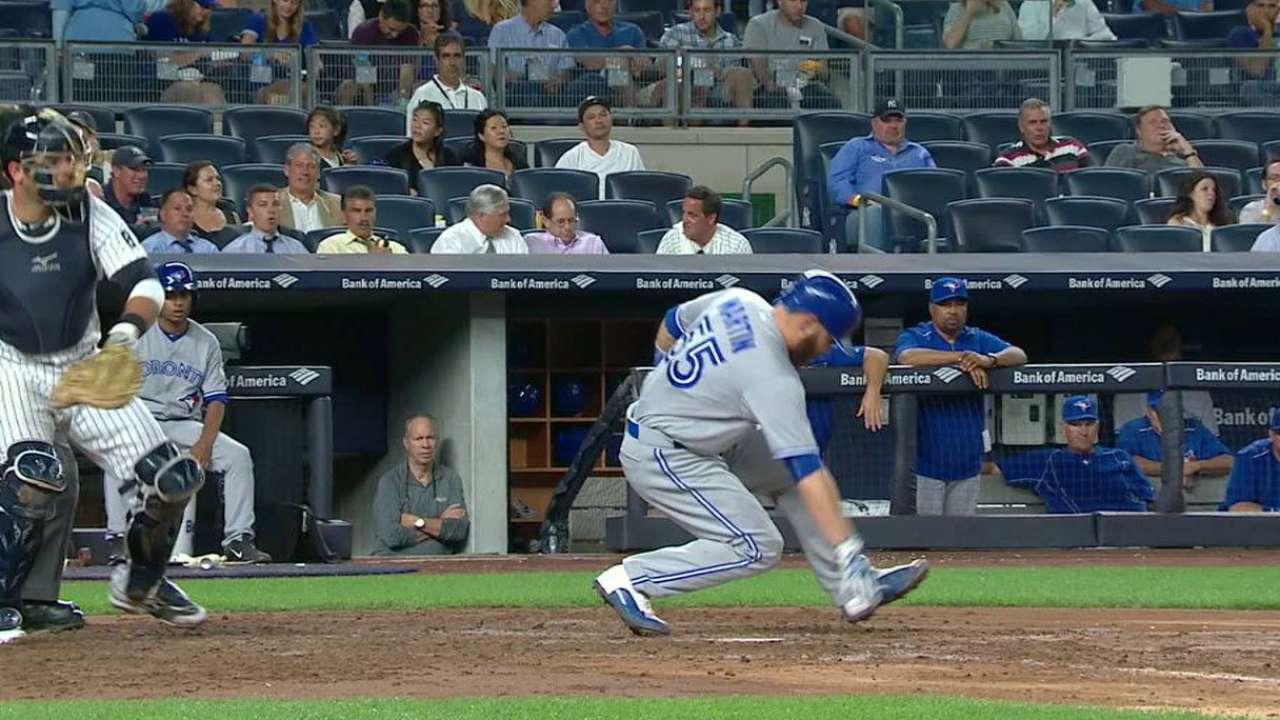 NEW YORK -- In addition to the Blue Jays being swept at Yankee Stadium, starting catcher Russell Martin also exited Wednesday's 2-0 loss in the top of the ninth inning after tweaking his left knee. He is considered day to day.
Martin grimaced running to first base on a groundout in the top of the seventh inning, but he stayed in the game on defense and even caught Chase Headley stealing in the eighth before being lifted for pinch-hitter Dioner Navarro in the ninth. Toronto's starting backstop said he felt the pain while batting all game, with each additional swing aggravating the knee.
"Every swing it felt like something was biting me right in that knee," Martin said. "I felt like in that situation, the way I was looking today, I wouldn't really be helping the team just trying to grind it out and be a tough guy. Instead [manager John Gibbons] sent a fresh guy up there and gave us a chance. It didn't really affect me behind the plate. I felt fine behind the plate. It was just really when I was twisting the knee and putting force, that's when I really felt it."
Martin acknowledged he has been dealing with pain in his knee lately, but the veteran backstop has still played in 116 games this season. Martin has been one of Toronto's most consistent performers in the second half with 10 home runs and 25 RBIs in his last 30 games, and the 33-year-old is hoping Thursday's off-day will allow him to be ready for Friday's critical divisional showdown against the Red Sox.
"I guess it's just trying to be smart with it a little bit," Martin said. "It's that time of the year. Nobody is feeling 100 percent at this time. I'm a tough guy, so I'm not really worried about it."
If Martin isn't able to start on Friday, Navarro will likely draw the nod with Marco Estrada on the mound. Navarro spent last season as Estrada's personal catcher and caught the finesse right-hander his last time out against the Rays.
Alykhan Ravjiani is a reporter for MLB.com based in Toronto. This story was not subject to the approval of Major League Baseball or its clubs.