Giants stung by Rockies' 9th-inning walk-off rally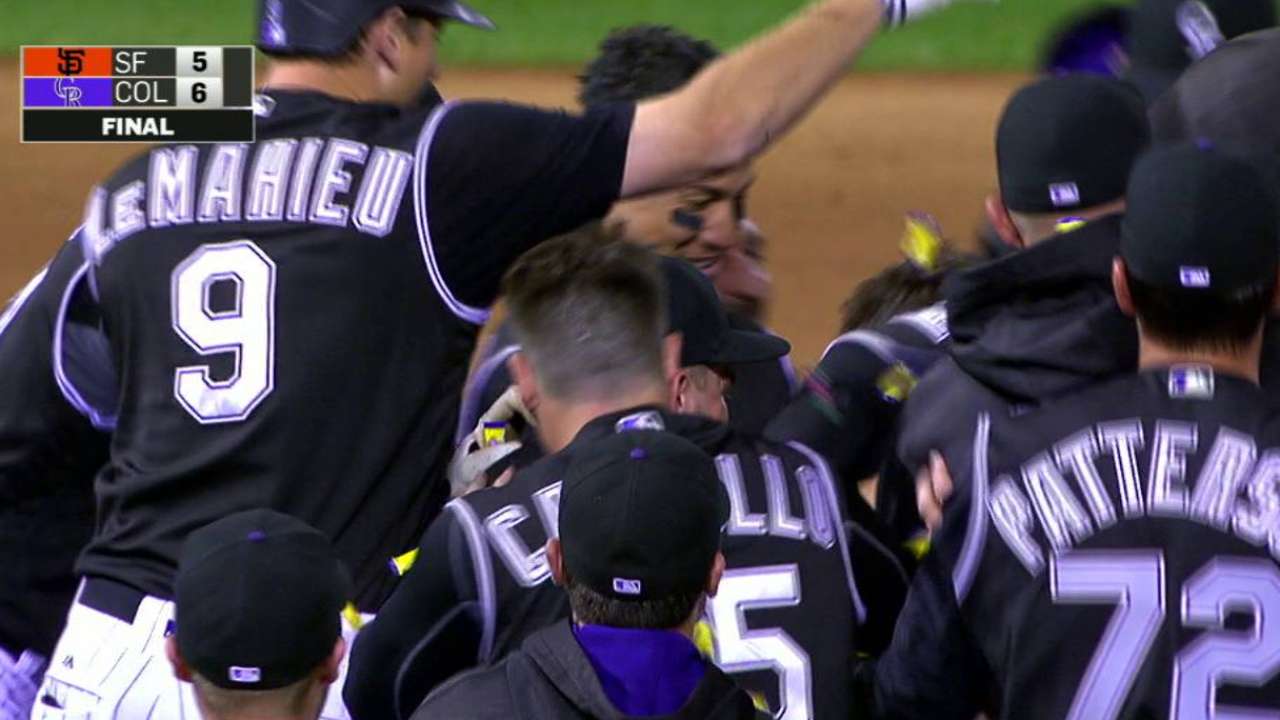 DENVER -- The Rockies stormed back in the ninth inning to win on Cristhian Adames' pinch-hit walk-off double to cap a 6-5 win over the Giants at Coors Field on Wednesday. With the Cardinals' loss, the Giants remained a half-game ahead of them for the top National League Wild Card spot, while the Mets' victory also put them a half-game back of San Francisco in the race for two Wild Card slots.
"It feels good when you help the team to win, especially against the Giants," said Adames, whose walk-off was the first of his career. "I'm really happy. I had a good hit, and we win the series."
After five Giants relievers combined to throw three scoreless innings, closer Santiago Casilla gave up Nolan Arenado's NL-leading 37th homer of the season and a Tom Murphy single to start the ninth. Giants manager Bruce Bochy then turned to Josh Osich, who hit pinch-hitter Charlie Blackmon before Joe Nathan gave up a bloop single to center by Nick Hundley and Adames' two-run double off the right-field wall.
"[I] pulled on a two-seamer just trying to get a ground ball, trying to do anything I can to even keep the ball on the ground," Nathan said. "Kind of pulled one, left it in a bad spot, he put a swing on it and the rest is history."
• Giants' stout 'pen effort collapses in final frame
The Rockies' bullpen did a great job of holding the game intact after giving up 18 runs in 21 1/3 innings in the rest of their nine-game homestand. Justin Miller, Jake McGee and Jordan Lyles -- the winning pitcher -- combined to throw three scoreless innings.
"If you keep us in ballgames, there's a good chance we're going to win those games," Arenado said. "We have the offense to do that, and Lyles is doing a great job. Ever since he got in the 'pen, I feel like he's a different pitcher, and he's competing. Guys are stepping up, and that's what we need."
San Francisco tagged Rockies starter Jorge De La Rosa for five runs on nine hits over six innings, the most runs he has given up since July 20. Buster Posey got the scoring going early with a sacrifice fly in the first, while Brandon Belt and Gorkys Hernandez did the heavy lifting with 457-foot and 428-foot shots, respectively. However, they couldn't put together any more offense after Hunter Pence's RBI double in the fifth despite putting six batters on base.
MOMENTS THAT MATTERED
Back-to-back jacks: David Dahl and Murphy hit back-to-back homers in the fourth inning, the 12th time the Rockies have done that this season. It was the second time this homestand that the Rockies homered back-to-back after Nick Hundley and Daniel Descalso did so Saturday against the D-backs. Dahl's last homer, which came Aug. 28 at Washington, was also the second half of back-to-back homers with Arenado.
"It can get you going," Dahl said. "It can really spark the team, and I felt like it gave us some life right there. We just battled back and battled until the last out and got it done."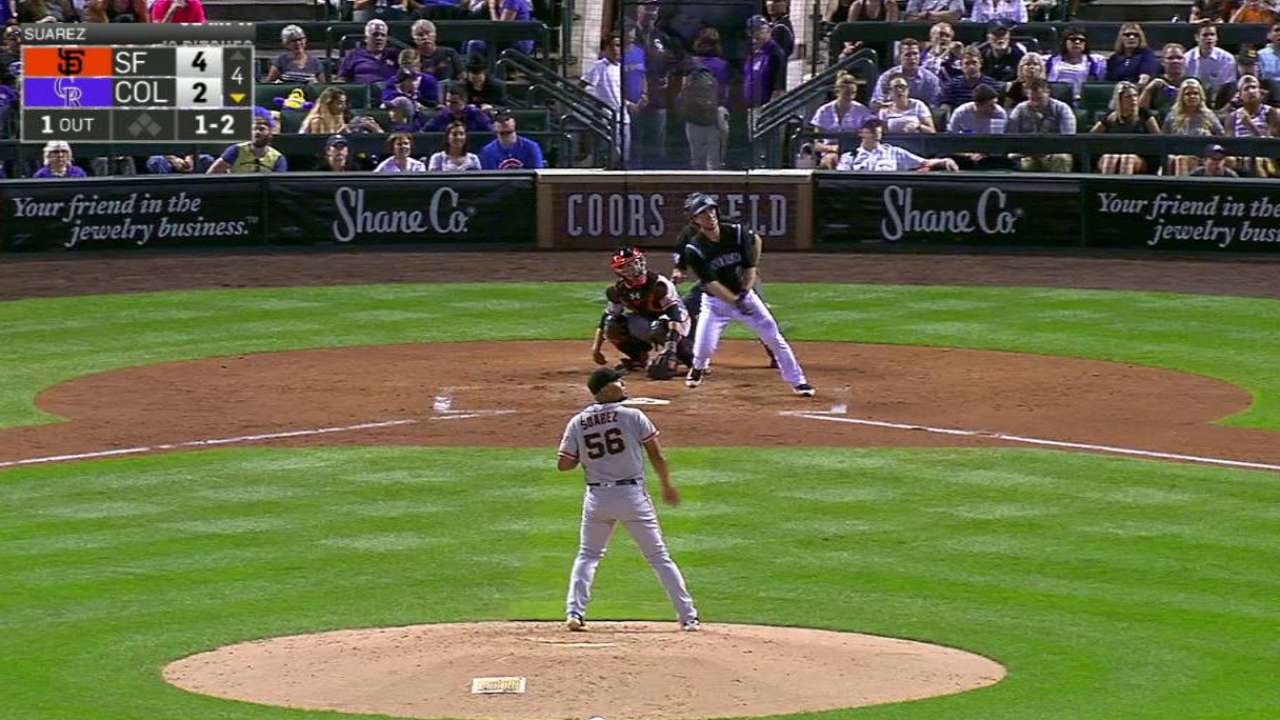 Belt breaks drought; offense wakes up: Belt, who hadn't homered since Aug. 13 (a span of 71 at-bats), hit a shot over the center-field wall in the second inning for his 15th home run of the season. The two-run homer gave San Francisco a 3-1 lead.
"They swung it well," Bochy said of the Giants' offense, which had scored three runs or fewer in five straight games. "It was a well-played game; the bats came to life. We didn't get a bunt down there, but other than that, we played well. But you've got to finish the ninth, and we couldn't do it tonight. Lots of games we've lost late, and those hurt."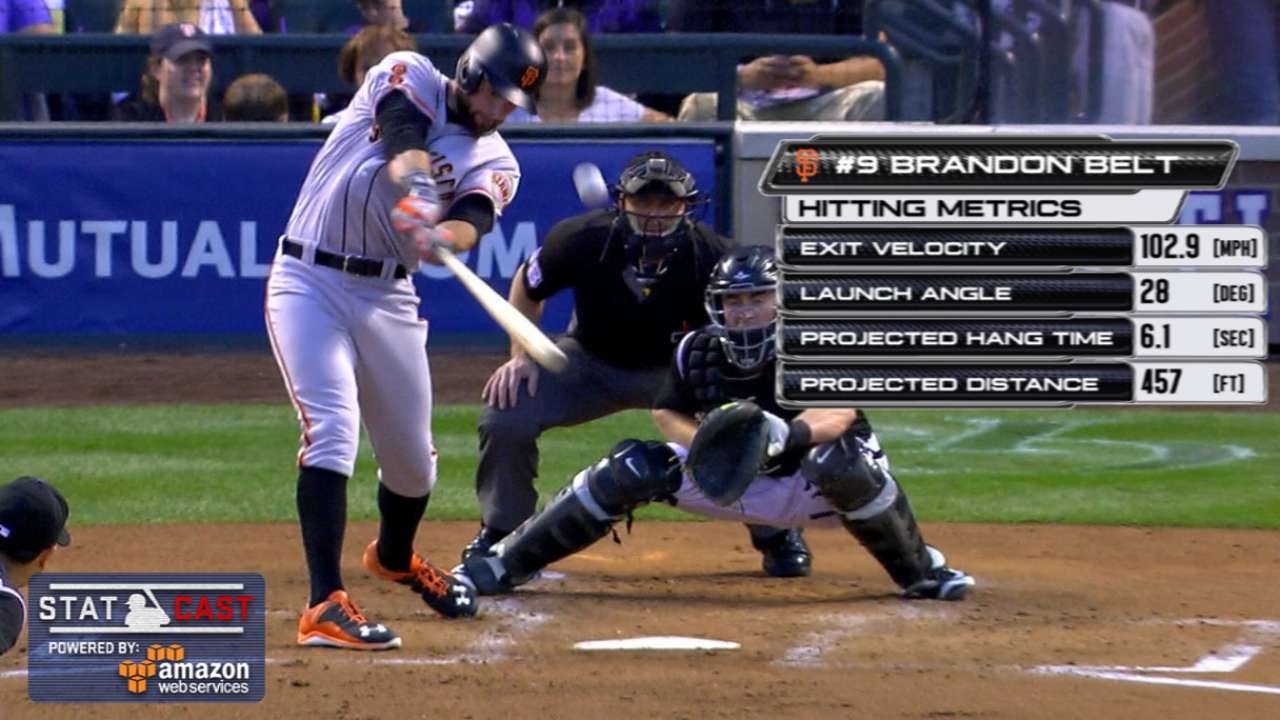 Parra exits: Rockies first baseman Gerardo Parra left the game with a right hamstring strain after the first inning. The injury likely occurred when he did a split while attempting to complete an out on Pence's infield single. Parra was seen stretching his legs in the dugout in the bottom of the inning.
"It's not too bad," Parra said. "Sometimes we [have to stretch] in the outfield, too. But that's just baseball. You just have to make the out there." More »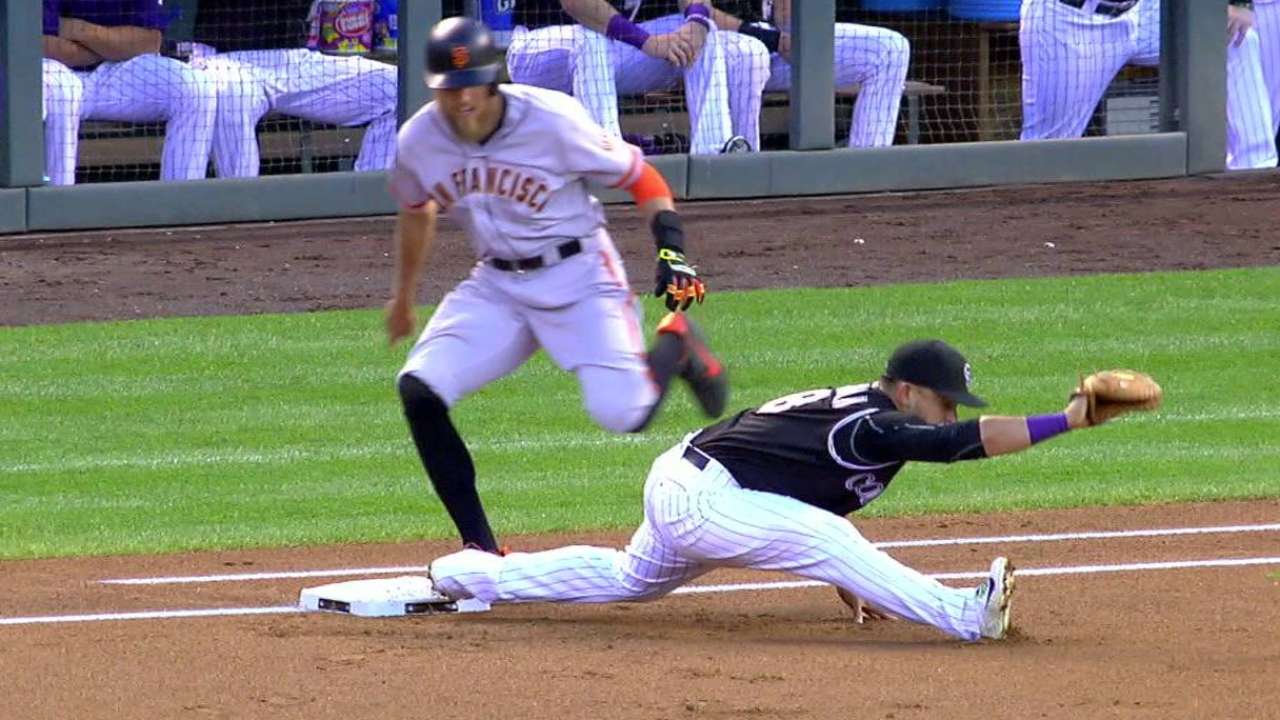 No-doubles works, but then doesn't: With runners at first and second and one out in the bottom of the ninth, Hundley hit a shallow fly ball to left-center. With center fielder Hernandez and left fielder Angel Pagan playing deep to prevent extra bases, the two raced in and Pagan slid but couldn't make the catch. The single enabled the tying run to advance to third and put the winning run at second.
"I kind of looked at [Hernandez] and out of the corner of my eye, I saw that I was a little in front of him and I went for it," Pagan said. "If he called me off, then I'd make my move, but in that situation, somebody's got to be there. I put my best effort, from playing almost at the warning track -- it was a good effort but I couldn't make the play. It just didn't happen."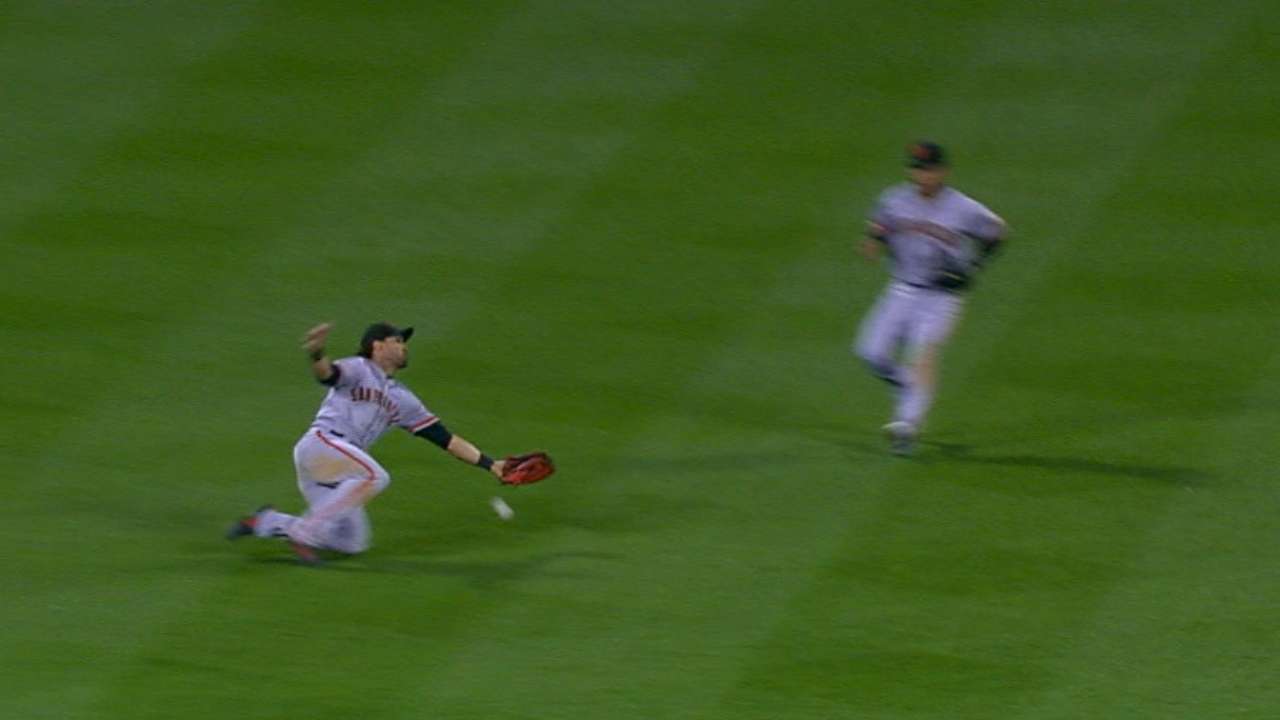 QUOTABLE
"I've never really had a lot of success against Casilla. He's always been tough for me. I just tried to get a ball over the plate and see it up and hit it hard. He's tough, he's not comfortable, and he made a mistake when the ball came back over the plate." -- Arenado on Casilla, against whom he was 2-for-11 coming into the game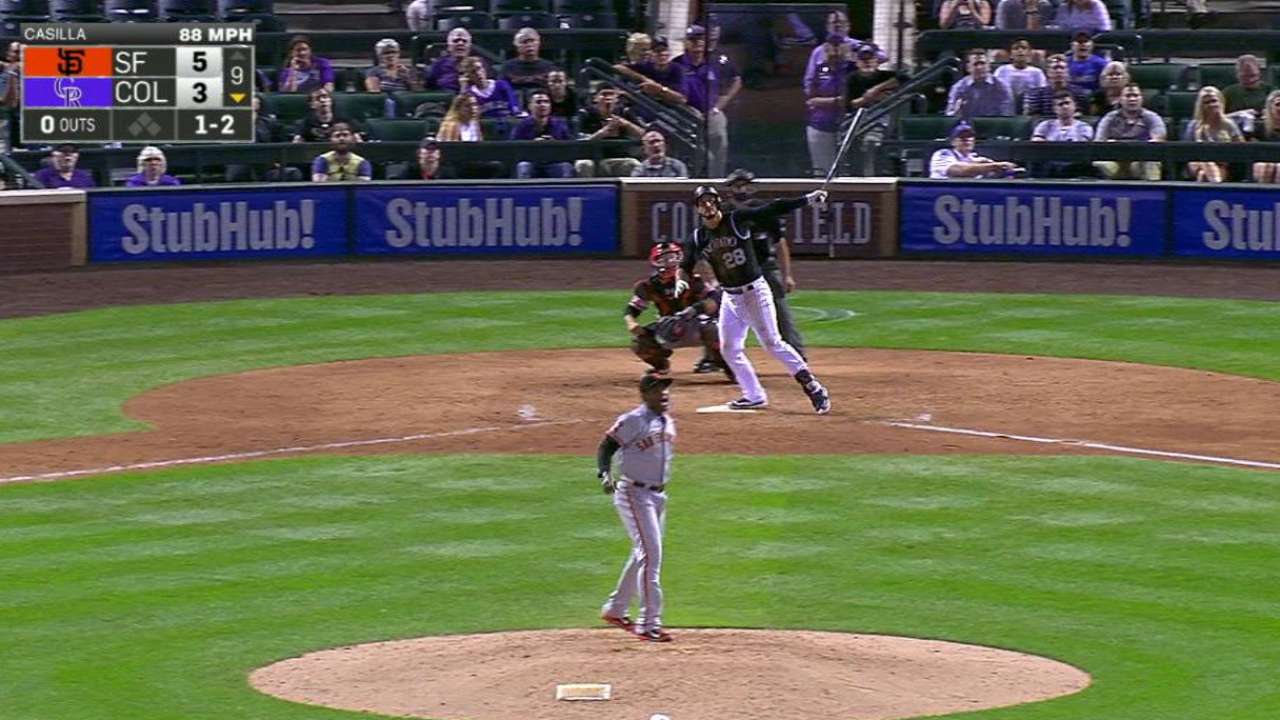 "It's good to be on that side of the win. We've had some tough ones. We've had to swallow some tough losses. You play close games, tough games, tight games, sometimes you get your heart broken, and sometimes you get to celebrate like we did tonight." -- Weiss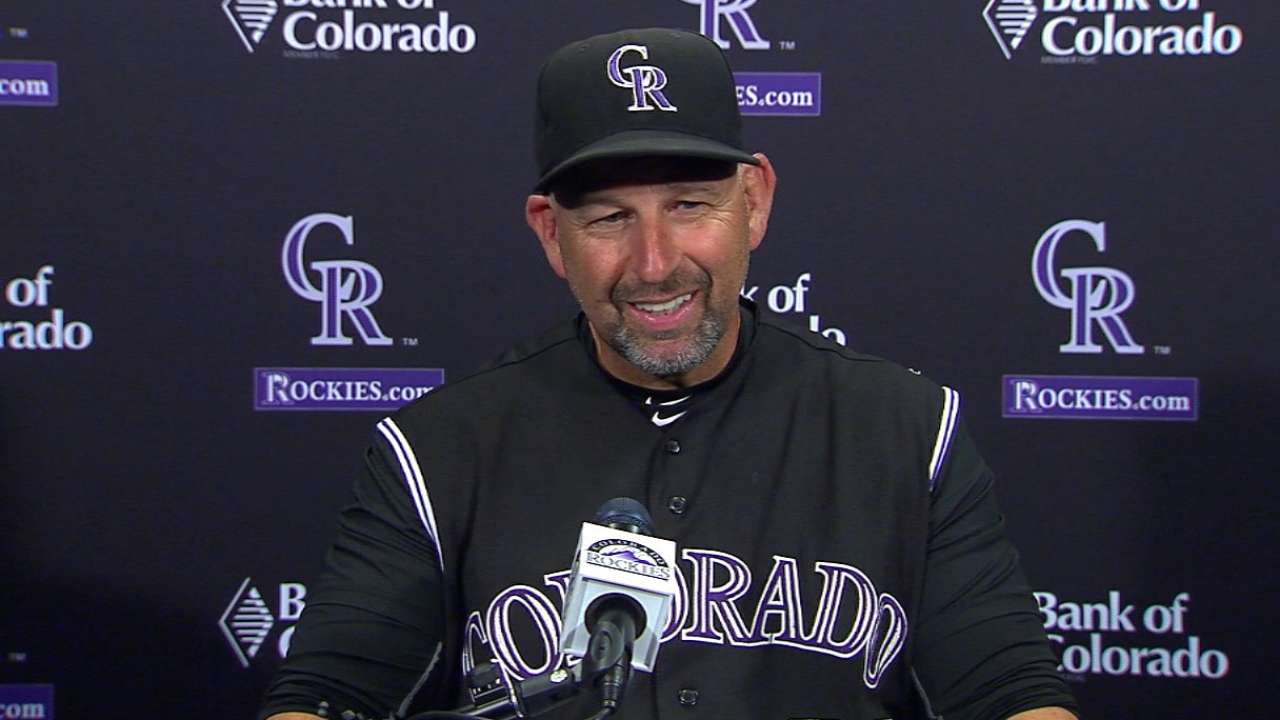 BLACKMON BACK IN ACTION
Blackmon, the Rockies' regular center fielder, was out of the starting lineup for a fifth straight game with lower back tightness but ended up pinch-hitting in the ninth. He got hit in the side and scored the winning run.
"I was really happy to be a part of it," Blackmon said. "I felt kind of worthless just watching that whole series, and those guys did a great job winning two out of three."
SOUND SMART WITH YOUR FRIENDS
Hernandez celebrated his 29th birthday Wednesday with a double and a home run. The homer was the fourth of his career and his first since Oct. 2, 2012, against R.A. Dickey of the Mets.
"I was excited to play today, on my birthday," Hernandez said. "It took four years to make another home run. I don't try to do too much, just looking for a good pitch and try to use center field and right field."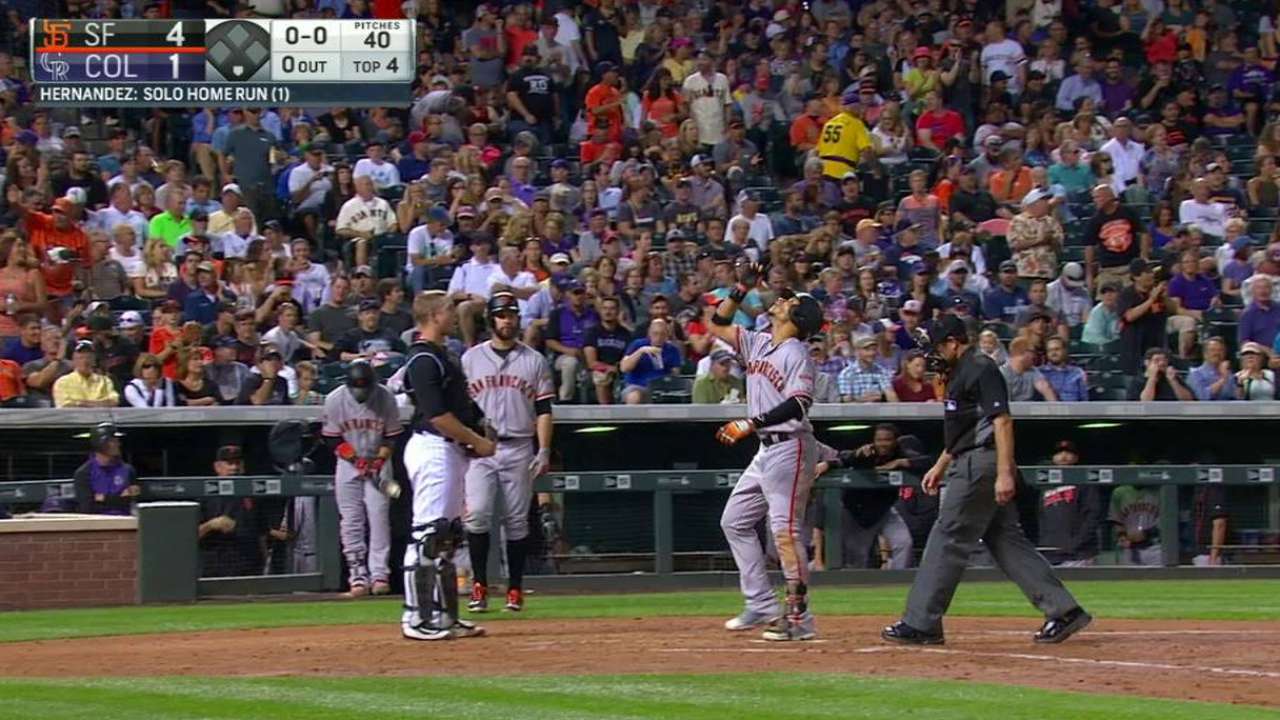 REPLAY REVIEW
The Giants challenged a first-inning call that Pence was out at first after Arenado made a great diving stop at third. The replay officials overturned the call, ruling Pence definitively touched first before Parra caught the ball. However, the call proved inconsequential, as Pence was caught stealing two pitches later.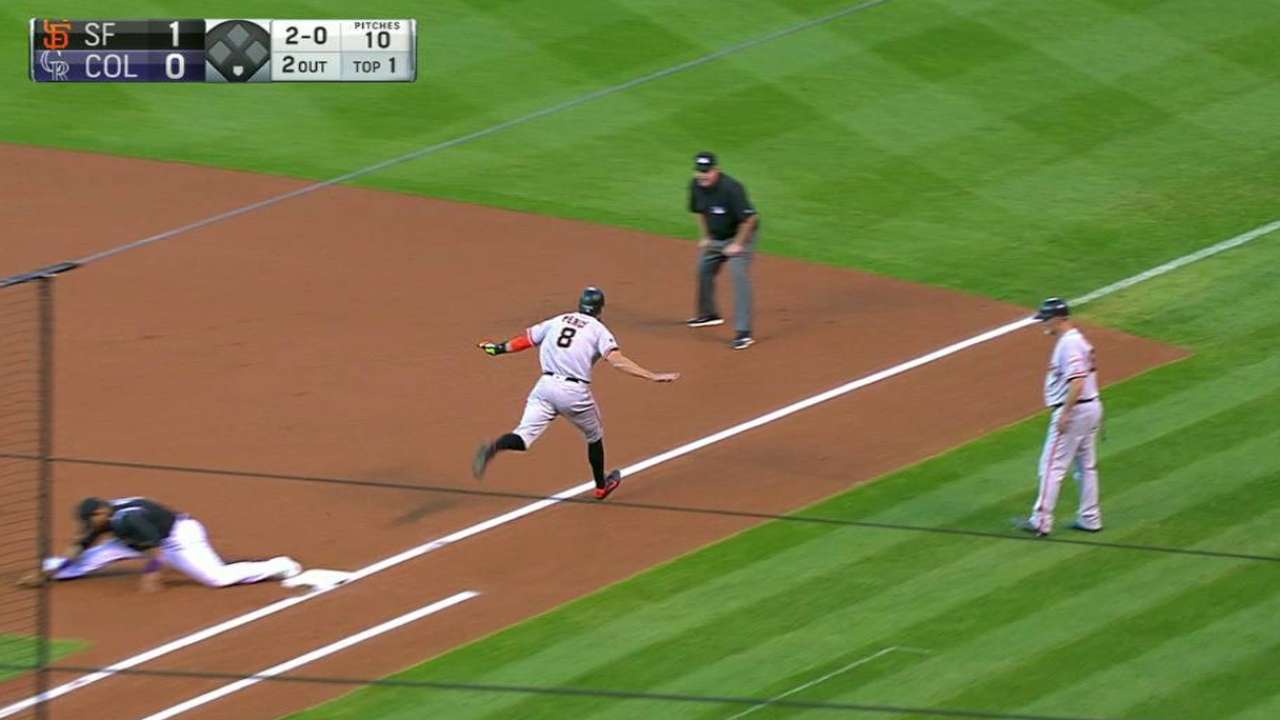 WHAT'S NEXT
Giants: San Francisco has an off-day Thursday before beginning a three-game series against the D-backs in Arizona on Friday at 6:40 p.m. PT. Madison Bumgarner is scheduled to start for the Giants; he gave up two runs on five hits over six innings for a win over the Cubs last Saturday at Wrigley Field.
Rockies: Rookie right-hander Jeff Hoffman will seek his first career win as the Rockies begin a three-game set in San Diego on Thursday at 8:10 p.m. MT. He had the best outing of his career his last time out when he limited the Dodgers to two runs on three hits over five innings.
Watch every out-of-market regular-season game live on MLB.TV.
Manny Randhawa is a reporter for MLB.com and covered the Giants on Wednesday. Follow him on Twitter at @MannyRsports.

Ben Weinrib is a reporter for MLB.com based in Denver.

This story was not subject to the approval of Major League Baseball or its clubs.