Cosart's injury muddles Padres' rotation plans
Padres starter exits early with strained hamstring, groin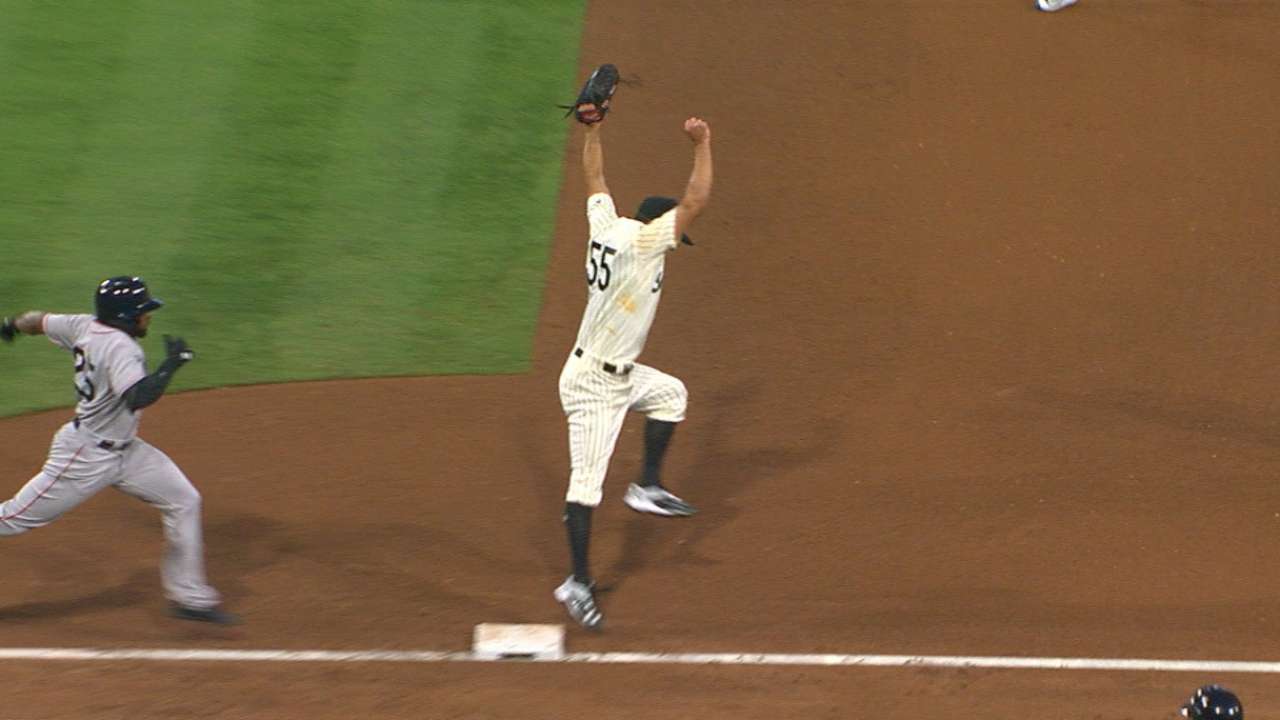 SAN DIEGO -- Padres right-hander Jarred Cosart exited Wednesday's 7-2 loss to the Red Sox in the fourth inning after sustaining a strained right hamstring and groin while covering first base.
In the process, the Padres' plans to finish the season with a six-man rotation were thrown into a bit of disarray, with Cosart "unlikely" to make his next start, according to Padres manager Andy Green.
"You've got to have six starters to be committed to [a six-man rotation]," Green said. "I'm not sure where we'd go. That's an organizational discussion. Right now I'm not sure who the sixth guy would be -- if it's somebody in Triple-A, somebody someplace else."
The Padres began using a six-man staff in mid-August before briefly going away from it at the end of the month. They've since returned to a six-man rotation with the main objective of limiting the workloads on Christian Friedrich and Luis Perdomo.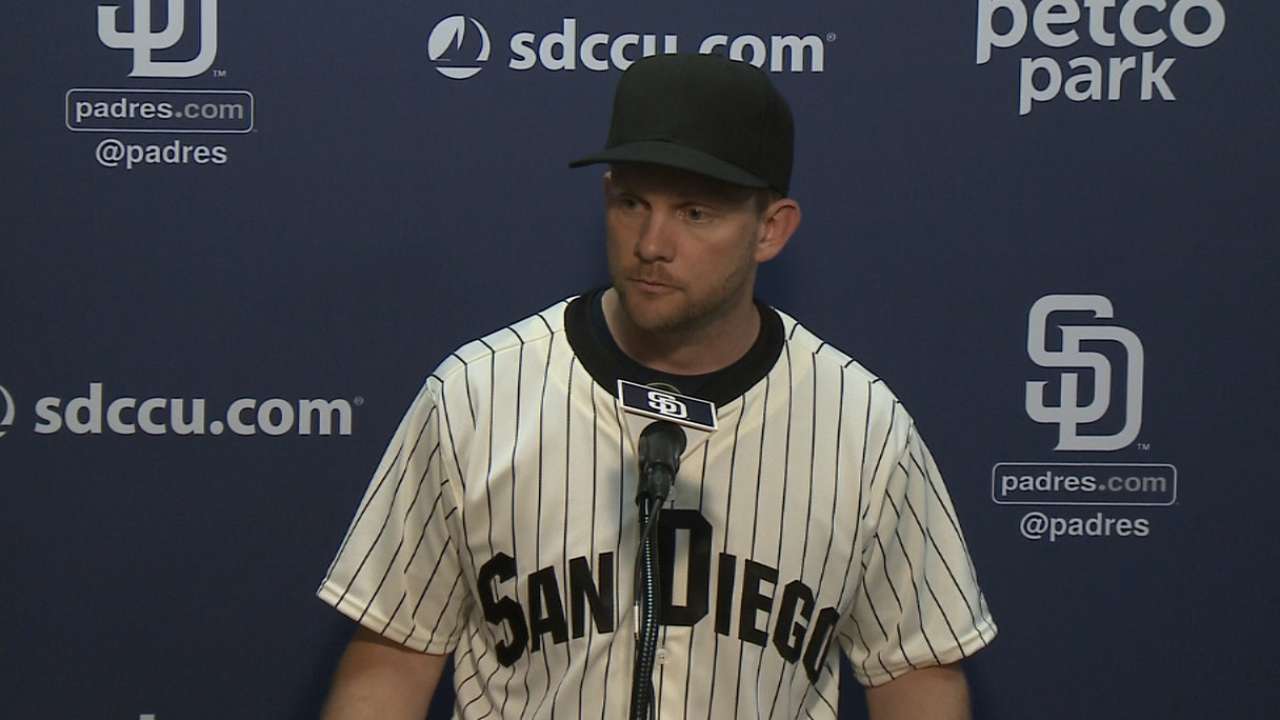 There's a chance San Diego opts to go back to a five-man staff, but the next off-day won't come until after the next turn through the rotation -- which would give Perdomo shorter-than-usual rest.
Of course, all of this is contingent on Cosart missing his next start -- which isn't yet a certainty.
"I wanted to pitch, but that wasn't going to happen," said Cosart. "It kind of calmed down, but we'll see where we're at tomorrow and the next day and make a decision from there."
The right-hander sustained the injury, while adjusting to field an errant throw from Padres first baseman Wil Myers. The area in his upper right leg began to tighten when he jumped to catch the ball, and he further aggravated it when he landed awkwardly on the infield dirt.
Despite his best efforts, Cosart missed the base. He noted, "It probably didn't help that I missed the bag, because I was coming down thinking I was going to be on the bag."
Over 3 1/3 frames, Cosart allowed three runs (two earned) on two hits -- including a two-run blast by Red Sox third baseman Travis Shaw. Otherwise, he looked relatively sharp, rebounding from a poor outing in Atlanta last week.
Carlos Villanueva replaced Cosart on the mound and went 1 2/3 innings, allowing two runs on three hits with one strikeout. If the Padres choose to stick with a six-man rotation, Villanueva -- currently the long man -- is an option to slide into Cosart's spot.
The Padres have a few candidates at Triple-A. But after replacing their entire Opening Day rotation, their 40-man roster options are running thin.
"We've gotta have somebody to slide in there," Green said. "We don't really have a wealth of starters banging on the door to get here right now. So we'll see how the Triple-A playoffs go and make a determination after that."
In the first game of those playoffs, El Paso fell to Tacoma, 6-5 in 12 innings.
AJ Cassavell covers the Padres for MLB.com. Follow him on Twitter @ajcassavell. This story was not subject to the approval of Major League Baseball or its clubs.