Dozier gladly ends HR streak for win over KC
Twins second baseman turns stellar DP, scores tying run in key 7th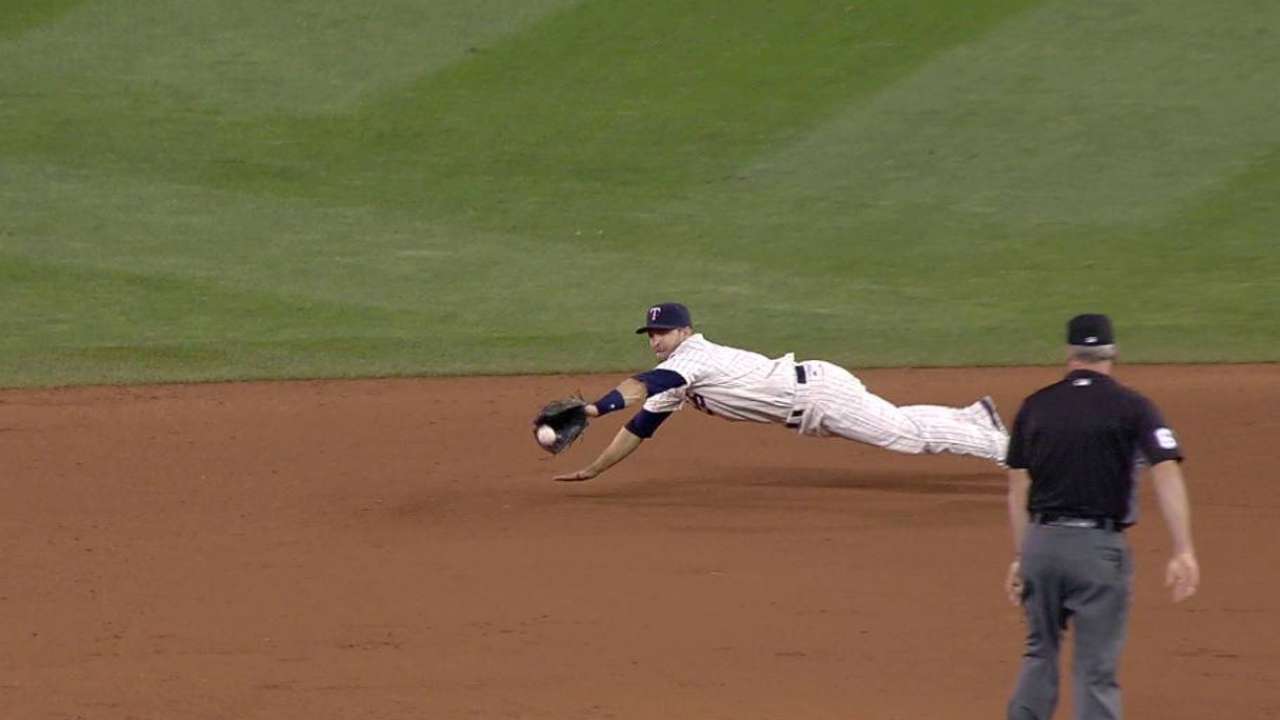 MINNEAPOLIS -- During his recent power surge, Brian Dozier has maintained that he'd happily trade a homer for a win, especially with how much the Twins have scuffled this season.
Dozier saw his streak of five games with a homer end on Wednesday night, but it saw another more painful streak come to a close, as the Twins rallied for a 6-5 win to snap a seven-game losing streak against the Royals. Dozier had homered in nine of 14 games vs. the Royals this year, but the Twins had just two wins to show for it before Wednesday.
"I feel like when I hit one, we don't come out on the winning side," Dozier said with a smile. "But I'll tell you what, going against a team we've struggled tremendously against this year, it's good to get a win against them, especially going into an off-day."
So while Dozier didn't homer this time, he found other ways to contribute. Dozier turned a highlight-reel double play in the fifth on a diving stop and scored the tying run as part of a two-run seventh after singling, stealing second and scoring on a double by Miguel Sano.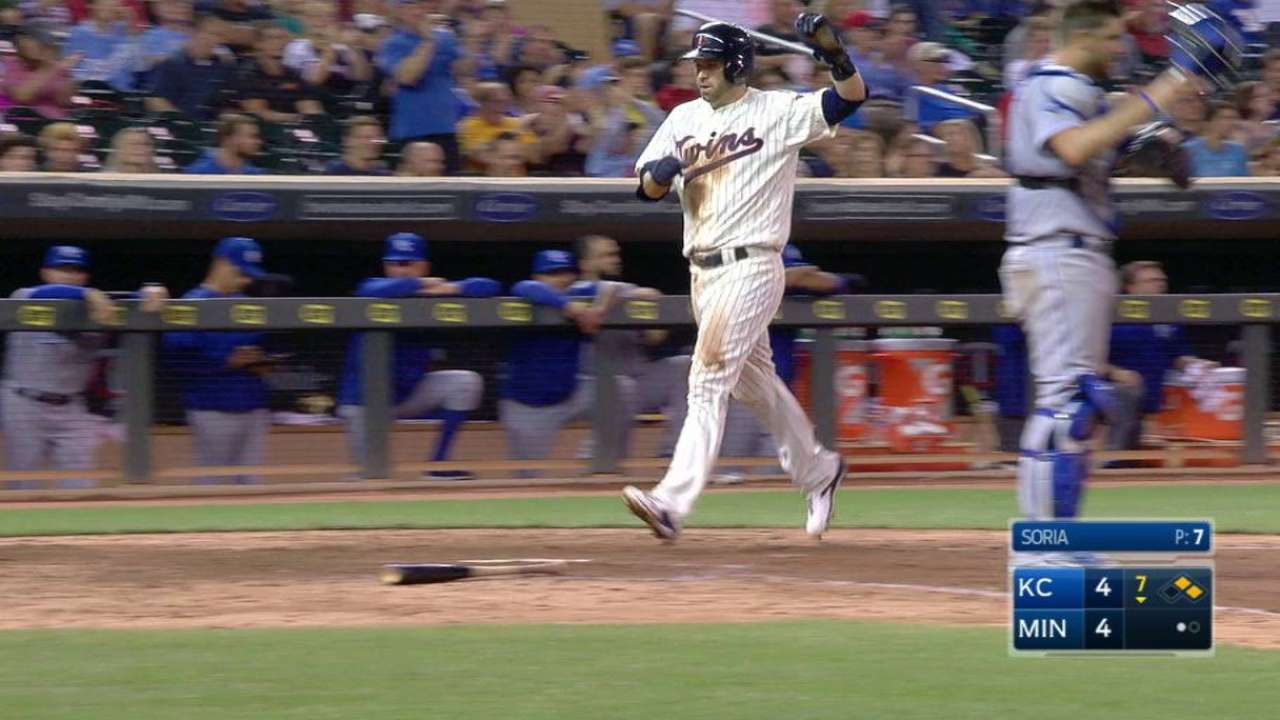 "I know it's been a tough run since last year, particularly at the end, and then throughout this year," manager Paul Molitor said. "They've found ways to win games against us, some lopsided and some late. It had that kind of look today, but we made a nice little comeback. Doz didn't homer, but he created a run for us. I don't know the last time he had a single, but it paid off."
And while much has been made about Dozier's impressive homer barrage, it's overshadowed rookie Byron Buxton's recent power surge since getting called up last Thursday. Buxton went 2-for-4 with a double and hit a solo homer off reliever Kelvin Herrera in the eighth for a crucial insurance run. Buxton, who had three homers in 109 career games before the callup, now has four in his last seven games.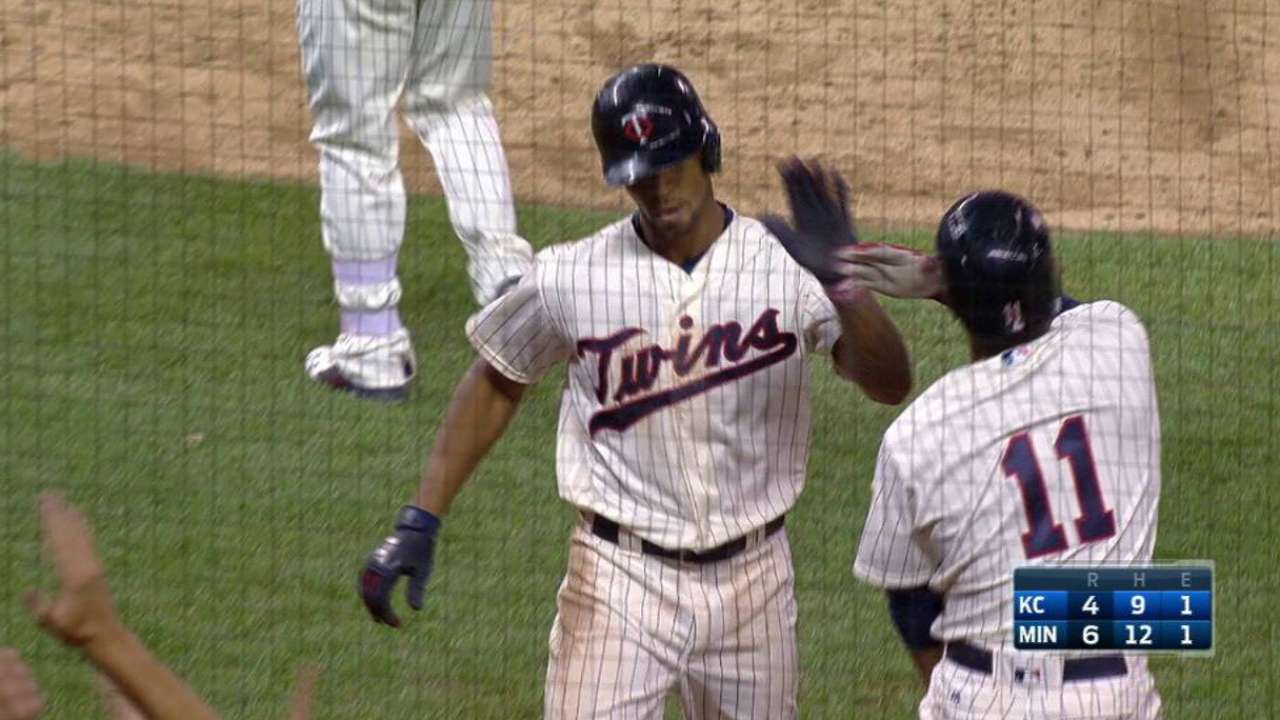 "We're seeing some good things," Molitor said. "Tonight, he made an adjustment on the double after [Royals starter Danny] Duffy had beat him inside a little bit on the fastball. He was ready for that with the double and against Herrera, it's as tough of an at-bat as there is against anybody, and fell behind, but got a mistake breaking ball."
Buxton was reminded after the game that he had one-upped Dozier by homering in a game that Dozier didn't. However, Buxton joked he has a long way to go to catch Dozier, who has 39 homers, including seven in September.
"He's doing something outrageous, though," Buxton said with a laugh. "But I feel comfortable. I still got to learn every day. But I feel confident, I feel prepared and I feel ready."
Rhett Bollinger has covered the Twins for MLB.com since 2011. Read his blog, Bollinger Beat, follow him on Twitter @RhettBollinger and listen to his podcast. This story was not subject to the approval of Major League Baseball or its clubs.