Moore magnificent in big Game 1 for Jackson
Mariners' No. 10 prospect left with no-decision despite nearly perfect playoff start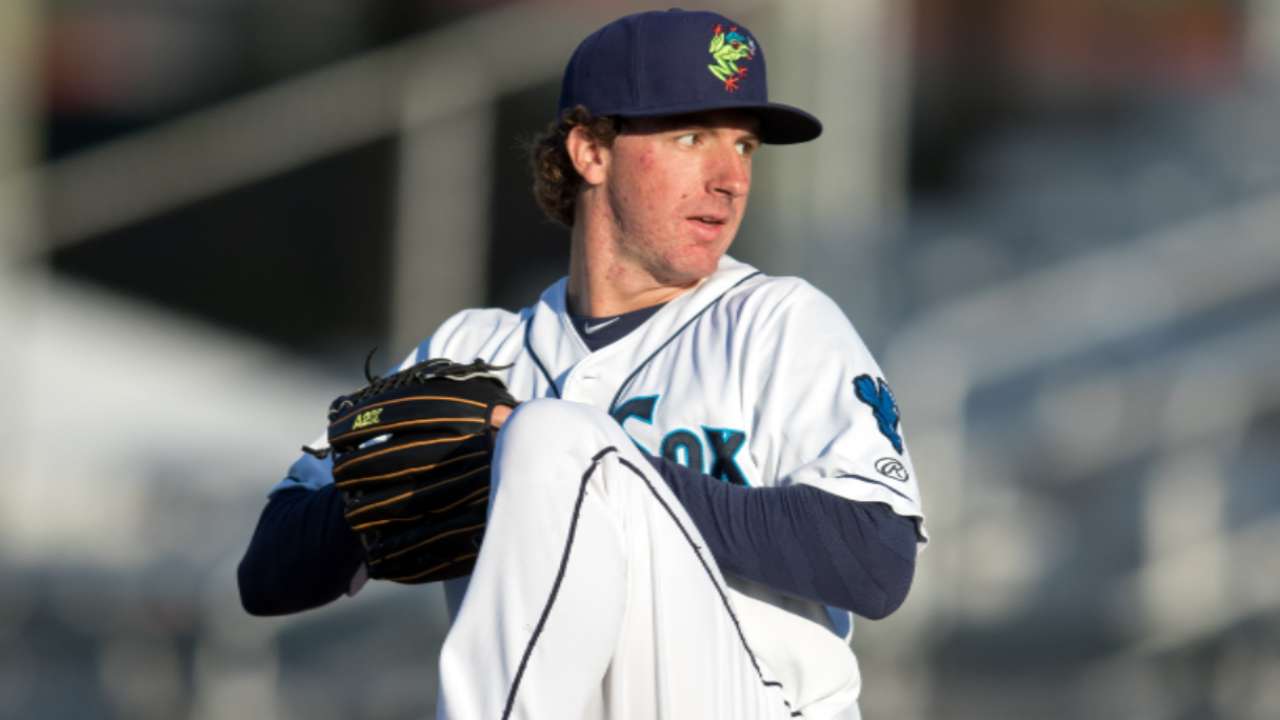 Andrew Moore was nearly perfect in Game 1 of the Southern League semifinals as Jackson topped Montgomery 3-0 in 10 innings on Wednesday.
Moore and Chih-Wei Hu, the Rays' No. 6 prospect, were the headliners in a game dominated from the mound. Someone had to score eventually, however, and in the bottom of the 10th, Tyler O'Neill provided the offense.
O'Neill (Mariners' No. 2, No. 64 overall) had 24 homers in the regular season, and with two on and two out, he hit his first home run of the postseason -- a three-run walk-off shot out to left field.
Shout out to The Kid for sending everyone home happy. Great way to get the playoffs started. #RingChasing pic.twitter.com/Gvv1l09izN

— Andrew Moore (@AndrewG_23) September 8, 2016
"I was just really fired up going to the plate," O'Neill told MiLB.com. "Extra innings, postseason, little bit of a competitive attitude running through my veins. I just wanted to get up there and get Ian [Miller] in from second base and get the ballgame over with.
"I knew it off the bat. I saw a good seven sliders that at-bat, so I had a pretty good idea of how it was breaking. I put the barrel on the ball and good things happened."
Moore, the Mariners' No. 10 prospect, carried a perfect game into the seventh inning, but a bunt single from Kean Wong disrupted Moore's bid for history.
Wong was caught stealing during the following at-bat and Moore kept on cruising. The 22-year-old right-hander threw 71 of his 101 pitches for strikes, giving up just the one hit as he faced the minimum through nine.
The 101 pitches were a season high for Moore, who showed no signs of slowing down as he struck out the side in the ninth and finished with eight strikeouts.
Moore went 9-3 with a 3.16 ERA in 19 starts for Jackson this season, including one complete game, but he was stuck with a no-decision Wednesday.
Hu fired eight scoreless frames in his final start of the regular season and picked up right where he left off, giving up five hits in 7 2/3 scoreless innings to begin the playoffs.
William Boor is a reporter for MLB.com. Follow him on Twitter at @wboor. This story was not subject to the approval of Major League Baseball or its clubs.