Ortiz receives tribute, giant surfboard from Padres
Retiring Red Sox designated hitter played at Petco in only four games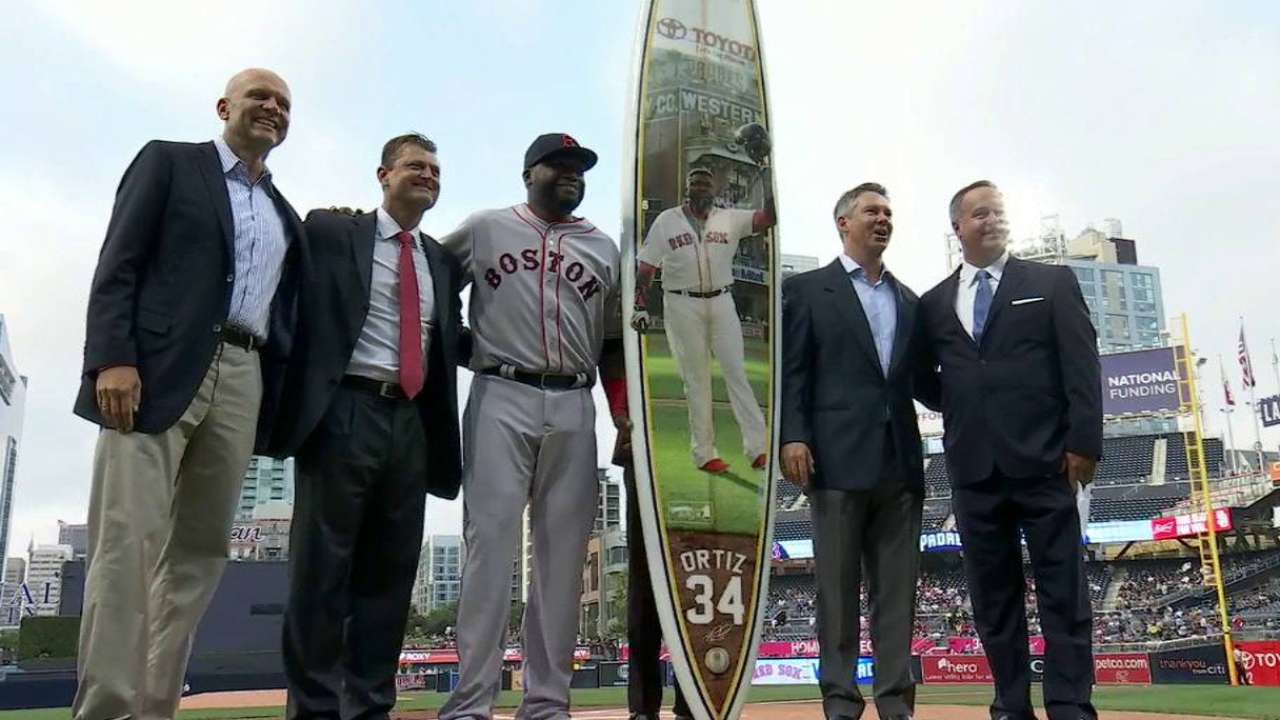 SAN DIEGO -- The Padres honored David Ortiz prior to his final game at Petco Park on Wednesday night, with former Red Sox broadcaster Don Orsillo presiding over the ceremony.
The team showed a tribute video of Ortiz before unveiling a surfboard almost twice the size of Big Papi, which featured an image of the 10-time All-Star on the field at Petco Park, in front of the iconic Western Metal Building.
Ortiz has played in just four games in San Diego during his Major League career, but shares a unique bond with Orsillo, who was a broadcaster with the Boston organization for 20 years prior to joining the Padres crew over the offseason. Orsillo called the 100th, 200th, 300th, 400th and 500th home runs of Ortiz's career.
Special ceremony for @davidortiz before his final game @PetcoPark and presented with a one-of-a-kind SD surfboard pic.twitter.com/uWE7eUa7tK

— San Diego Padres (@Padres) September 8, 2016
Mark Loretta, who played with Ortiz in 2006 when both players were named All-Stars, and Trevor Hoffman, who faced Ortiz just once throughout his career, were both present for the ceremony as well, representing the Padres.
Carlos Collazo is a reporter for MLB.com based in San Diego. Follow him on Twitter @CarlosACollazo. This story was not subject to the approval of Major League Baseball or its clubs.