Tigers confident in Greene despite struggles
Setup man has allowed runs in six of his past eight appearances
CHICAGO -- It was the exact situation Tigers manager Brad Ausmus had been waiting for in this series against the White Sox.
After Detroit took a one-run lead Wednesday at U.S. Cellular Field on a clutch two-out RBI double by Jose Iglesias in the seventh, Ausmus handed the lead to the back end of his well-rested bullpen.
Alex Wilson got through the seventh fine, but Shane Greene and Justin Wilson couldn't duplicate that outcome in the eighth. Greene, the Tigers' primary setup man, ran into a buzzsaw of White Sox hitters, who tagged him for three runs on three hits in just one-third of an inning. Wilson also allowed a run in the frame and didn't record an out as the Tigers dropped a 7-4 finale to the White Sox.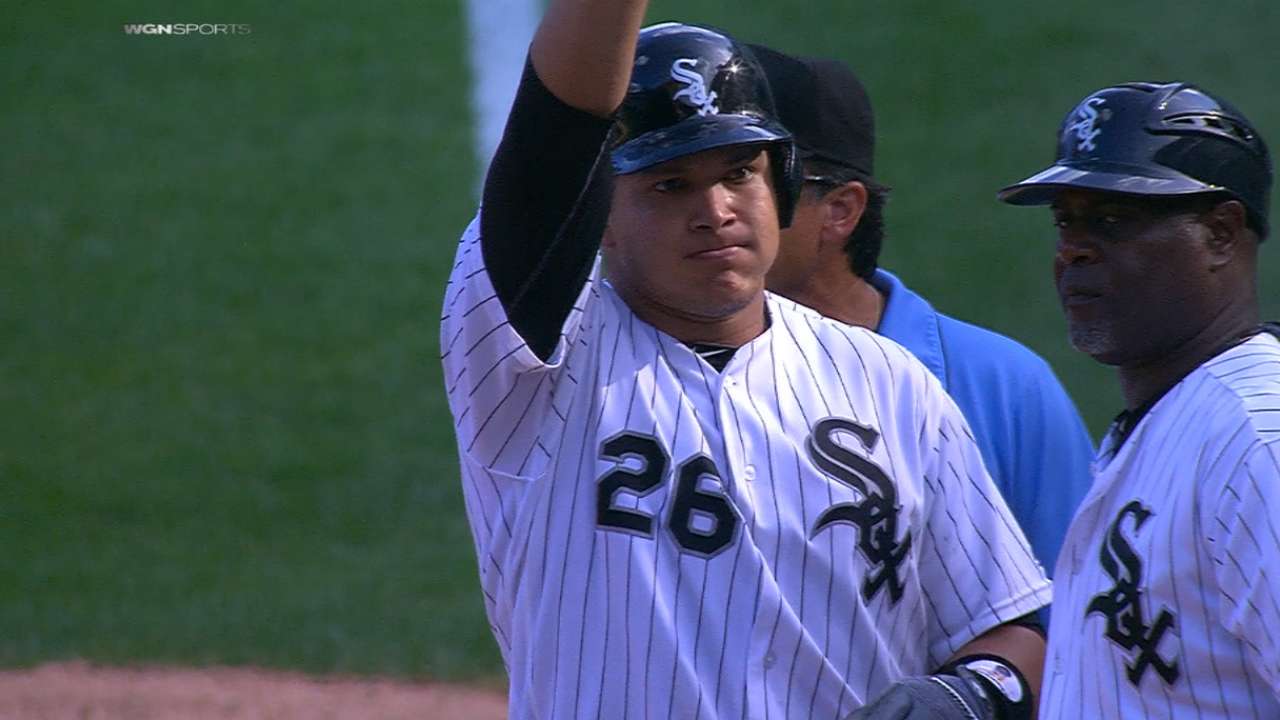 "We got the three-run homer from [Justin Upton in the second] and then the double from Iglesias that put us ahead, but ultimately the back of the bullpen just had an off day," Ausmus said. "That's the thing about the back of the bullpen. When they have an off day, you generally lose. So, it's going to happen."
The problem is it's been happening more of late, especially to Greene. He's allowed runs in six of his past eight appearances dating to Aug. 17, when he allowed three runs in one inning against the Royals. During that stretch, Greene has a 13.50 ERA and an inflated .350 batting average against. Hitters are squaring up his pitches with regularity, but Ausmus said he's not planning to change the way his bullpen is constructed.
Greene and the two Wilsons will continue handling late-inning situations with the lead and the game tied, with fireballing right-hander Bruce Rondon possibly working his way into the mix after not yielding a run in his past seven appearances.
"They're going to pitch in the back [end] depending on health and usage and when we need them to perform," Ausmus said. "Maybe [Greene's] going through a little down spell right here, but maybe that also bodes well for an uptick here in the last three weeks."
Greene, in particular, is the biggest concern. The Tigers are heading into arguably their biggest series of the season this weekend against the Orioles at Comerica Park. They were unable to keep pace with Baltimore on Tuesday in the race for the American League's second Wild Card spot, then squandered a chance to pull even with the Orioles on Wednesday after Baltimore lost to the Rays.
Detroit trails Baltimore by one game for that coveted playoff spot, and the Tigers know they need to be sharper than they were against the White Sox. That includes Greene, but neither Ausmus nor Greene's teammates seem too concerned about him.
"Guys are going to go through ups and downs," catcher James McCann said. "You can't expect a guy to be perfect every time he goes out there, just like you can't expect a hitter to get a hit every time he comes up. That's just part of the game. He's a big piece to our bullpen, and I think he's going to be big down the stretch for us."
Greene thinks so, too.
"It's just one of those days," he said. "I left some balls over the plate and they took advantage of it. This one's on me, and I won't let it happen again."
Brian Hedger is a contributor to MLB.com based in Chicago. This story was not subject to the approval of Major League Baseball or its clubs.