Lewis set to return Sunday in start vs. Angels
Rangers starter out since June 21 with shoulder injury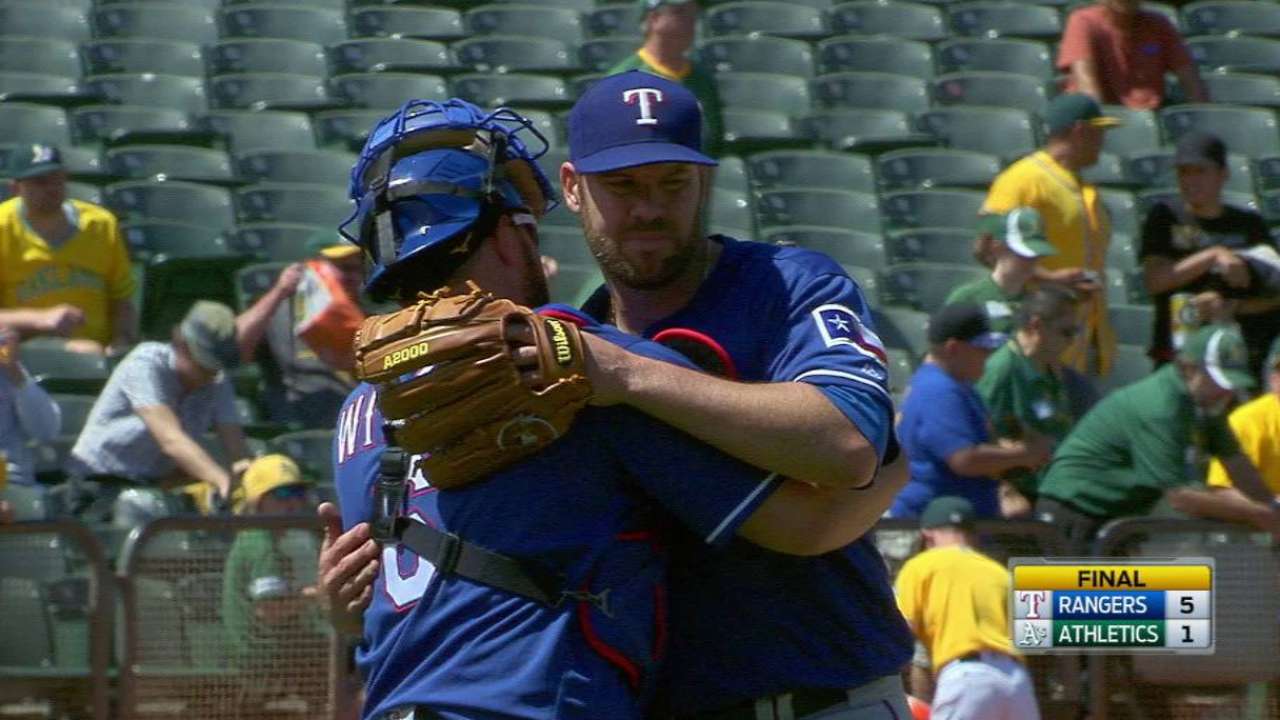 SEATTLE -- The No. 1 goal for manager Jeff Banister in setting his rotation for the final month of the season is to win the American League West.
The second goal is to get Colby Lewis ready for the postseason, and Lewis will return to the rotation this weekend against the Angels after being out since June 21 with a strained lat muscle in the back of his right shoulder.
"We need to get Colby ramped up," Banister said. "It's important to get him in rhythm and lengthened out as best we can. Hopefully he can sharpen up. We don't know where he is at because he hasn't thrown a pitch for us yet."
Lewis was 6-1 with a 3.21 ERA and had garnered All-Star Game consideration before he went down with his injury. They are hoping to get him four to five starts before the end of the season to see if he can get back to that level.
Yu Darvish will start the first game of the Angels series on Friday in Anaheim. Hamels will go Saturday on his normal four days' rest, while Lewis will pitch Sunday.
Lewis' return will give the Rangers six starters for their rotation along with Martin Perez, Derek Holland and A.J. Griffin. All will get a chance to pitch although it won't be a strict six-game rotation. The Rangers have three off-days left and Banister said they still want to keep Darvish and Hamels on turn as much as possible.
Darvish and Hamels will likely lead the rotation into postseason, but the other two spots could be up for grabs among the other four starters. September could be an audition for a postseason starting assignment.
"We're not in the playoffs, nobody is auditioning yet," Banister said. "They are pitching to get us in the playoffs. Last time I checked we're still playing to get there."
Holland and Lewis may have more at stake than anybody. Lewis is a free agent after the season and Holland could be as well if the Rangers don't pick up an $11.5 million option for 2017 and opt for the $1.5 million buyout. He is 2-1 with a 2.00 ERA in his three starts since coming back from the disabled list.
"I don't want to think about any of that other stuff," Holland said. "I just need to go out and do my part. If I do that, everything else will take care of itself."
Beltran impressed with Yankees
The Yankees were a .500 team going into Aug. 1, the day they traded outfielder Carlos Beltran to the Rangers for three Minor League prospects. The Yankees, who also traded away top relievers Andrew Miller and Aroldis Chapman and released Alex Rodriguez, appeared to be giving up on the season.
But they were 72-65 going into Wednesday's games and were fighting their way back into contention in the American League East.
"They are playing good baseball. When I was there, we were close, but you go through stretches where you're not playing well. Now they are playing good. Their young players are stepping up and playing good baseball."
And what would it be like to face them in the playoffs?
"We're not in the playoffs yet," Beltran said.
Worth noting
• Outfielder Shin-Soo Choo, on the disabled list while recovering from a broken left forearm, began his throwing program on Wednesday and said it went well. He will throw every other day for the foreseeable future.
• Banister, asked to describe a terrific defensive play by third baseman Adrian Beltre in the eighth inning on Tuesday, said: "supercalifragilisticexpialidocious."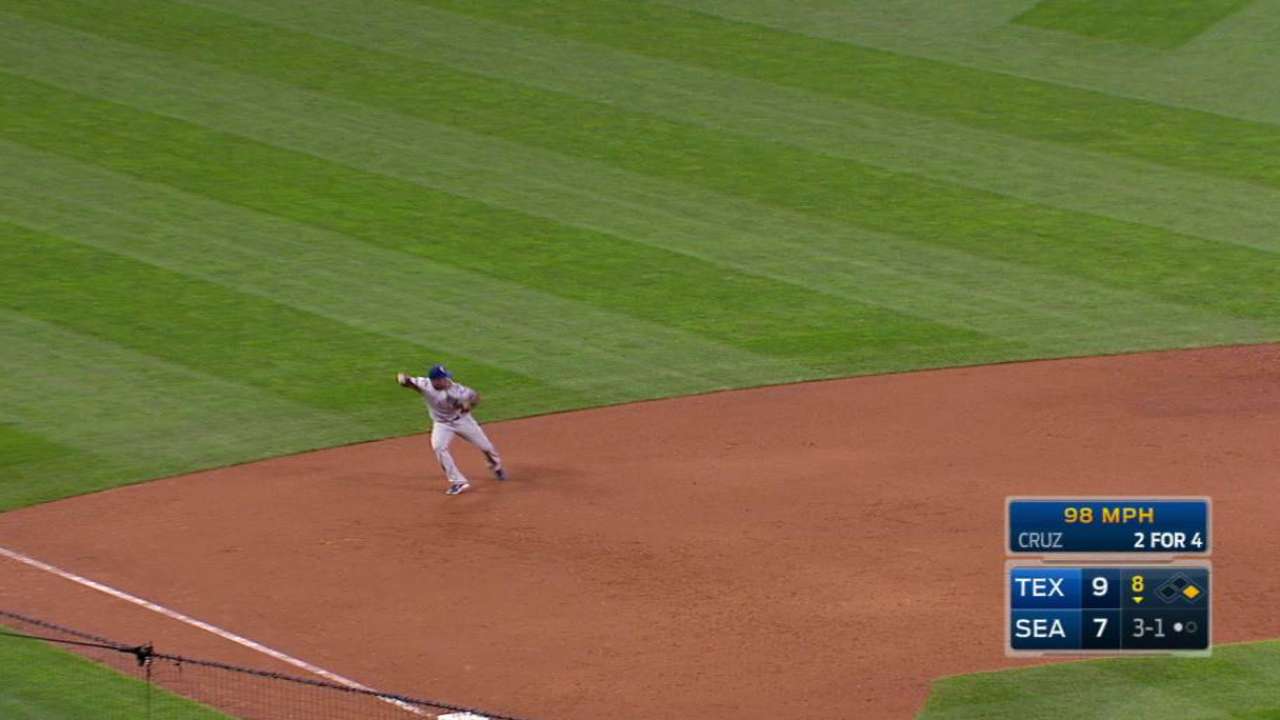 • Class A High Desert outfielder Jarios Beras was the California League Player of the Month for August while third baseman Kole Enright won the same honor in the Arizona Rookie League.
• The Rangers of the Dominican Summer League lost in the finals to the Red Sox, three games to one.
T.R. Sullivan has covered the Rangers since 1989, and for MLB.com since 2006. Follow him on Twitter @Sullivan_Ranger and listen to his podcast. This story was not subject to the approval of Major League Baseball or its clubs.