New kind of mound work: Smith gets callup
Reliever worked on grounds crew for Giants organization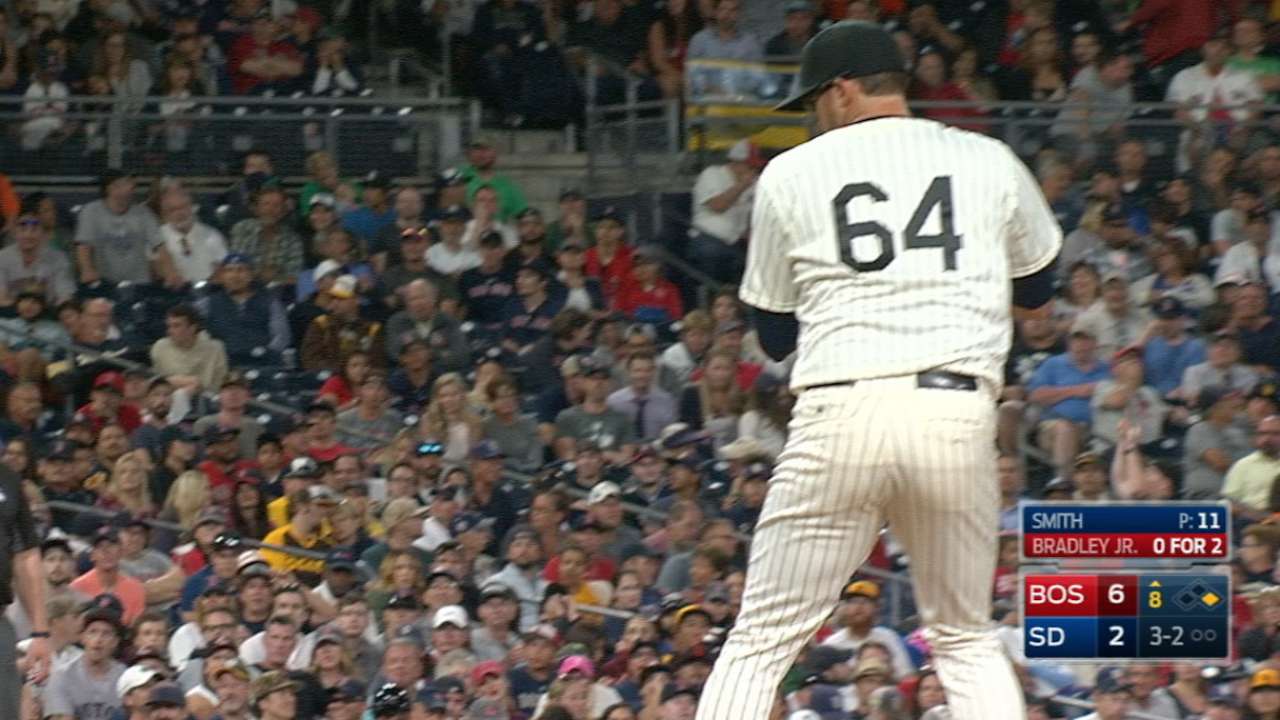 SAN DIEGO -- After spending years preparing the mound within the Giants organization as part of the team's Augusta grounds crew, right-hander Jake Smith can now say he's a big league pitcher.
Smith made his Major League debut during the Padres' 7-2 loss to the Red Sox Wednesday night, where Hanley Ramirez welcomed him to the league with a solo home run on the first pitch the 26-year-old threw.
Smith was the victim of some hard luck on that Ramirez homer, which had an exit velocity of 90 mph and a launch angle of 28 degrees. According to Statcast™, batters entered the night just 7-for-101 with one home run on that exit velo-launch angle combo.
"It's a rude greeting to your Major League career by Hanley Ramirez," said Padres manager Andy Green, although the skipper was impressed with Smith all the same. "He threw the ball well. … He attacked. He was in the zone. I think that's what you want out of a young guy who jumps up from Double-A for his first big league start."
Smith threw 14 pitches in his one inning, and surrendered one additional hit that should have been caught in left-center field, before inducing a double play and flyout to end the eighth.
"[He] settled in nicely after the home run," Green said. "Sometimes you don't know how a guy's going to respond the first time on a Major League field. Give up a home run on your very first pitch, he was right back in the strike zone. Those are good things to see."
The Padres claimed Smith from the Giants off of waivers on July 6, and called him up him prior to Wednesday's finale vs. the Red Sox.
"It's actually a fairly amazing story," said Green. "He was on the grounds crew in Augusta, working on the mound, and the pitching coach there challenged him to throw a bullpen. He threw a bullpen for them, and they eventually drafted him because of what they saw there. It's been a crazy road for him to get here."
This season, Smith has been focusing on getting healthy, after dealing with a few minor shoulder issues that set him back a bit. He threw 27 innings in Double-A and rookie ball this season between the San Diego and San Francisco organizations, posting a 5.67 ERA.
However in his last six games with Double-A San Antonio, his ERA was a sparkling 1.59.
"I had been building, building, building and then I got hurt and it kind of took away a lot of what I had done," Smith said. "So it was just trying to get me back healthy and then trying to build off of what I had done."
Green said that last year Smith was up to 95-96 mph at times with his fastball, while that's down to 92-95 mph for the most part this season.
Smith said that San Antonio manager Phillip Wellman called him with the news of his promotion just an hour after he got back home to Augusta Tuesday.
"He was telling me that I was going to the big leagues and that I needed to be in San Diego," Smith said. "They were asking if I could fly out last night and I was like, 'I gotta wash some clothes.'"
With his clothes washed and his days as a member of the Augusta grounds crew in the rearview mirror, Smith has now thrown in a Major League game, something that might have not seemed probable or even possible, after being taken in the 48th round five years ago.
"It means the world," he said. "It's like a dream come true for me, just being able to step foot in the clubhouse."
Carlos Collazo is a reporter for MLB.com based in San Diego. Follow him on Twitter @CarlosACollazo. This story was not subject to the approval of Major League Baseball or its clubs.