Benintendi on track to return for homestand
Red Sox left fielder may play in one rehab game before activation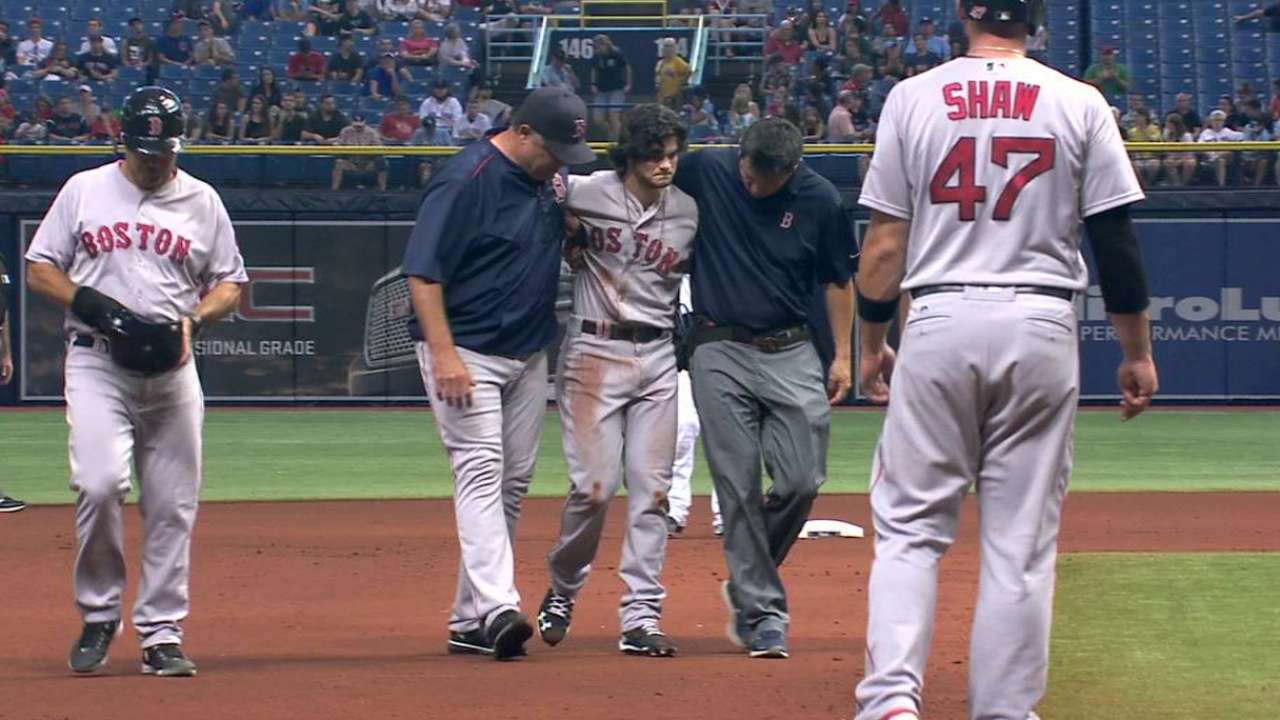 SAN DIEGO -- The Red Sox are hopeful that left fielder Andrew Benintendi will be back in the lineup during next week's homestand, which includes three games against the Orioles and four with the Yankees.
Benintendi continues to make progress from the left knee sprain he sustained at Tropicana Field on Aug. 24.
"A good work day today," said Red Sox manager John Farrell. "The work in the outfield, the change of direction, the increase in running, the intensity continues to climb. He'll go through his normal BP here today."
Depending on how long two of Boston's affiliates (Class A Lowell and Class A Advanced Salem) last in the playoffs, Benintendi could even be able to play in a rehab game or two before being activated.
The current plan is for Benintendi to get another work day in with the Red Sox on Friday in Toronto, and perhaps go to an affiliate from there if there's still one playing.
"Based on what's transpired over the last three, four days, we would anticipate that he would be available at some point when we get off the road," said Farrell.
Worth noting
• After striking out in seven straight at-bats over two games, Yoan Moncada got an expected day out of the starting lineup Wednesday. Farrell is keeping his options open on whether Travis Shaw or Moncada will start Friday night in Toronto.
"Just when you look at where we are, what we're going to be fighting for every night, there's importance to every spot in the lineup and every position on the field," said Farrell. "I'm not saying we're running away from Yoan, but we also understand that we've put in 138 games to put us to this point, and we're going to put the best team on the field to finish this out."
• With an off-day Thursday, Farrell did some tweaking with the rotation. Clay Buchholz and David Price will move ahead of Drew Pomeranz in the rotation and each pitch on four days' rest on Sunday and Monday respectively. Pomeranz will have seven days of rest prior to his next start on Tuesday against the Orioles. This puts Buchholz on the mound for the finale at Rogers Centre, where he is 11-3 with a 2.18 ERA lifetime.
"And you start to begin to look at styles and matchups, you take all that into account," said Farrell. "Likely to keep David Price every fifth day all the way through."
Ian Browne has covered the Red Sox for MLB.com since 2002. Follow him on Twitter @IanMBrowne and Facebook. This story was not subject to the approval of Major League Baseball or its clubs.