Salvy eyeing Friday return against White Sox
Royals catcher dealing with right wrist contusion after HBP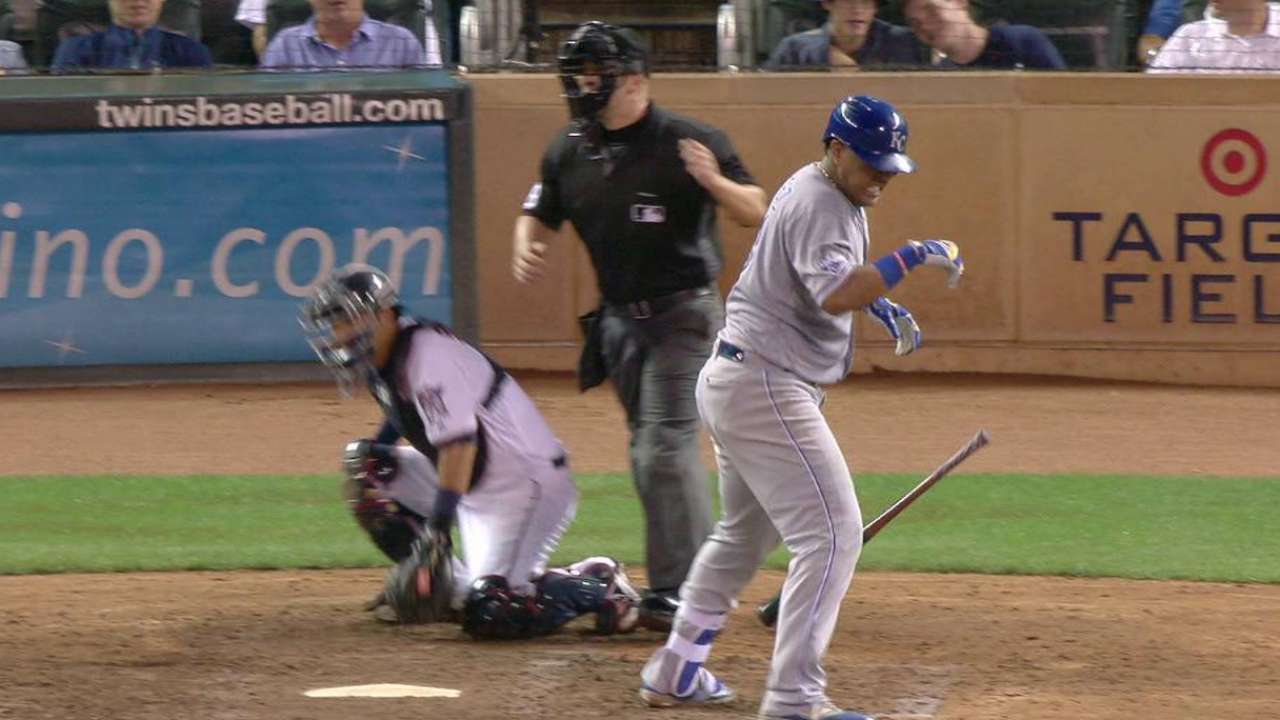 MINNEAPOLIS -- The Royals hope to have All-Star catcher Salvador Perez back as soon as Friday's series opener against the White Sox after X-rays on his bruised right wrist on Wednesday morning confirmed that no fractures were present.
"I'm good," Perez said before Wednesday night's game against the Twins. "Great. I'm sore a little bit in the wrist. The X-ray was negative today and that's good news for me and for everyone, I think, too. It hurt a little bit, but I think I'll be back soon."
Perez said the pain isn't as significant when he grips things as it is when he turns his wrist, which makes throwing and hitting painful. However, he did feel much better after a night of rest and hopes that continued treatment through Thursday's off-day will have him ready to go by Friday.
Perez exited in the seventh inning of Tuesday night's 10-3 win with a right wrist contusion after being hit with a 92-mph fastball from Twins starter Ervin Santana.
Leading off the seventh, Perez took a half-swing at Santana's 1-0 offering, which hit Perez on the outside of his right wrist. He immediately doubled over in pain and was removed from the game after being examined by trainers.
"I was scared," Perez said. "I was thinking my wrist was broken as soon as the ball hit me. I was scared, but thank God for everything and there's nothing bad. Just a bone bruise. I'm feeling tough again."
Perez is hitting .254/.297/.454 with 20 homers and 59 RBIs in 122 games this season. Drew Butera, who hit the go-ahead RBI single in the decisive seven-run ninth inning on Tuesday, started behind the plate on Wednesday.
Do-Hyoung Park is a reporter for MLB.com based in Minneapolis. This story was not subject to the approval of Major League Baseball or its clubs.