Lackey, Arrieta flipped for series in Houston
Cubs stay with Lester for Friday opener against Astros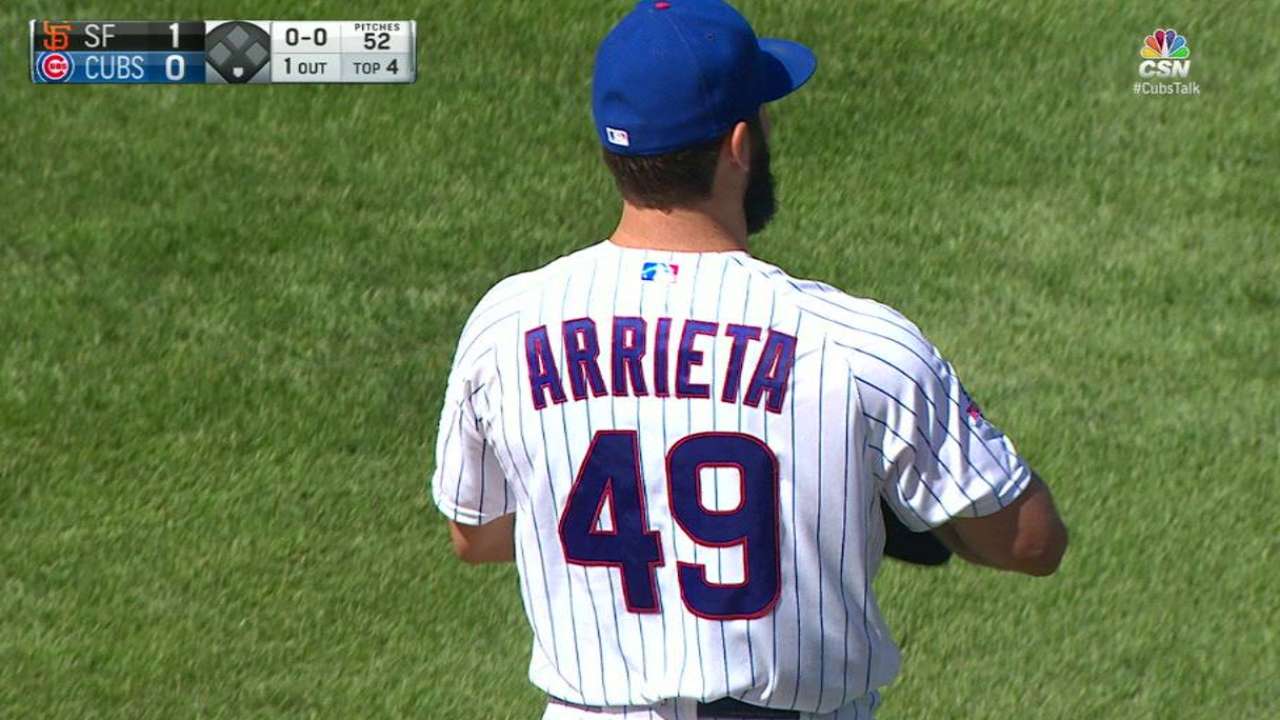 MILWAUKEE -- Jake Arrieta was originally scheduled to start on Saturday but will be given an extra day and go Sunday in the Cubs' series finale against the Astros. He'll flip with right-hander John Lackey, who will start Saturday on regular rest.
"It's just to break up [Jon] Lester and Jake," Chicago manager Joe Maddon said Wednesday. "It was strategical because we could."
Lester (15-4, 2.61 ERA) will open the Cubs' Interleague series against the Astros on Friday.
Arrieta, who will be vying for his 17th win, has averaged 101 pitches in his last eight starts, and topped 100 pitches in two outings in which he lasted 5 2/3 innings. He is 4-2 record with a 3.42 ERA and four quality starts in his last eight games.
• Speaking of rest, first baseman Anthony Rizzo was able to talk his way into playing Wednesday night in the Cubs' series finale against the Brewers. Hitting two home runs on Tuesday helped his case. Granted, Rizzo was facing Wily Peralta and has hit seven home runs off the right-hander, his highest total against any pitcher.
"I was not going to play 'Riz' but he didn't look tired yesterday," Maddon said.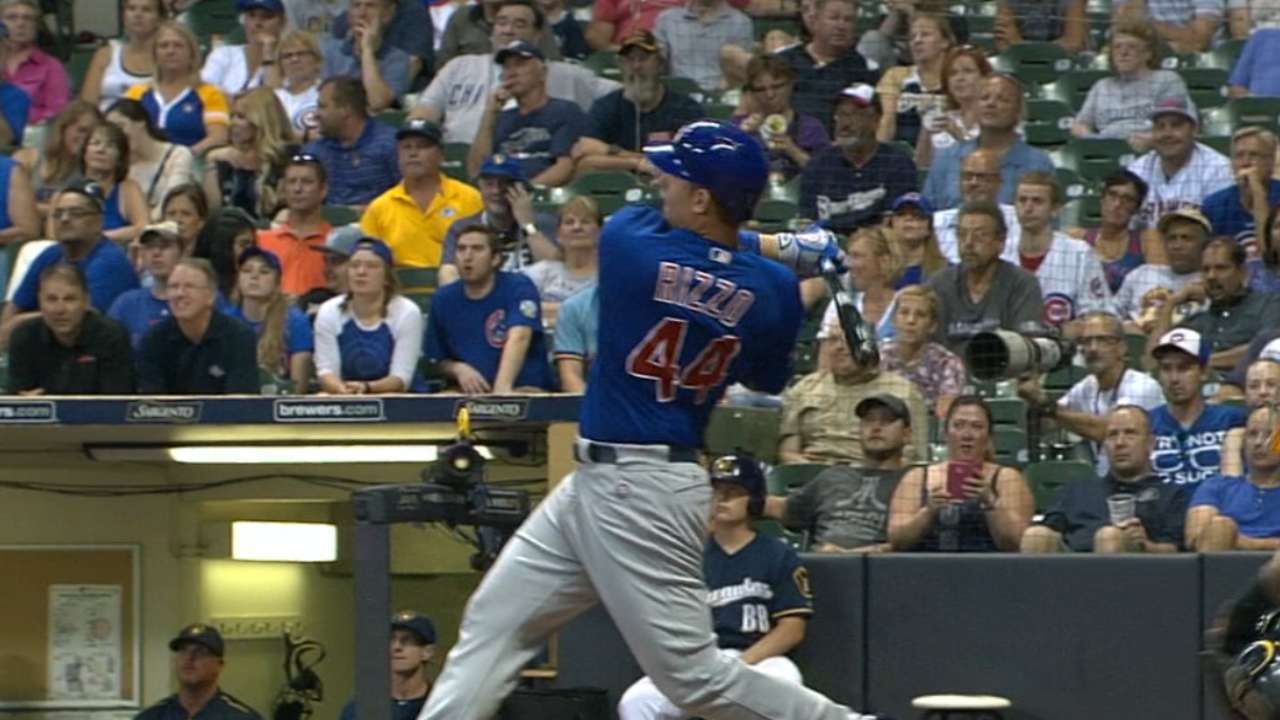 "I think Joe's doing a good job of funneling us in and out and making sure you get a day off," Rizzo said.
Maddon has been focused on making sure players get a breather. The Cubs will have Thursday off in Houston. Do the players have any say?
"Very little," Maddon quipped.
Playing in Houston will allow Maddon to get another bat in the lineup as the designated hitter. He said Wednesday that he had yet to look at the matchups and decide who will fill that role.
Does the manager need a day, too? Maddon joked that he'd just stay inside and let bench coach Dave Martinez manage.
• The Cubs faced three right-handed starters against the Brewers, and will see three more in the Astros series. Would Maddon like to have the team face more left-handed pitching to prep for the postseason?
"When you're facing guys like [Clayton] Kershaw or [Madison] Bumgarner, they're different lefties," Maddon said. "There's lefties, and there's lefties. The real lefties like that, it doesn't matter how many left-handed pitchers we've seen, it won't make any difference. When you get to the elite group, it's tough."
Of course, Maddon isn't prepping for either the Dodgers or the Giants. No team has clinched a playoff spot yet.
"I'll just take getting there and try to figure it out," Maddon said.
Last year, the Cubs battled to secure a Wild Card spot. Now, they have a double-digit lead in the National League Central.
"It doesn't feel any different," Kris Bryant said. "We all have the same goal in mind."
• Cubs reliever Justin Grimm was lifted from Wednesday night's game because of illness after giving up a leadoff single in the sixth inning to Brewers pinch-hitter Jake Elmore.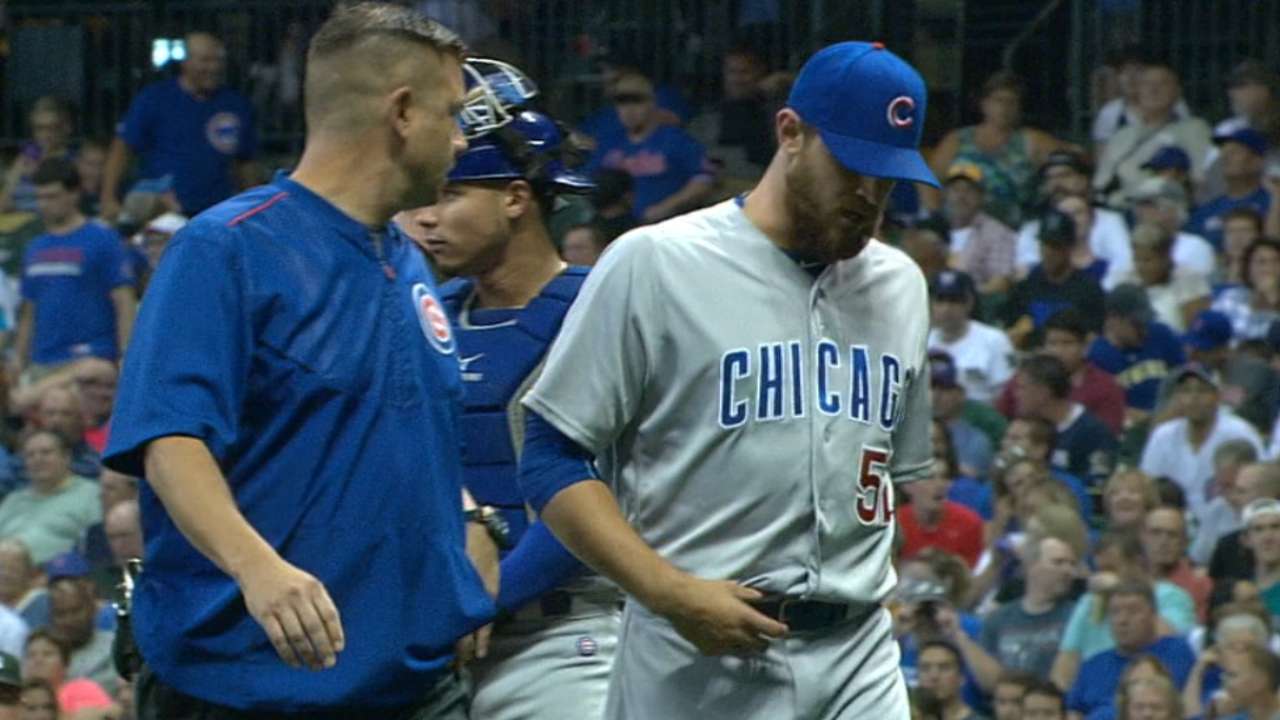 Grimm, who has given up two hits over 4 2/3 scoreless innings in his last five outings, threw six pitches to Elmore. Cubs athletic trainer PJ Mainville and Maddon went to the mound after Elmore singled, and after some discussion, Grimm was pulled.
Apparently, Grimm wasn't feeling well when he reported to Miller Park on Wednesday.
Carrie Muskat has covered the Cubs since 1987, and for MLB.com since 2001. She writes a blog, Muskat Ramblings. You can follow her on Twitter @CarrieMuskat and listen to her podcast. This story was not subject to the approval of Major League Baseball or its clubs.