Mayers makes the most of his second chance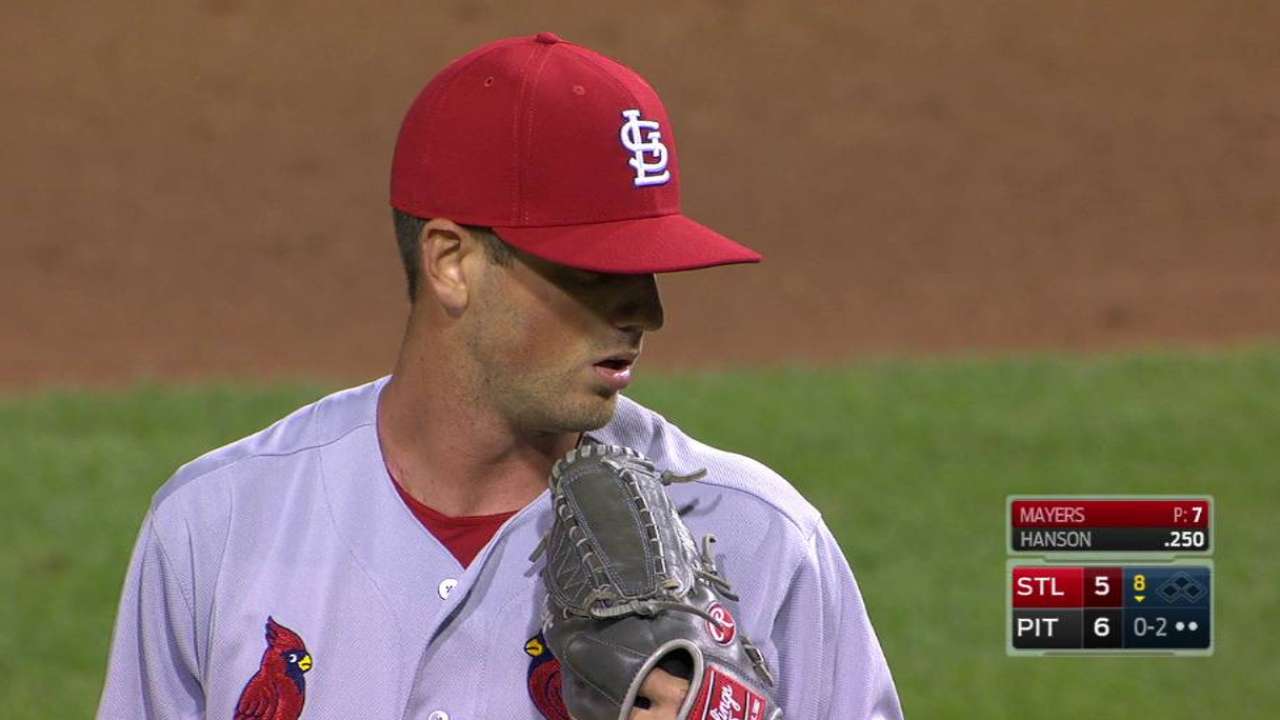 PITTSBURGH -- The juxtaposition in Tuesday's box score was glaring, as next to Mike Mayers' name was listed one win and a 34.71 ERA. Given the starting point, however, every figure there was welcome.
"Redemption" was the word Mayers selected to describe Tuesday's performance, a clean eighth inning that kept the Cardinals' deficit at one. An inning later, the Cardinals blasted three home runs to stun the Pirates in a come-from-behind win that earned Mayers his first Major League victory.
Though not necessarily the situation manager Mike Matheny intended for Mayers' first September performance, the Cardinals had included him among their Minor League callups in order to give him an opportunity to make a second first impression.
Mayers' Major League debut as a spot starter in a nationally televised game on July 24 couldn't have gone much worse, as he was chased from the game after allowing nine runs on eight hits in 1 1/3 innings.
Until Tuesday, that had been Mayers' only day in the big leagues. He returned to the Minors lugging an ERA of 60.75.
"There's no better word for it than I was embarrassed my last time out there," Mayers said. "That was something I had dreamed about my whole life, and not in my worst nightmares was that how it was going to go. I wanted a second chance to succeed for those people and to prove that I belonged.
"The whole month I was kind of champing at the bit, waiting and hoping that I got a second chance. The last month, this is what I wanted. I wanted another inning."
Mayers closed the Triple-A season with seven starts, during which he posted a 4.82 ERA. What impressed the organization's development staff, however, was how he handled the adversity. Even some Major Leaguers who played a few games in Memphis as part of a rehab assignment came back with glowing reports about Mayers' attitude.
"That proves, to me, that he has the kind of makeup than can help us out," Matheny said. "We wanted to get him another opportunity so that wasn't his last taste of this season. It just talks about the toughness of a young player who just stays ready and can't wait for an opportunity to do things differently."
Mayers noted that the effort several Cardinals made to reach out to him after his disastrous debut also went a long way in helping him move past it.
As for his bounceback performance on Tuesday, the difference, he said, was simple.
"I had been there before," he said. "Obviously, not on this stage, but I've pitched in a lot of baseball games. So this time, when I got out there, it was just another baseball game. It wasn't my debut. It was just another game."
Jenifer Langosch has covered the Cardinals for MLB.com since 2012, and previously covered the Pirates from 2007-11. Read her blog, follow her on Twitter, like her Facebook page and listen to her podcast. This story was not subject to the approval of Major League Baseball or its clubs.