Cotton makes strong impression in MLB debut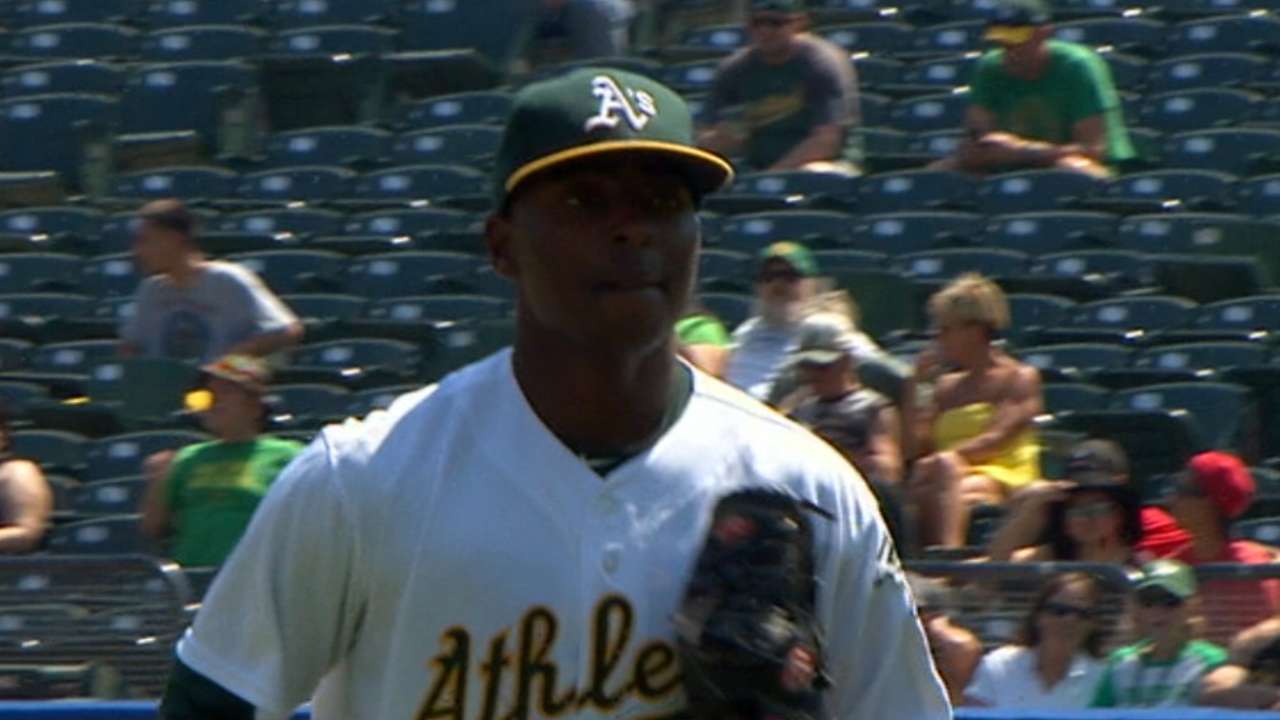 OAKLAND -- A's manager Bob Melvin said Jharel Cotton got "everyone's attention" while coming one out shy of a perfect game in just his second outing with Triple-A Nashville.
About a month later, Cotton, who was acquired from the Dodgers before the Aug. 1 Trade Deadline, continued to wow both the A's organization and its fans during his Major League debut, allowing just one earned run in 6 1/3 innings of a 4-1 win over the Angels at the Coliseum on Wednesday afternoon.
The performance prompted Cotton's new teammates in the infield to all congratulate him as Melvin took the ball from him in the seventh, paving the way for Oakland's fans to give him a warm standing ovation as he walked back to the dugout.
"We said 'Hey enjoy this walk,'" said Stephen Vogt. "That was a great ovation. There weren't too many [fans] out there today, but they are loyal ones. He deserved better today but they gave him a great ovation."
Ranked as Oakland's 14th-best prospect according to MLB Pipeline, Cotton proved to be every bit as advertised while stymieing the Angels' bats throughout the series finale. He also managed to grab Melvin's attention quickly by settling into the game in the first inning.
"To do what he did early on in the game was most impressive for me," said Melvin.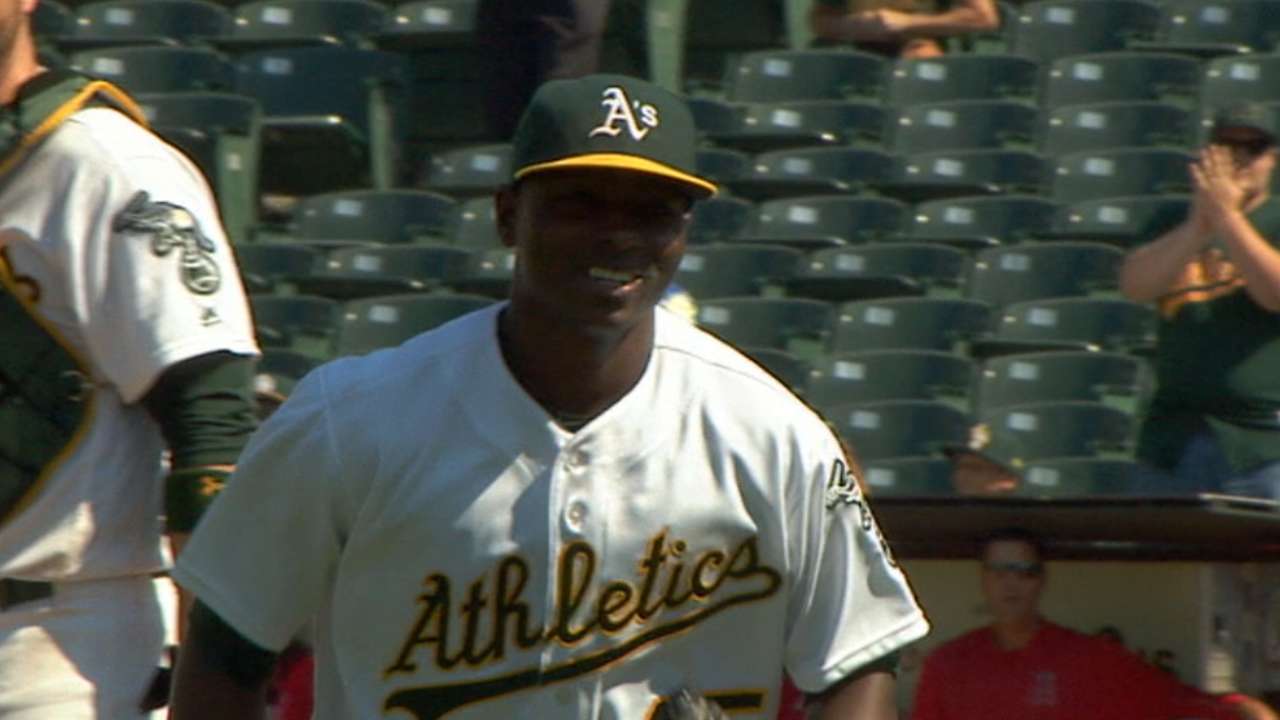 Using as "good a mix of pitches" as the A's have, according to Melvin, Cotton didn't surrender a hit until the top of the fourth, after Andrelton Simmons lined a single into left field to open the inning. And that hardly fazed him, as the right-hander didn't allow another hit until the bottom of the seventh -- a solo home run to Angels first baseman C.J. Cron.
"Everything we heard about him showed up today," Melvin said of Cotton, who earned his first big league win thanks to the result. "It always starts with the fastball and he's got a deceptive fastball because of his delivery. You're seeing a lot of pop-ups and off balance swings because it's tough to read his fastball. But then you have to be ready for his change-up. And then he can throw a 12-6 curveball, he's got a cut slider. He's got a true four-pitch assortment."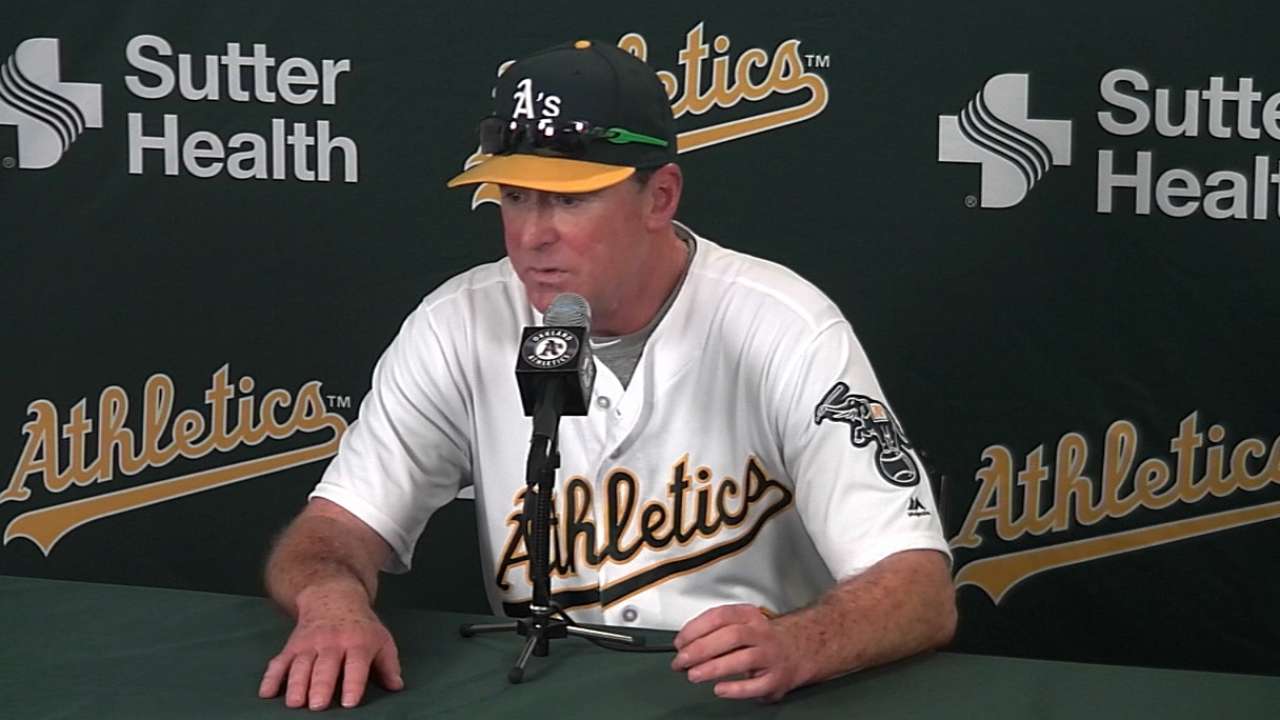 Cotton proved to be so deceptive on Wednesday that Angels hitters were periodically asking Vogt, "what was that?"
Those same Angels batters would probably be surprised to know that Cotton's pregame bullpen session was described as "not good," according to Vogt. The 24-year old was noticeably anxious, but Cotton soon found out from his teammates that the nervousness was a good sign.
"It could not be any better [than this]," said Cotton, who was acquired in a trade that sent Josh Reddick and Rich Hill to the Dodgers. "Of course my dream is to get to the big leagues and I'm here. I got to pitch in front of Oakland A's fans and I'm happy I did a great job and showed them that I can pitch up here in the big leagues."
Justin Wise is a reporter for MLB.com based in the Bay Area. This story was not subject to the approval of Major League Baseball or its clubs.