Watson rebounds with perfect ninth vs. Cards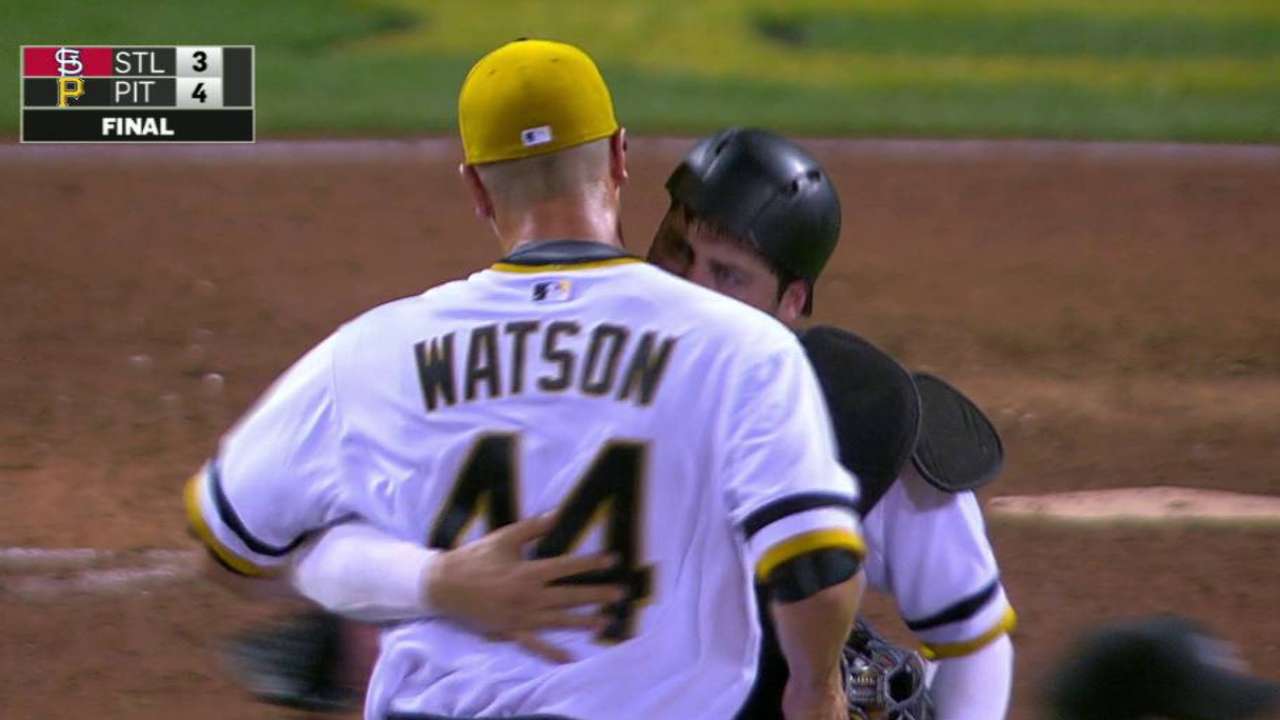 PITTSBURGH -- On Wednesday, a night after an outing that made some people question his position as Pirates closer, left-hander Tony Watson wanted the ball back. And manager Clint Hurdle wanted him to have the ball back in the ninth inning with the game at stake.
Hurdle talked to Watson earlier in the day, when they visited a school as part of a Clemente Day community event, and he got the sense that Watson was mentally ready to get back on the mound. So he didn't hesitate to call on Watson with a one-run lead in the ninth inning, and Watson rewarded his faith with a perfect ninth to secure a 4-3 win over the Cardinals at PNC Park.
The win ended the Pirates' eight-game losing streak, a skid Watson almost personally extended by allowing four runs on three homers in a nine-pitch sequence on Tuesday. And it renewed some confidence in Watson as the closer after a shaky introduction to his new role.
"It's good to get back out there. It's good to get the win, most important, and end this losing streak," Watson said. "It's good to hear music in here after the game. Everybody's having a good time."
Watson jogged to the mound for the ninth inning on Wednesday night the same way he did on Tuesday, to Aerosmith's "Sweet Emotion" and with the intro video he helped create shortly after being named the successor to Mark Melancon. He felt the same, too. But the results were different.
Watson retired Tommy Pham on six pitches, got Jedd Gyorko to fly out deep to left and watched Matt Carpenter -- who started Tuesday's home run rally -- loft a high fly ball into Sean Rodriguez's glove for the final out.
Watson was one of the last players to leave the clubhouse late Wednesday night, busy breaking down video of his recent outings compared with previous years and months.
"I don't really know how to explain it. It wasn't fun," he said. "Tonight's all that matters now. The guys played great. ... It felt good to finish it out for us."
Earlier in the day, Hurdle expressed his belief that Watson's recent issues -- the three blown saves since Melancon was traded on July 30 and a handful of shaky outings -- are rooted in his execution, not his role. Pittsburgh still believes Watson is closer material, even if the results haven't matched the mind-set to this point.
"He's getting the wrong results. I don't see an accelerated heart rate," Hurdle said. "It's not like since he started closing he's firing off pitches quicker. At the end of the day, from my vantage point, I think it's about execution more than anything else."
But the Pirates remain confident in Watson, and Hurdle made up his mind as soon as he heard Watson speak Wednesday afternoon.
"Sometimes it's not as hard as you might think it is. You believe what you believe in, and you make the moves," Hurdle said. "You do what you feel is the right thing to do, based on the men you're working with, your past experience and things like that, and you give it a shot."
Adam Berry has covered the Pirates for MLB.com since 2015. Follow him on Twitter at @adamdberry. This story was not subject to the approval of Major League Baseball or its clubs.