Different strokes: Baby Bombers visit Network
Sanchez and Co. trade swings for Scribbles while filming segment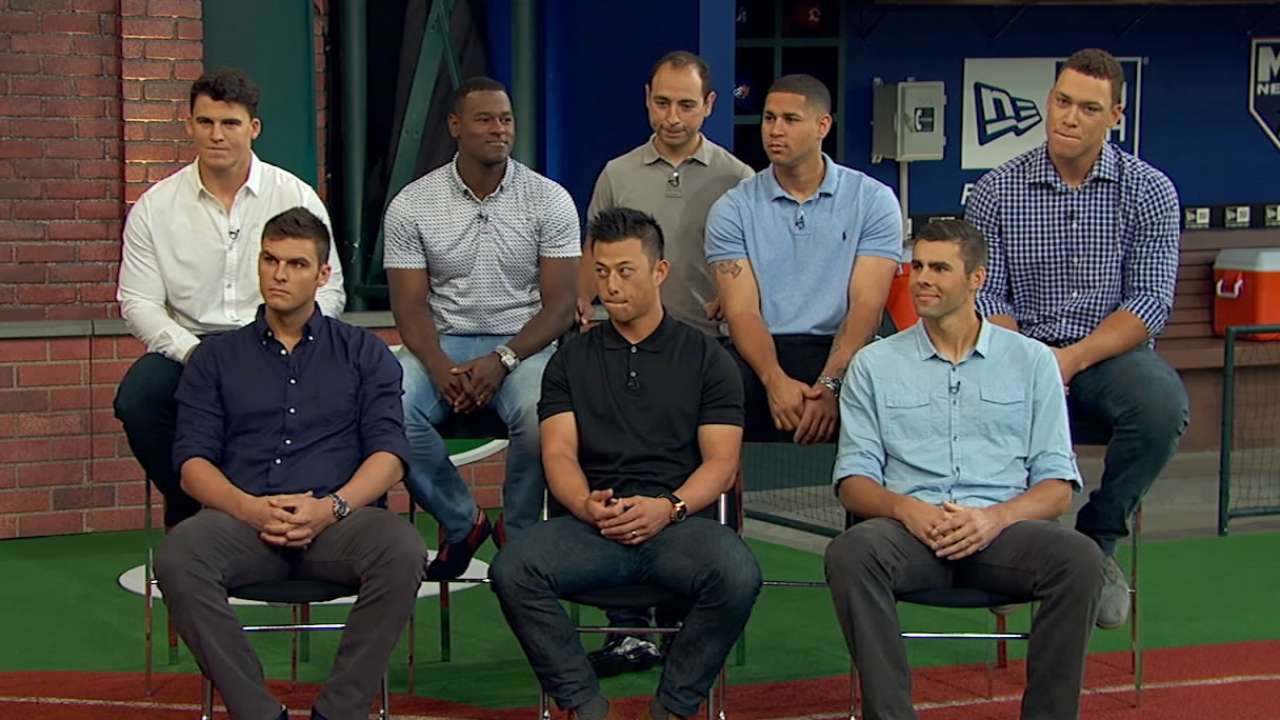 Gary Sanchez's swing is more effective than his pen stroke, as six of his young Yankees teammates and countless MLB Network viewers learned Wednesday.
A flaw emerged in the 24-year-old catcher, who's been able to do seemingly everything on the baseball field since bursting onto the Major League scene more than a month ago. It was Sanchez's turn in a televised game of Central Scribbles, a baseball adaptation of Pictionary. His drawing was, to put it kindly, amateurish.
"What's that?" MLB Central host Mark DeRosa said. "That looks like an amoeba!"
"I'm not very good at art," Sanchez would say through a translator later, laughing. "I'm good at baseball."
Such was the lighthearted nature of the visit of seven of the Yankees' brightest young players to MLB Network's studios in Secaucus, N.J., their first public off-field appearance together as Major Leaguers. Sanchez, Aaron Judge, Greg Bird, Rob Refsnyder, Tyler Austin, Ben Heller and Luis Severino spent an afternoon on camera before their game against the Blue Jays at Yankee Stadium. The segments aired live on MLB Network's MLB Central, serving as an introduction to the group of rookies and second-year players that have led the Yanks to an 18-12 record since Sanchez's joined them on Aug. 3.
"We still think we're dreaming," said Judge. "But this is exactly where we want to be. We're getting hot at the right time."
Though none have even a full year of service time in the Majors, all agreed the pressure of playing in front of thousands of fans didn't come close to having to entertain on live television.
"It's pretty nerve-wracking to come in here and be with these guys on TV like this," Austin said. "But I had a great time today."
"It's a little more stressful," said Judge. "When you're out on the field, it's just a game, you're having fun. Here, it's a little more nerve-wracking. I'm glad we had a group activity."
Besides the game of Central Scribbles with DeRosa, Lauren Shehadi and Matt Vasgersian, the players appeared on several other MLB Central segments.
In one, during which the players reacted to photos from their social media accounts and pop culture, we learned Judge is an amateur shark fisherman and Bird is aware of the Australian rugby player with whom he shares a name.
Later, DeRosa broke down hitting video with Sanchez, Judge, Austin, Bird and Refsnyder. Sanchez's teammates didn't hide the fact that they're as amazed by his start as everyone else. The 23-year-old catcher has a slash line of .348/.423/.713, and he set a MLB record by hitting 11 home runs in his first 23 games.
"Why do you sometimes use a leg kick and sometimes just set your front foot down quietly?" DeRosa asked Sanchez.
"Even I want to hear this," Refsnyder said.
Later, a video of one of Sanchez's home runs showed him unleashing a backswing so wicked, the barrel of the bat whipped around to near his front foot. Such a follow-through is indicative of the kinetic force Sanchez's raw power necessitates.
"How do you get that type of turn?" DeRosa asked Sanchez.
"We've been asking him these questions all year," Refsnyder said.
Finally, some answers.
"When I don't raise my leg, it's because I'm looking for something soft," Sanchez said through a translator. "It's a fastball, it give me enough time to react."
About the backswing, Sanchez said, "That's just the way it happens."
Sanchez's teammates soon went from gawking to giggling when the baseball videos came down and the sketch boards went up. Then the real fun began. "
The best artist? I don't know," Judge said. "None of us were too good at all."
Between the white lines, it's a different story.
Joe Trezza is a reporter for MLB.com based in New York. Follow him on Twitter at @joetrezz. This story was not subject to the approval of Major League Baseball or its clubs.