Jones on a roll as White Sox setup man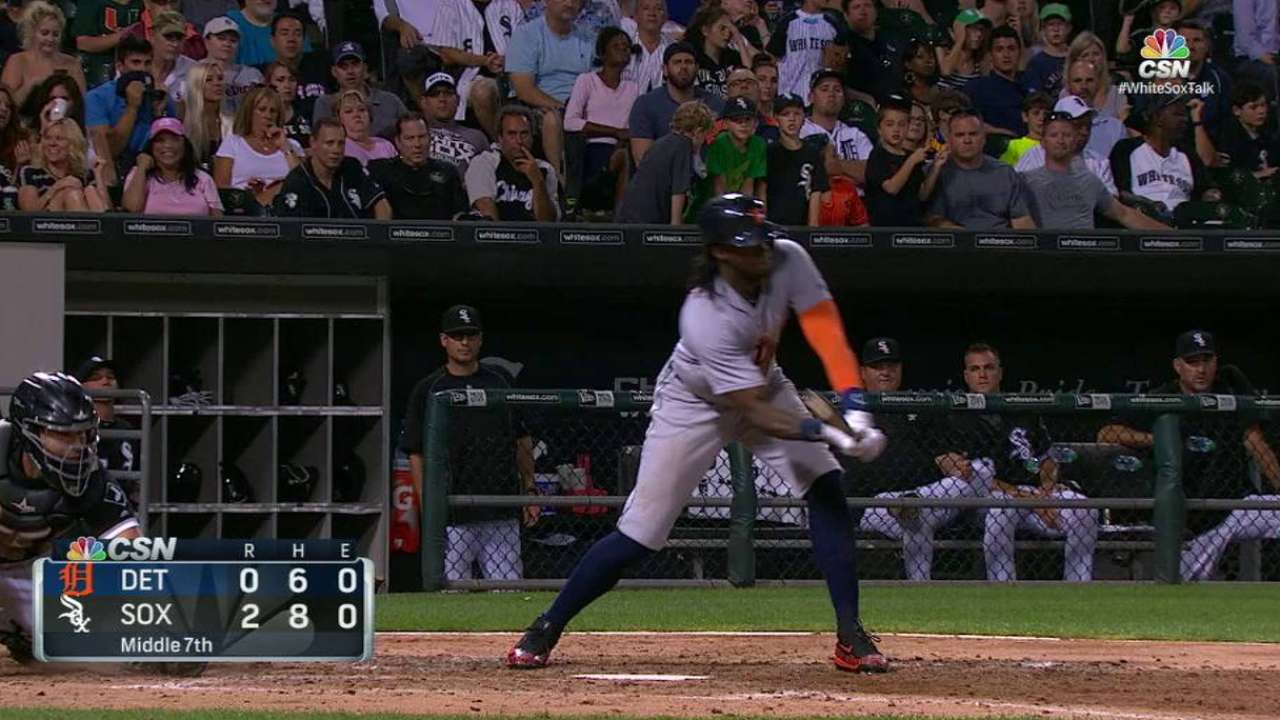 CHICAGO -- Nate Jones doesn't have the closer title where the White Sox late innings are concerned.
That role belongs to David Robertson, whose 34 saves make him one of five pitchers in White Sox history to record at least 30 saves in back-to-back seasons. But Jones continues to record important outs in the seventh and eighth innings, giving the White Sox a pretty solid one-two punch at the back end of the bullpen.
"I try my best to do my job and get the ball to D-Rob with the lead," Jones said. "It doesn't always work out like that. D-Rob does his job to the best of his ability. I like it and hopefully we are here for a while."
"He has been amazing all year. He has been a bulldog out of the 'pen," Robertson said. "Nate pounds the strike zone. He throws extremely hard. He has electric breaking stuff. Guys don't dig in and put good swings on his pitches because he has such good stuff. He's turning into a force to be reckoned with."
Over Jones' last nine games entering Wednesday, he has turned into an almost unhittable force. Opponents have three hits during Jones' nine innings in that span, while the right-hander has fanned 14 and walked one.
His 66 games pitched place Jones at the top among American League relievers, and his 27 holds rank second. They also rank second all time in White Sox single-season history, needing four more to break Barry Jones' mark of 30. Only 17.6 (6 of 34) of inherited runners have scored against Jones, while first batters are 8-for-61.
Four scoreless September appearances have produced one hit against Jones and nine strikeouts. Fifty-one of his 66 games have been scoreless and 36 of his appearances have been hitless. Jones has made 27 appearances without any rest, going 3-1 with a 2.30 ERA over 27 1/3 innings, striking out 39.
"It's just an accumulation of the process throughout the year, learning about the different hitters and different teams and keep adding that to the previous knowledge from the previous years," Jones said. "That's what's working out right now."
This 2016 season hasn't been perfect for Jones, who has nine blown saves. The one appearance in the last nine where Jones was scored upon came via Jarrod Saltalamacchia's deciding two-run home run in the eighth inning of an Aug. 29 game at Comerica Park.
But refining the mental approach for Jones has been important to his setup work and his outstanding repertoire.
"Coming up through the Minors, we talked about having a plan of attack and stuff like that," Jones said. "I give myself about five minutes just to think about it, come back to my chair, think about what happened, what the pitch was, where was it supposed to be, did I execute, things like that. After those five minutes, that's it.
"Once we leave, there's another game tomorrow. We concentrate on that. It's the same way with good outings. You think about it for five minutes, what you did right and how you executed and boom, that's it. I'm going to be in there tomorrow. Concentrate on that game."
Scott Merkin has covered the White Sox for MLB.com since 2003. Read his blog, Merk's Works, follow him on Twitter @scottmerkin, on Facebook and listen to his podcast. This story was not subject to the approval of Major League Baseball or its clubs.