Manaea throws bullpen session; nearing return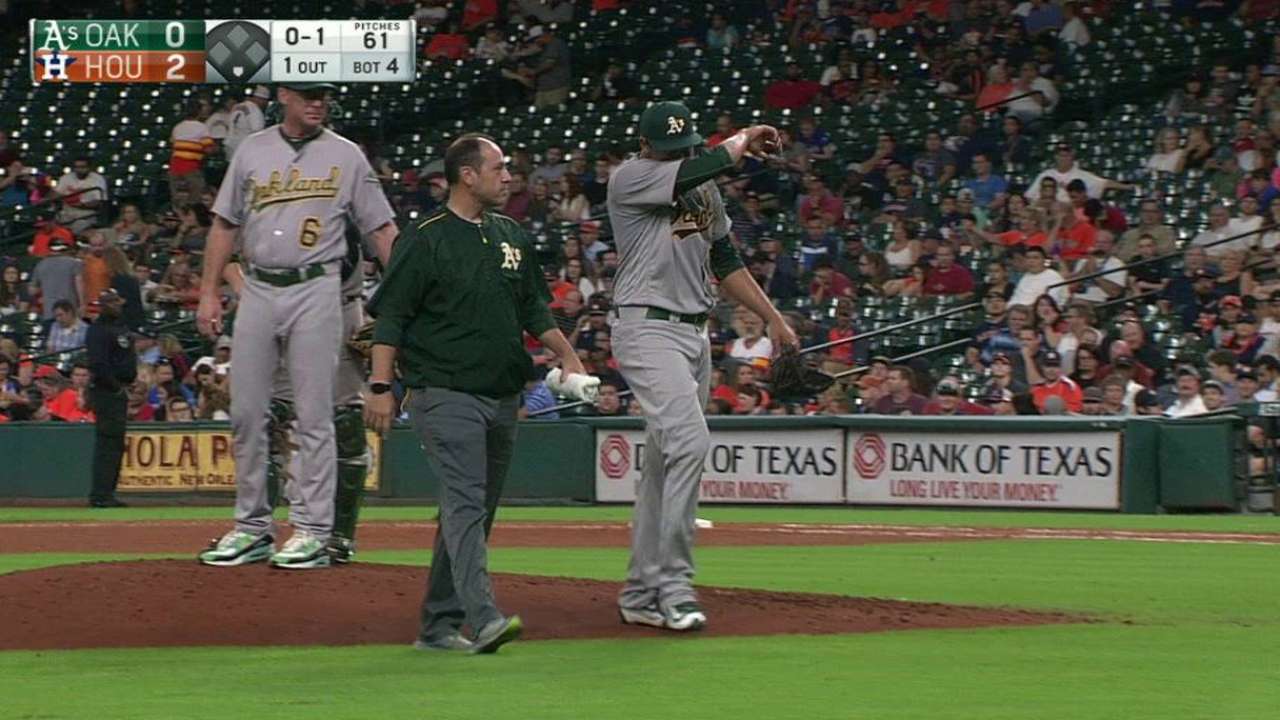 OAKLAND -- Athletics manager Bob Melvin envisioned having a six-man rotation at this juncture of the season.
Injuries haven't allowed for that. But with Sean Manaea nearing his return from an upper back strain, Melvin appeared optimistic about its potential before the club's series finale with the Los Angeles Angels on Wednesday afternoon.
"We'll see how we get there," Melvin said. "We probably envisioned having one right now, but we've had some injuries. So knock wood we have everybody healthy, and we'll see how we take that."
Manaea hasn't appeared in a game since injuring his back on Aug. 29. The left-hander threw an extended bullpen session Wednesday and could return to the rotation during Oakland's next road trip.
"We'll probably have him throw another [bullpen session] in a couple days and then potentially he'll take the mound for us on the road trip," Melvin said of Manaea, who is 5-9 with a 4.40 ERA this season in 21 appearances (20 starts).
Manaea will eventually join a rotation featuring Daniel Mengden, Kendall Graveman, Raul Alcantara, Ross Detwiler and Jharel Cotton. Melvin said that Mengden would start in Friday's series opener against the Mariners, with Graveman and Alcantara following him, in that order. Detwiler will start in the club's series opener against the Royals on Monday.
Worth noting
• Khris Davis entered Wednesday 3-for-24 with 11 strikeouts in his past seven games. Melvin gave him a "half-day off" by slotting Davis as the club's designated hitter.
"He's had some rough patches during the season, and then you think about giving him a day off and then he hits two home runs and you wonder why you even thought that," Melvin said. "That's the thing about power hitters; you can be in a little bit of a funk, and next thing you know, you square one up and it's worth three runs for you."
• Ryon Healy was named to Baseball America's 2016 All-Star team. The third baseman, who made his Major League debut on July 15, entered Wednesday batting .287 with 19 RBIs for the A's this season. "It doesn't surprise me," Melvin said. "We've talked about what he's brought to the table. He's a tough guy that has never looked like he's been in awe of the situation."
Justin Wise is a reporter for MLB.com based in the Bay Area. This story was not subject to the approval of Major League Baseball or its clubs.