Harper made stealing bases a priority
Outfielder sought out Lopes to improve technique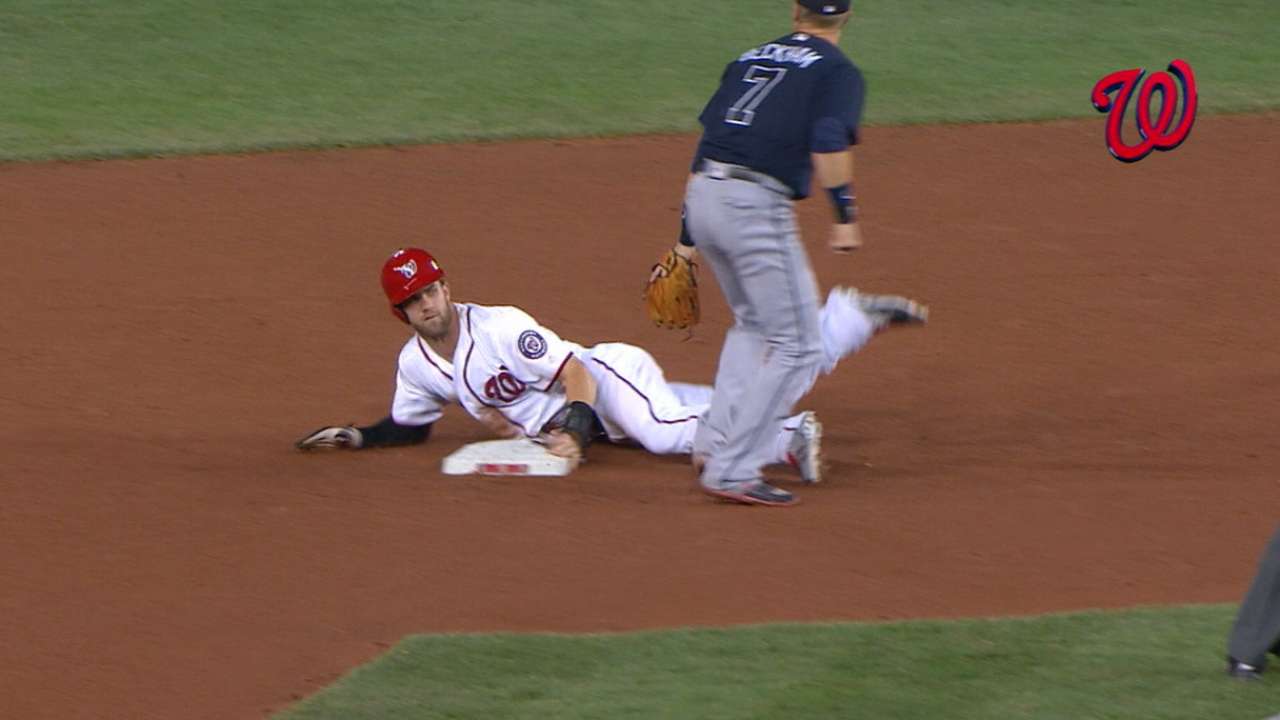 WASHINGTON -- Bryce Harper arrived at Spring Training this season with the goal of stealing more bases, a way he believed he could improve after a season where he became the youngest unanimous Most Valuable Player Award winner in National League history. Although at times Harper has struggled to replicate the success at the plate from that historic 2015 season, he has become more dangerous on the basepaths.
Harper stole his 20th base of the season in the seventh inning Tuesday night, which extended what already was a career high, and marked the first time in his career that he has swiped 20 bases and hit 20 home runs.
Harper became the seventh player in baseball this season with at least 20 homers and 20 stolen bases, joining Mike Trout, Paul Goldschmidt, Mookie Betts, Jose Altuve, Ian Desmond and Wil Myers. Only three players in Nationals history have accomplished the feat, with Harper joining Desmond, who did it three consecutive seasons from 2012-14, and Alfonso Soriano in '06.
"I'm definitely happy," said Harper, who added that also hitting 22 doubles is a big deal. "I think setting out, some things I wanted to do this year was definitely run the bases a little bit better and do some things with [first-base coach] Davey [Lopes] that I could do to get my game a little bit better. I think that was a big one for me."
In his first season with the Nationals, Lopes -- who developed a reputation as a stolen bases guru during his time with the Phillies from 2007-10 -- has had a tangible impact on the team. Washington finished 27th in baseball in 2015 with 57 stolen bases. The Nationals matched that output on July 16 and currently rank sixth in baseball with 101 stolen bases on the season. Harper was one of the first players who sought out Lopes during the spring looking for ways to become a better basestealer. As a rookie in 2012, Harper had stolen his previous career high of 18 bases in 139 games and that number dwindled to six last season.
"I just don't think I was able to run," Harper said. "They didn't really let me run freely. I think I've always been a pretty damn good baserunner. Of course, you're going to make mistakes here and there in that stuff. Stealing bases is just something you have to have confidence in and have the ability to do, and I was able to do that this year."
Harper and Lopes began working together to make adjustments: Eliminating some of Harper's movement while taking his leadoff, improving his recognition of a pitcher's pickoff move and most of all giving Harper the green light and having the confidence in him to run.
"I think it's just him developing more as a player," Lopes said. "What areas can I improve upon to get myself to whatever kind of player he expects to be. He believes that he's an all-around player, both offensively, defensively, running, throwing, hit for power, hit for average.
"He decided [basestealing] was an area that he wanted to challenge himself in. He wants to become better at doing and he has."
The stolen-base threat makes Harper even more dangerous considering how often he draws walks (fourth in Majors with 95). He now has the ability to turn those free passes into two bases.
Most teams in baseball are running less this season, as they decide stolen bases are not worth the risk of injury or to scoring chances. Neither Harper or Lopes said they worried about the injury risk of Harper running more often -- both citing separately the fact that Harper could be injured crossing the street -- although manager Dusty Baker pointed to Harper's sliding technique as a potential concern that will have to be improved upon next spring.
In fact, Lopes still sees room for improvement with Harper, who has been thrown out eight times this season, and that his stolen-base totals could continue to climb.
"He can take it to another level," Lopes said. "He got so many this year here, but inexperience cost him a few stolen bases or he would be going for 30-30 right now. And I think that's something on the horizon for him. He has that kind of ability."
Jamal Collier covers the Nationals for MLB.com. Follow him on Twitter at @jamalcollier. This story was not subject to the approval of Major League Baseball or its clubs.