Foltynewicz stays calm, controls emotions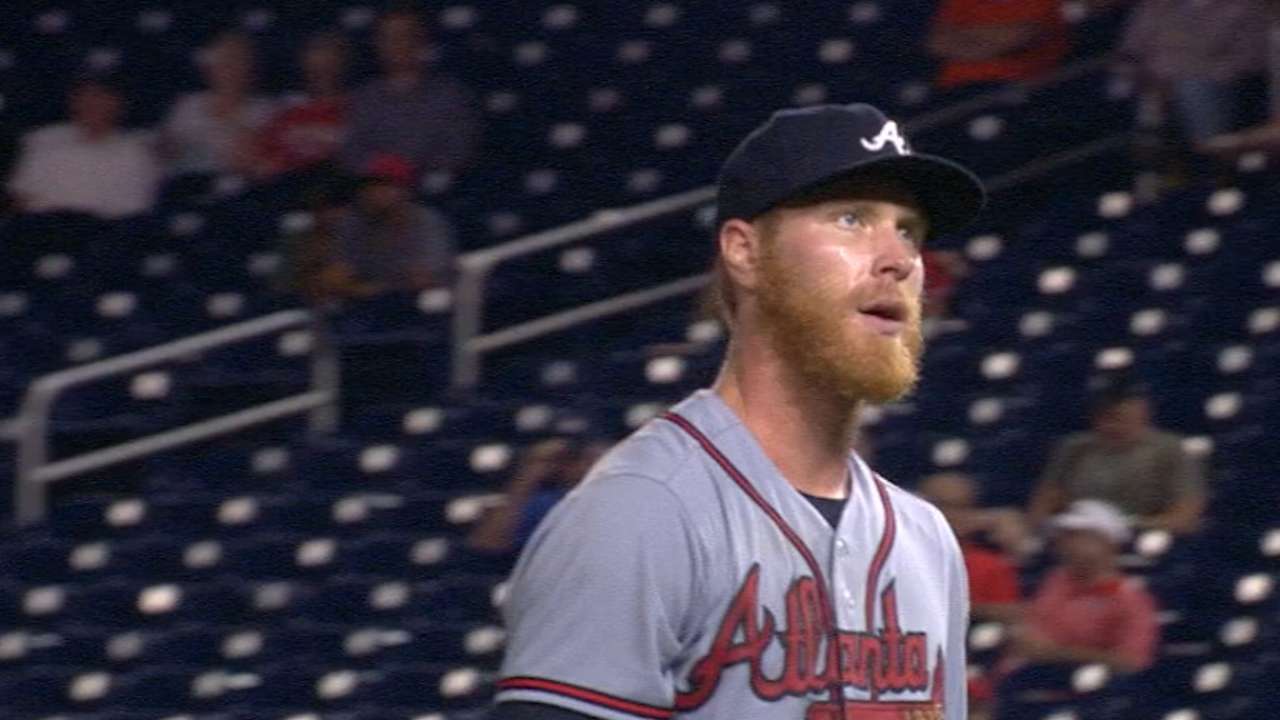 WASHINGTON -- Though his effort might have gone unrewarded, the execution and poise Mike Foltynewicz displayed during the first two innings of Wednesday night's 5-4, 11-inning loss to the Nationals set the stage for him to provide further indication he has finally learned to harness those emotions that had been negating his tremendous talent.
"He's keeping his emotions under control," Braves manager Brian Snitker said. "He's competing unbelievably and just working his tail off every time he goes out there."
After Foltynewicz recorded eight strikeouts and limited the Nationals to one run over six innings, Chris Withrow did not retire any of the three batters faced during a game-tying, two-run seventh inning. Withrow's outing erased Foltynewicz's bid to win three consecutive starts for the first time in his career, but it did not erase the impression the 24-year-old starter left on his teammates and coaches.
"There were a couple things that happened during the game where before I think he'd have gotten out of whack and probably let it get to him," Snitker said. "But I can see him refocusing and staying together."
Foltynewicz did not unravel during the second inning when a replay review preserved a one-out single recorded by Wilmer Difo, who advanced to second base on Stephen Strasburg's sacrifice bunt. Foltynewicz pitch around Trea Turner to get to Jayson Werth, who fell behind 0-2 before concluding a 10-pitch at-bat with a bloop single to right field that scored Difo.
In the past, this sequence of events and home-plate umpire Rob Drake's inconsistent strike zone would have likely frustrated Foltynewicz to the point where he would allow for a carry-over effect. But he responded to Werth's single by retiring 10 of the next 11 batters he faced and did not allow another hit until Wilson Ramos began the bottom of the sixth with a double.
"I could have gotten really mad at myself and let that snowball out of control, but I think the last month or so, I've done a good job of calming myself down and not allowing myself to get too amped up," Foltynewicz said. "I'm really just focused on executing pitch to pitch."
This was one of those nights where Foltynewicz had the luxury of being able to rely on a high-octane fastball, sharp slider and an effective changeup. After surrendering Ramos' double, Foltynewicz concluded his 106-pitch effort with consecutive strikeouts of Danny Espinosa and Difo. Espinosa whiffed on a slider and Difo flailed at a 2-2, 95-mph heater.
Foltynewicz showed promise around the All-Star break and then stumbled near the end of July. But as he has allowed two earned runs or less in four of his past seven starts, he is nearing the end of his second big league season in a manner that gives the Braves hope he could serve as a front-line starter for many years to come.
"I'm really happy with the way I've been going about things, getting guys out and putting guys away," Foltynewicz said. "It's been fun."
Mark Bowman has covered the Braves for MLB.com since 2001. This story was not subject to the approval of Major League Baseball or its clubs.