Prospects getting playoff experience in Minors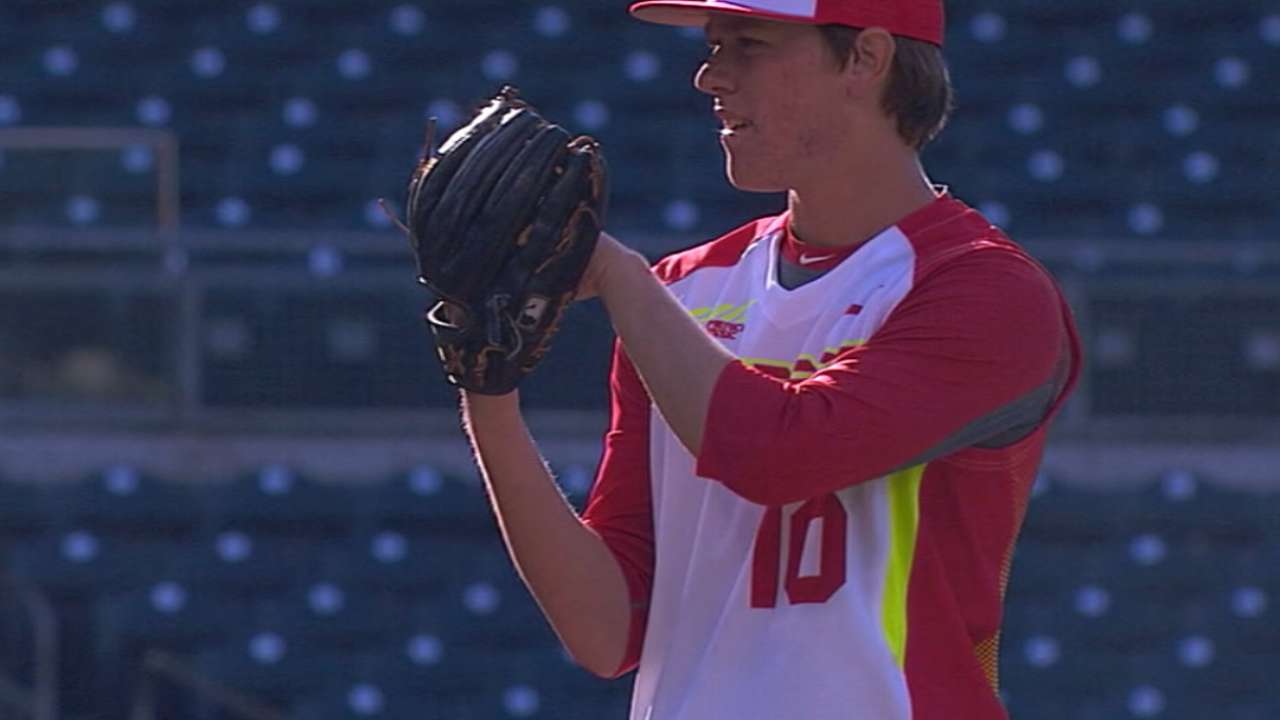 WASHINGTON -- Braves general manager John Coppolella has long had an aspiration to win a World Series and have the top farm system within the same season. His desire to realize this goal has led him to work in conjunction with his scouting and player development staff to create a pipeline that provides regular waves of big league talent over an extended period.
As the likes of Tom Glavine, John Smoltz, Chipper Jones, David Justice, and Javy Lopez reached the big league level over a stretch that extended from the late 1980s to the early '90s, the Braves developed a base around which to build their 14 consecutive division winners from 1991-2005.
Recognizing how beneficial this tier of talent proved to be a quarter of a century ago, Coppolella is thrilled that four of his club's six Minor League affiliates -- Triple-A Gwinnett, Double-A Mississippi, Class A Rome and the Gulf Coast Braves -- qualified for the playoffs this year. This marks the first time the franchise has had four clubs reach the postseason since 1989, when Atlanta had eight different affiliates.
"What's exciting to me is not that we're winning, it's how we're winning," Coppolella said. "We're doing it with kids that are younger than the kids they're beating. We're doing it with top prospects coming through with breakthrough performances. We're seeing good things out of our best prospects. That's what is so exciting."
Twenty-two of MLBPipeline.com's Top 30 Braves prospects will have competed in the playoffs this season. Three members of this prospect list -- Dansby Swanson, Rob Whalen and John Gant -- are either on the active roster or disabled list at the big league level. Two others who did not gain playoff experience this year were Ian Anderson and Joey Wentz -- a pair of high school pitchers who led their respective high schools to a state championship earlier this summer.
Below is a list of the Atlanta's Top 30 prospects who will get postseason experience this season. Gwinnett, Mississippi and Rome are all beginning their respective playoff runs this week. The GCL Braves were eliminated last week.
Gwinnett: Rio Ruiz (ranked 15th) and right-handed pitcher Chris Ellis (16th). Ruiz batted .271 with 10 homers and a .755 OPS during the regular season. The 22-year-old third baseman will likely be promoted to Atlanta's roster once the postseason concludes.
Mississippi: Ozzie Albies, Sean Newcomb, Lucas Sims (14th), Dustin Peterson (18th), Max Povse (20th), Akeel Morris (27th), Patrick Weigel and A.J. Minter (29th) will attempt to help a star-studded roster win the Southern League title. It doesn't look like Albies, Newcomb, Sims or Peterson will be added to Atlanta's roster this year, but each has the capability to reach the big league level next year. The same can be said of Minter, who is the most impressive reliever the Braves have developed since Craig Kimbrel.
Rome: Kolby Allard (fourth), Mike Soroka (seventh), Touki Toussaint (10th), Max Fried (11th), Austin Riley (13th), Ronald Acuna (17th), Anfernee Seymour (19th), Ricardo Sanchez (25th), Lucas Herbert (26th) and Luke Dykstra (30th) provide Rome high hopes as they enter the South Atlantic League playoffs.
GCL Braves: Kyle Muller (12th) posted a 0.65 ERA and recorded 38 strikeouts over the 27 2/3 innings he completed while making the first 10 appearances (nine starts) of his professional career this summer.
Mark Bowman has covered the Braves for MLB.com since 2001. This story was not subject to the approval of Major League Baseball or its clubs.