MLB.com Columnist
Mike Petriello
Hanley slugging like the greats by putting ball in air
Veteran's .970 OPS since June 22 is among 10 best in Majors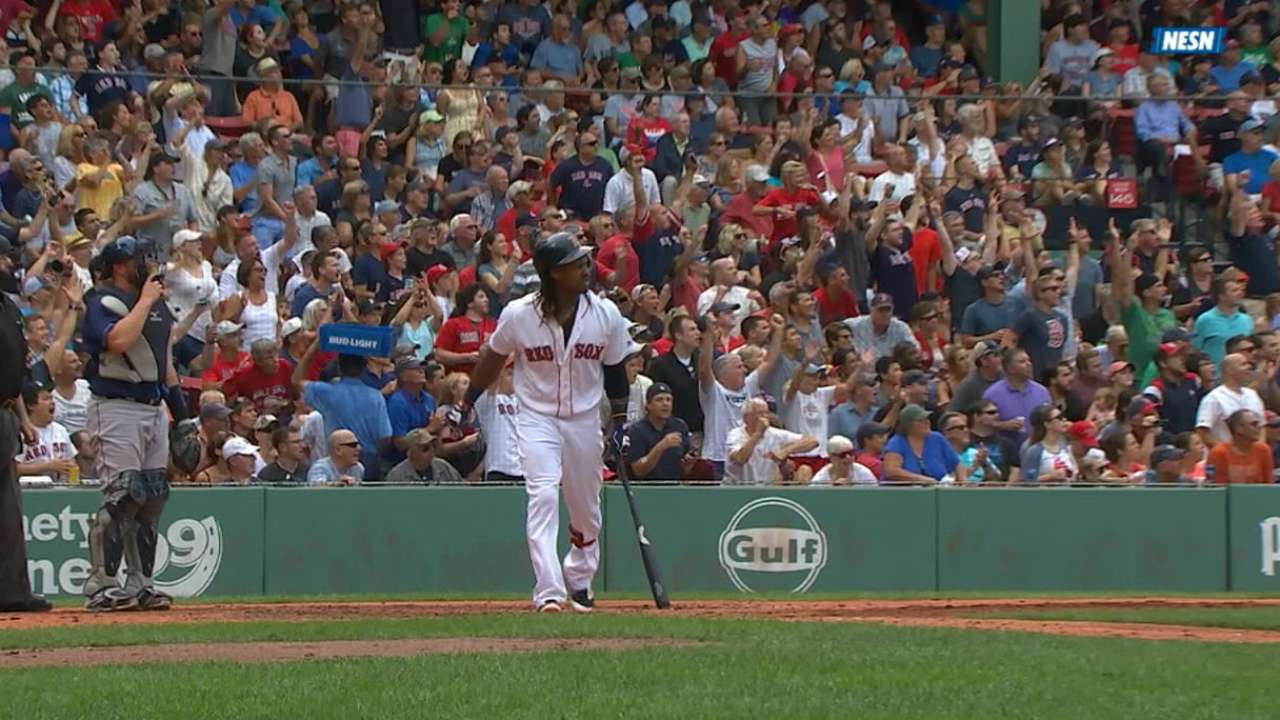 The disappointing debut of Hanley Ramirez wasn't the only reason that the Red Sox made a front-office change late last summer, but his implosion (along with Pablo Sandoval's) may have been the most visible. An attempted transition from shortstop to left field failed miserably and publicly; at the plate, after a red-hot April, he injured his right shoulder running into the wall in early May and hit just .239/.275/.372 before shutting it down entirely in late August.
Though another position change -- this time to first base -- went much better, the start of the second year of Ramirez's $88 million contract looked like more of the same at the plate. Over the first three months of this season, Ramirez hit only .273/.345/.409, which comes out to slightly below an average Major League hitter. So against all that backdrop of struggle, it might have been easy to miss what's been a remarkable turnaround. Since the middle of June, Ramirez has been one of the 10 best hitters in the Majors. Yes, really.
Since June 22 -- and while that seems arbitrary, we'll soon explain why that date was chosen -- 150 hitters have stepped to the plate at least 50 times. Check out the top 10 in OPS, which, despite being inferior to a more advanced stat like Weighted Runs Created Plus, is good enough for our purposes.
OPS leaders since June 22, minimum 50 plate appearances
1. 1.127 -- Joey Votto
2. 1.102 -- Mike Trout
3. 1.093 -- Brian Dozier
4. 1.065 -- Freddie Freeman
5. 1.062 -- Kris Bryant
6. .997 -- Josh Donaldson
7. .986 -- Mookie Betts
8. .985 -- Corey Seager
9. .984 -- Daniel Murphy
10. .970 -- Ramirez
Look at that list! It includes the likely top three finishers in the National League MVP Award voting, and potentially three of the top four names in the American League MVP Award voting. Names in the next 10 include Jose Altuve, Miguel Cabrera, Nelson Cruz and David Ortiz. The next 10 after that include Anthony Rizzo, Nolan Arenado and Justin Turner. Though it no longer feels like Ramirez is one of baseball's elite hitters, he's certainly been performing like one for nearly three months.
So why did we pick June 22? Because it represented a considerable turning point in Ramirez's season. In the first 18 games of June, he'd hit just .179/.273/.269 with one home run. One June 22 against the White Sox, Ramirez was pushed down to seventh in the lineup -- the first time he'd hit that low since 2006 with the Marlins. And as the Boston Herald reported, hitting coach Chili Davis had Ramirez make a change to his batting stance, holding his hands higher so they didn't get in the way of his high leg kick.
Ramirez hit a home run off of Jose Quintana that night, two more in the next three games, and basically hasn't stopped hitting since. Let's compare the before and after:
Through June 21: 288 PA .265/.333/.377 5 HR
Since June 22: 239 PA .307/.381/.590 15 HR
Whether or not the change in mechanics made all the difference is up for debate, because Ramirez has been tweaking his approach for years, and we wouldn't want to say this was "The One Weird Trick that Made Hanley a Star." But when looking more deeply into what actually changed for Ramirez "before" and "after," there's one clear thing that stands out.
It's not hitting the ball harder. Ramirez's exit velocity was 91.6 mph before the change and 92.2 mph after -- which is a minor uptick, but probably not that meaningful. He struck out in 19.4 percent of his plate appearances through June 21, and in 19.7 percent since, which is basically identical. Ramirez's Batting Average on Balls in Play has increased only from .317 to .331, which isn't much. Even his plate discipline hasn't moved that much; he chased 32 percent of pitches outside the zone before and 31 percent since.
So what is it? It's the same story we've seen from a number of power hitters this year. Ramirez began to elevate the ball, because you can't hit home runs on the ground. Check out his monthly launch-angle chart through the end of August. (A launch angle of 10 degrees or below is considered a ground ball, while 10 to roughly 25 degrees is the line-drive zone.) Notice a trend?
Hanley Ramirez stopped hitting grounders. He's been one of the 10 best hitters in MLB for months. pic.twitter.com/xY9xmRdDbm

— Mike Petriello (@mike_petriello) September 7, 2016
It's a big deal. Through June 21, Ramirez hit the ball on the ground 54 percent of the time. Since then, it has been only 41 percent of the time. And when he hits grounders this year, he slugs just .299 -- that's one extra-base hit. Compare that to arguably Ramirez's best offensive season (2013), when he hit .345/.402/.638 for the Dodgers. His ground-ball rate that year? 40 percent.
Digging deeper, when Ramirez hits a ball with a launch angle of nine degrees or below, his average is .316 and his slugging percentage is .373. When he hits a ball with a launch angle of 10 degrees or higher, those numbers turn into .440 and an eye-popping .953. For Ramirez, it pays to keep the ball off the ground.
Obviously, it's not as simple as "higher launch angle always equals success for everyone," because at a certain point, you hit the ball so high it becomes a popup, which has an extremely low probability of success, and some low-power/high-speed players like Billy Hamilton are better off hitting grounders. But as balls continue to leave Major League parks at a record pace, we keep hearing power hitters say the same thing -- that there's a lot of value in putting the ball in the air. (Daniel Murphy, for example, is at a career-low 37 percent grounder rate as he tears up the NL; he was at 50 percent as recently as 2012.)
It seems Ramirez has learned that lesson, because he looks a lot more like the Ramirez we used to know. As the Red Sox push towards October, it's not despite Hanley. It's in part because of him.
Mike Petriello is an analyst for MLB.com and the host of the Statcast podcast. He has previously written for ESPN Insider and FanGraphs. This story was not subject to the approval of Major League Baseball or its clubs.