MLB celebrates Hispanic Heritage Month
#PonleAcento campaign recognizes rich influence on game
Major League Baseball is making history and an even stronger connection to the Latino fans of the game.
Earlier this month, MLB announced its most extensive recognition of Hispanic Heritage Month with an initiative that includes the creation of a special version of its silhouetted batter logo with an accent mark -- a nod to its #PonleAcento campaign -- and a new bilingual spot that celebrates the impact of MLB teams and Latino players on the field and off the field in the Latino community.
"Hispanic Heritage Month is really a great opportunity for Major League Baseball and all of the 30 clubs to highlight all of the great work that's being done all season long to connect with our Latino fans," said Felicia Principe, director of brand advertising and marketing for Major League Baseball. "The clubs really do a phenomenal job to connect with the Latino community throughout the entire season. We see Hispanic Heritage Month as a chance to give national exposure to all the wonderful work being done all season long and into the offseason as well."
Major League Baseball's first bilingual -- English and Spanish -- spot in general-market national media debuted on ESPN's Wednesday Night Baseball this week, and it will be featured on ESPN, Fox Sports 1, MLB Network, MLB.com and MLB's social media platforms. ESPN Deportes, Fox Deportes and LasMayores.com will air the Spanish version.
"I always say that being Spanish or Latino is an honor, and it's a pleasure to see how MLB always remembers us and always tries to do something for the Latinos," Seattle second baseman Robinson Cano said. "It means a lot. That's where you come from, that's where you grew up. That's where you learned how to play baseball. That's where your family is coming from."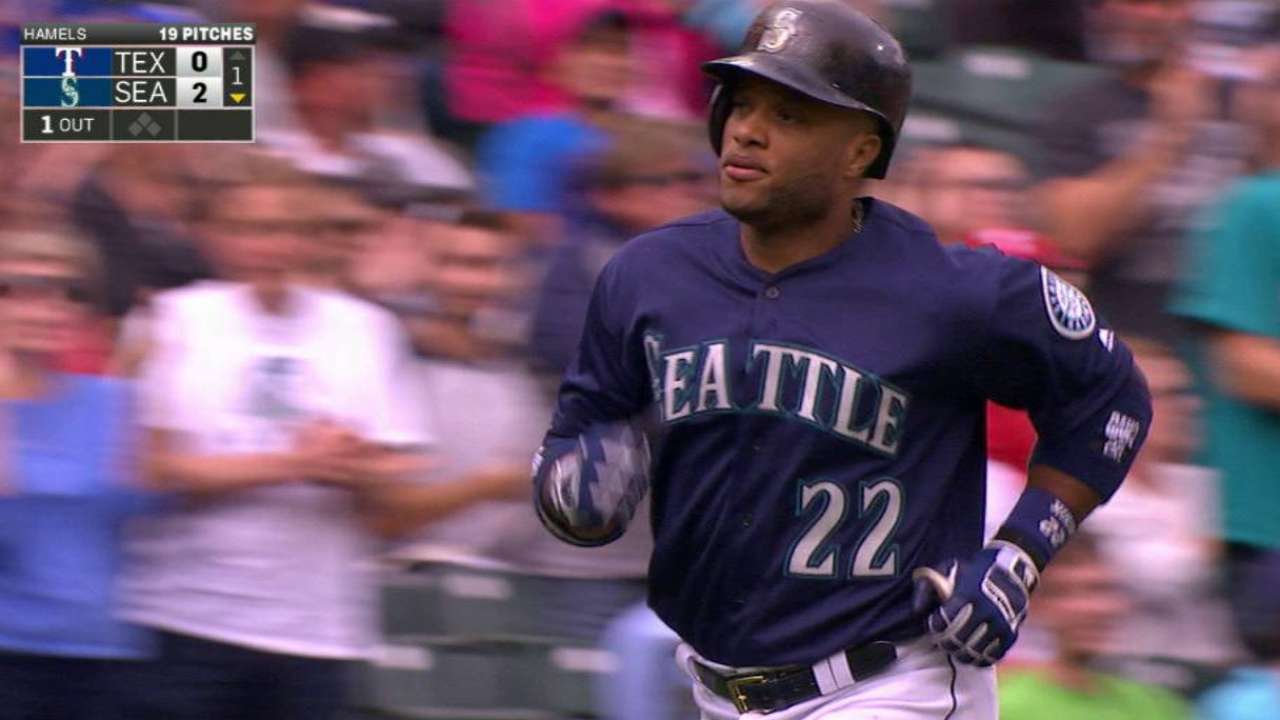 Created by LatinWorks, MLB's Hispanic marketing agency of record, the #PonleAcento initiative -- which literally means "to put an accent on it" -- shows all the ways Latinos have put an accent on the game, both on and off the field. This month, logos with accent marks on the silhouetted batter will be featured in ballparks, on MLB traditional and social media, as well as on batting practice T-shirts worn by players prior to select games.
More than 20 players and on-field staff have added accents or tildes to their jerseys since the #PonleAcento campaign began in 2015. LatinWorks also created MLB's Aquí campaign, which launched last year.
"It's great that players have caught on and the actual initiative has taken a more important role, and more players are doing it and wanting to do it," Dodgers first baseman Adrian Gonzalez said. "And it's great not just for baseball, but for Latinos everywhere. Hispanic Heritage Month is part of that whole process, and hopefully it will gain some more traction and continue to move forward."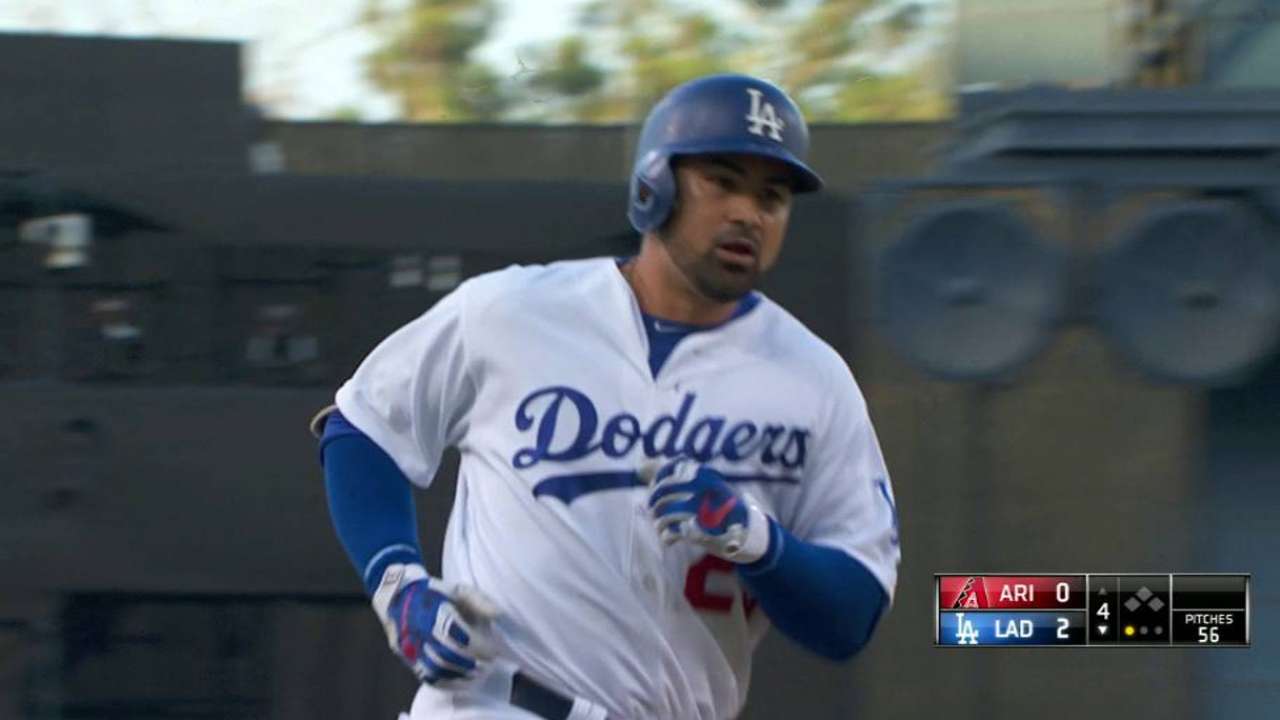 Teams have also been doing their part this month, with 23 clubs playing host to Hispanic Heritage games and special events that incorporate Latino influences into the fan experience in the days leading up to and during Hispanic Heritage Month, which started Thursday. Home teams are wearing the Ponle Acento T-shirts featuring the MLB Acento logo during batting practice.
Hispanic Heritage games in September
| Date | Team | Event |
| --- | --- | --- |
| 9/3 | Rangers | Hispanic Heritage Day |
| 9/4 | Mariners | Salute to Latin American Béisbol Day |
| 9/9 | Marlins | Nicaraguan Heritage Night |
| 9/10 | D-backs | Hispanic Heritage Day |
| 9/16 | Braves | Hispanic Heritage Night |
| 9/16 | Reds | Fiesta Rojos |
| 9/17 | Giants | Fiesta Gigantes |
| 9/17 | Rockies | Hispanic Heritage Night |
| 9/23 | Rays | Roberto Clemente/Hispanic Heritage Night |
| 9/23-25 | Padres | Hispanic Heritage Weekend |
| 9/24 | Astros | Hispanic Heritage Street Festival |
| 9/24 | Dodgers | La Gran Fiesta |
| 9/28 | Nationals | Hispanic Heritage Day |
| 9/30 | White Sox | Hispanic Heritage Night |
| 9/30 | Cardinals | Fiesta Cardenales |
The announcement cames as teams celebrated Roberto Clemente Day, MLB's annual league-wide salute to the Hall of Famer's life and legacy, on Sept. 6.
"To recognize our heritage is always important," Rangers third baseman Adrian Beltre said. "Latinos are honored that Major League Baseball is recognizing our heritage. I'm proud to be a Latino."
The Red Sox, Rockies, Tigers, Royals, Angels Brewers, Twins, Rangers and Mariners have all played host to Hispanic Heritage games and celebrations this season. The Yankees are also celebrating Hispanic Heritage Month with events in and outside of Yankee Stadium.
More than 27 percent of the players who appeared on Opening Day rosters were of Latino descent, and ESPN Sports Poll's 2015 Annual Report showed more than 60 percent of U.S. Hispanics consider themselves fans of Major League Baseball.
What's more, there have been two million Spanish-language downloads of MLB's At Bat -- an increase of 80 percent since 2015 -- and so far, Spanish-speaking baseball fans have consumed more minutes of baseball content in At Bat through July than during the entire 2015 season.
"I feel like people in the United States recognize and understand where we all come from," Colorado outfielder Carlos Gonzalez said. "They respect the way we play, they respect where we come from, and it's the same thing for us. We're playing in a different country. A lot of us live here and stay here year-round, and we respect this country just the way we respect our countries."
Jesse Sanchez is a national reporter for MLB.com based in Phoenix. Follow him on Twitter @JesseSanchezMLB and Facebook. This story was not subject to the approval of Major League Baseball or its clubs.