Has Buchholz found a home in Sox rotation?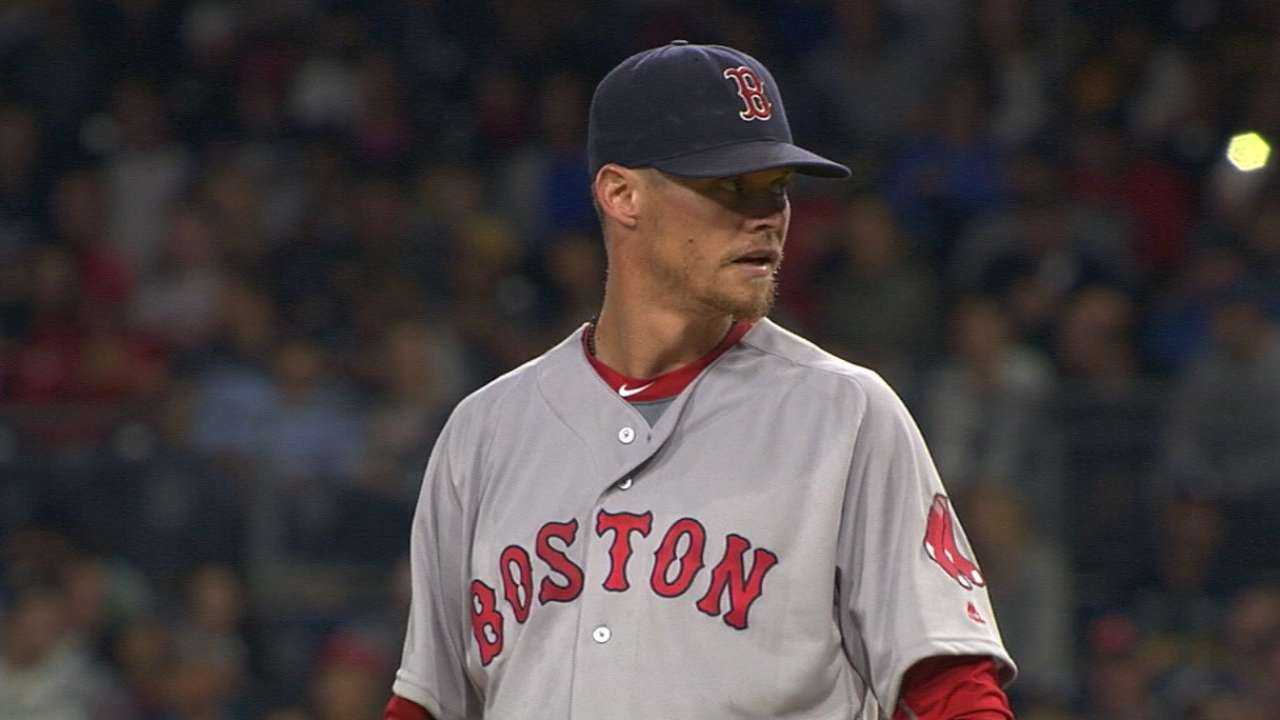 SAN DIEGO -- At various points this season, Clay Buchholz seemed more like a pinball than a pitcher, going from the rotation to the bullpen three different times.
But Buchholz kicked off his fourth stint in the rotation on Tuesday night in San Diego and looked poised to stay there the rest of the way, allowing one run in 6 2/3 innings in helping the Red Sox to a 5-1 win over the Padres.
Be it as a starter or a reliever, Buchholz has generally been a solid pitcher for over a month now, posting a 2.20 ERA in 12 outings since July 27.
In so doing, Buchholz has demonstrated the power of perseverance.
"He's pitching his best baseball of this year at the right time for us," said Red Sox manager John Farrell. "That's why you can't give Clay enough credit for the role he's been put into, some of it by his own doing early on. Again, it's how you finish and he's finishing in good fashion."
The standing ovation Buchholz received as he walked off the mound with two outs in the seventh from the thousands of New England transplants at Petco Park was one of the sweetest sounds the righty has heard all year.
"Yeah, I hadn't had one of those in a while," said Buchholz. "It's like I've said -- good times, bad times. I still feel like I can pitch and help this team out. Regardless of the role, it's a part of the game, and whenever my name is called, I try to go out there and give the team the best chance I can to win. I'm feeling good right now."
With 25 games left in the regular season, the Red Sox are tied with the Blue Jays for first place in the American League East. And Buchholz could start every fifth day down the stretch, as Steven Wright is uncertain to return from a right shoulder injury.
"That's where I envisioned myself being, but it was a numbers game, and whenever that all came up, I felt like I was the odd man out because of performance and the numbers," Buchholz said. "It's a business. I have to look at it that way. I've tried to work on the things I've needed to work on to get back moving forward. Everybody has sort of caught onto it. We have a really good club, and everybody knows if they go out and do their little part of whatever it is, we have a good chance to win."
The first time Farrell took Buchholz out of the rotation, he was one of the worst starting pitchers in the American League according to the statistics. Buchholz didn't do much better in a three-start return from June 21-July 2.
However, Buchholz found his groove after the All-Star break with an adjustment to his arm angle and has been stellar in his recent starts, pitching exclusively out of the stretch.
"I think my stuff is playing a little bit better, especially to lefties," Buchholz said. "I was getting hit pretty hard by lefties, but having that cutter that I can go in and bore in on their hands, having a curveball I can throw back-door, I can keep them off-balance a little bit better than I did."
Against the Padres, Buchholz allowed one run while walking none and striking out six.
"A lot of strikes," said Farrell. "A lot of different types of pitches for strikes. He used all four pitches at various counts here tonight. And given what Clay has done by starting the year in the rotation and going to the bullpen and back in the rotation and back to the bullpen and now back into the rotation once again, you have to give him a tremendous amount of credit for the mental preparation and being ready to go.
"Along the way, he's figured some things out. He's been extremely consistent. No walks again tonight. And just another fine job by him."
Ian Browne has covered the Red Sox for MLB.com since 2002. Follow him on Twitter @IanMBrowne and Facebook. This story was not subject to the approval of Major League Baseball or its clubs.