Power surge continues for Schimpf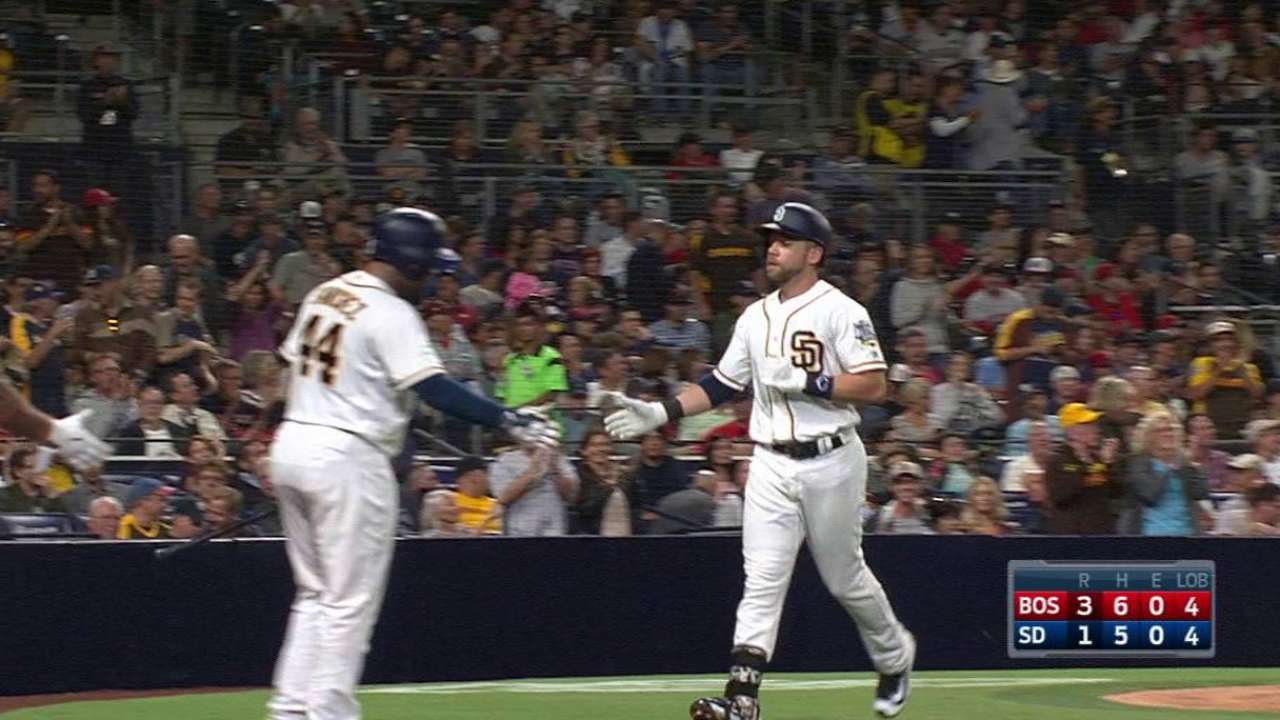 SAN DIEGO -- With his 17th home run during Tuesday night's 5-1 loss to the Red Sox, Ryan Schimpf continued to showcase the prodigious power that's made him San Diego's best player during the second half of the season.
That homer also kept him on track to matching, or surpassing, several Padres records.
With seven more home runs this year, Schimpf would tie Nate Colbert (1969) for the most homers of a San Diego rookie. It would also allow him to surpass Jedd Gyorko's (2013) 23-homer season, which is the most of any Padre second baseman.
Not that any of this matters to Schimpf.
"I don't think about it to be honest with you," Schimpf said. "If it happens, cool. Obviously not something I'm looking to try to do. I'm just trying to go out there and be me, put together a good at-bat and do something to help us win."
Going up and being Ryan Schimpf at the plate this year has meant a home run once for every 3.9 games, which is a significantly faster rate than Colbert (5.8) and Gyorko (5.4) managed during their record-setting seasons. On a plate-appearance basis, he also has them beat, going yard every 14.7 PAs compared to Colbert's 22.8 and Gyorko's 22.2.
If Schimpf were to continue clearing fences at that pace over the remaining 28 games of the season, he would tally seven more homers and tie Colbert's rookie record -- which was set with 532 plate appearances over 139 games, significantly more than Schimpf's 250 through 67 this year.
That might seem like a stretch considering Schimpf would have to play every one of the team's final games, but the 28-year-old rookie seemingly has the right combination of approach and power to make things interesting.
"The beauty with him," said Padres manager Andy Green, "is that he doesn't let a pitcher's approach dictate how he's going to be pitched at the plate. Just because they pitch your weakness doesn't mean you have to swing at it…
"The better Schimpf can get at not swinging at his weakness, the more balls he's going to drive out of the ballpark. He does a fairly good job of that. As a rookie, it's a really good job."
According to Schimpf, it's all about adapting to the guy standing on the mound.
"It's a constant -- every game, every series it's a constant game of adjustments," he said. "Not everyone's going to pitch you the same, so you just gotta do your homework as far as like, look at the pitchers and know what you want to do against them. Really trying to do the homework and put together the best approach you can."
His approach has payed off for him to this point, and it might just allow him to sneak into the San Diego record books. When asked if he had seen this sort of home run frequency before, Green laughed:
"The guy standing next to me in the dugout, but I don't think that really counts. Other than [bench coach Mark McGwire], guys don't hit homers with that frequency. He's barely over 200 at-bats and has 17 home runs…"
"He's going to fire off his A-swing, and he's going to do it over and over and over again."
Carlos Collazo is a reporter for MLB.com based in San Diego. Follow him on Twitter @CarlosACollazo. This story was not subject to the approval of Major League Baseball or its clubs.