Betances says 'right move' to pull him in 9th
Yankees closer needs 40 pitches to record one out; Parker picks up save
NEW YORK -- There was hardly anything left in Dellin Betances' right arm as he attempted to overrule a pitching change, unwilling to accept an outing that had already seen him burn a season-high 40 pitches while recording just one out.
But as Betances rejoined his teammates in the dugout, cheering as Blake Parker recorded the final two outs of the Yankees' 7-6 victory over the Blue Jays on Tuesday, the closer said that he recognized taking him out was absolutely the right call.
"I had a lot of pitches there," Betances said. "As a competitor, you always want to finish it yourself, but it was the right move right there. I felt like I was out of gas toward the end, but as a competitor you always want to stay in.
"I'm glad that Parker came in and did a tremendous job to [strike out] Kevin Pillar, and then [Brett Gardner] made a hell of a catch to end the game. If we lost that game, I wouldn't be able to sleep tonight."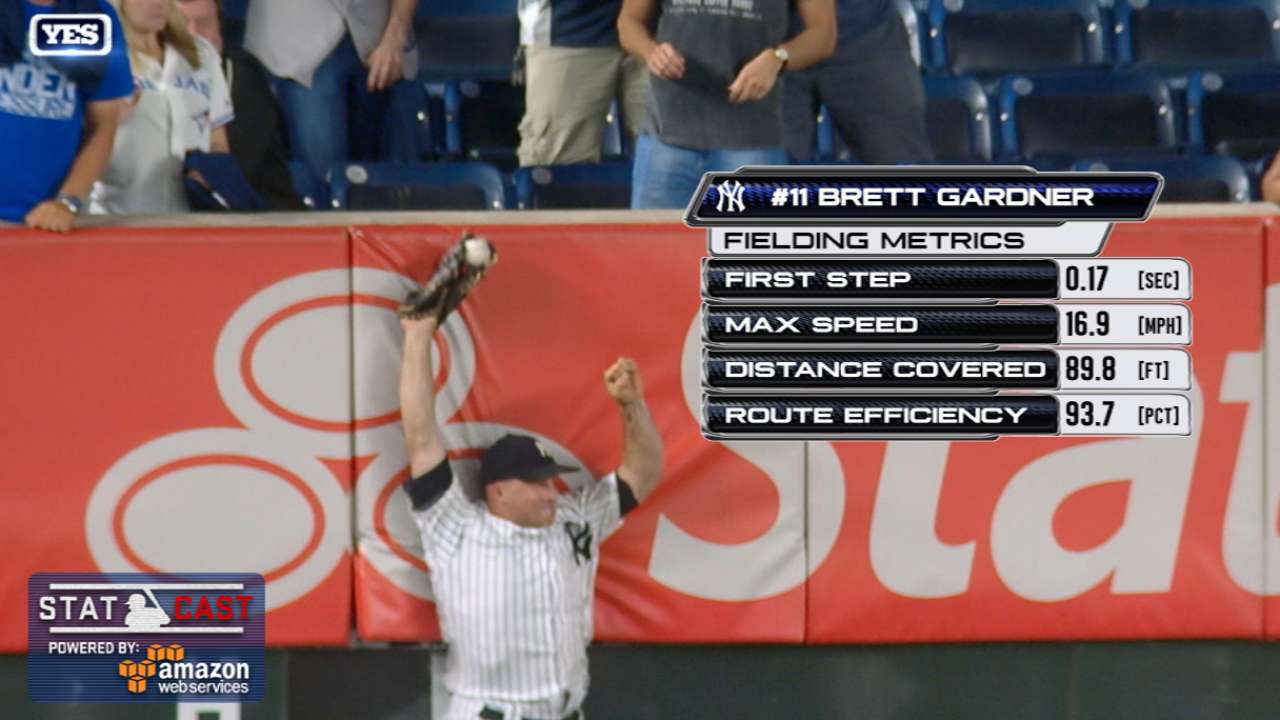 It was the third consecutive day of work for Betances, who threw 10 pitches on Sunday at Baltimore and 12 against the Blue Jays on Monday. Manager Joe Girardi said that he was unwilling to ask more than three outs of Betances, which is why Tommy Layne and Ben Heller followed Adam Warren (44 pitches) in the eighth.
Put back in play by a four-run eighth inning, Betances' outing was much less efficient than his norm. He walked Jose Bautista and Josh Donaldson to start the inning, bringing the tying run to the plate.
"I can't lose the first guy. Then I lose the second guy," Betances said. "I kind of got myself in a jam there and I threw a lot of pitches."
After Edwin Encarnacion's infield single trimmed the Yankees' lead to 7-5, Betances struck out Russell Martin. It was the only out he'd record, as Dioner Navarro walked and Betances was beaten to the first-base bag by Melvin Upton Jr. on a run-scoring infield single.
"I mean, it was difficult," Girardi said. "[Pitching coach] Larry [Rothschild] and I kept talking about it. As you saw, Dellin tried to wave me off, but it's just too risky and now we'll probably have to give him a couple of days off. That's the unfortunate thing."
With his command spotty, Betances leaned heavily on his breaking stuff, throwing 26 slurves against 14 fastballs -- a higher ratio than usual for him. The 40 pitches were tied for the fourth-highest total of Betances' career, and his most since throwing 45 on June 24, 2014, at Toronto.
"I know I'm not pitching tomorrow," Betances said. "Hopefully in a couple of days, I'll feel better, see where I'm at. But I'm just happy we got the win. I was frustrated that I wasn't able to do it myself, but I'm happy with what Parker did. He's been working extremely hard, and he deserves that save as much as anybody or any save this year."
Bryan Hoch has covered the Yankees for MLB.com since 2007. Follow him on Twitter @bryanhoch, on Facebook and read his MLBlog, Bombers Beat. This story was not subject to the approval of Major League Baseball or its clubs.