Gift of grab: Gardy's catch seals Yanks' win
Left fielder leaps at the wall to secure final out of dramatic victory vs. Jays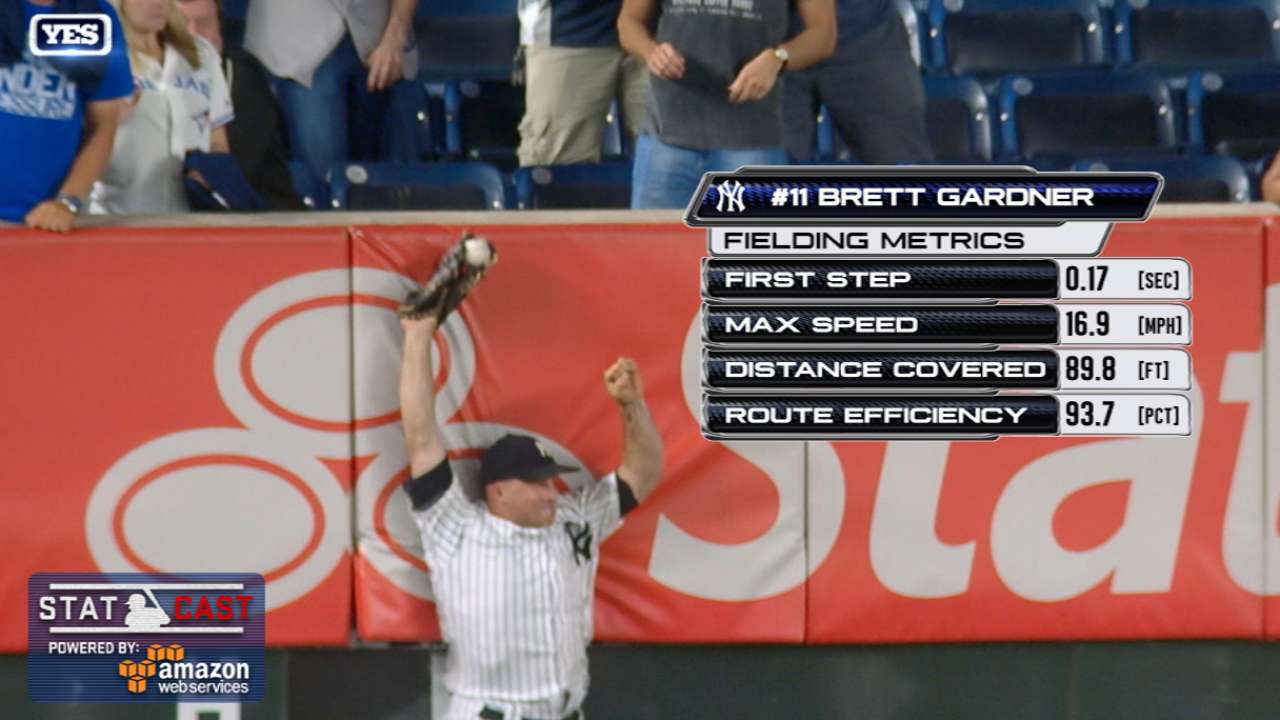 NEW YORK -- The adrenaline surged through Brett Gardner's system in the seconds immediately following his crash into the left-field wall, stamping an exclamation point on what felt like it could be remembered as one of the Yankees' biggest victories of the season.
Gardner expertly tracked Justin Smoak's bases-loaded, ninth-inning drive, rattling against the auxiliary scoreboard and feeling the ball pop out of his glove for an agonizing instant. As the ball fell safely back into the leather pocket, the Yankees on Tuesday could finally celebrate a seesaw 7-6 win over the Blue Jays that offered another boost to their unlikely postseason hopes.
"So much is going on at the same time; ball going in the glove, me hitting the wall. It was kind of loud," Gardner said. "I just wasn't sure. I was happy to look and see that it was in my glove. I was right on the wall. I think I pretty much hit the wall the same time the ball got to me. Timed it perfect, I guess."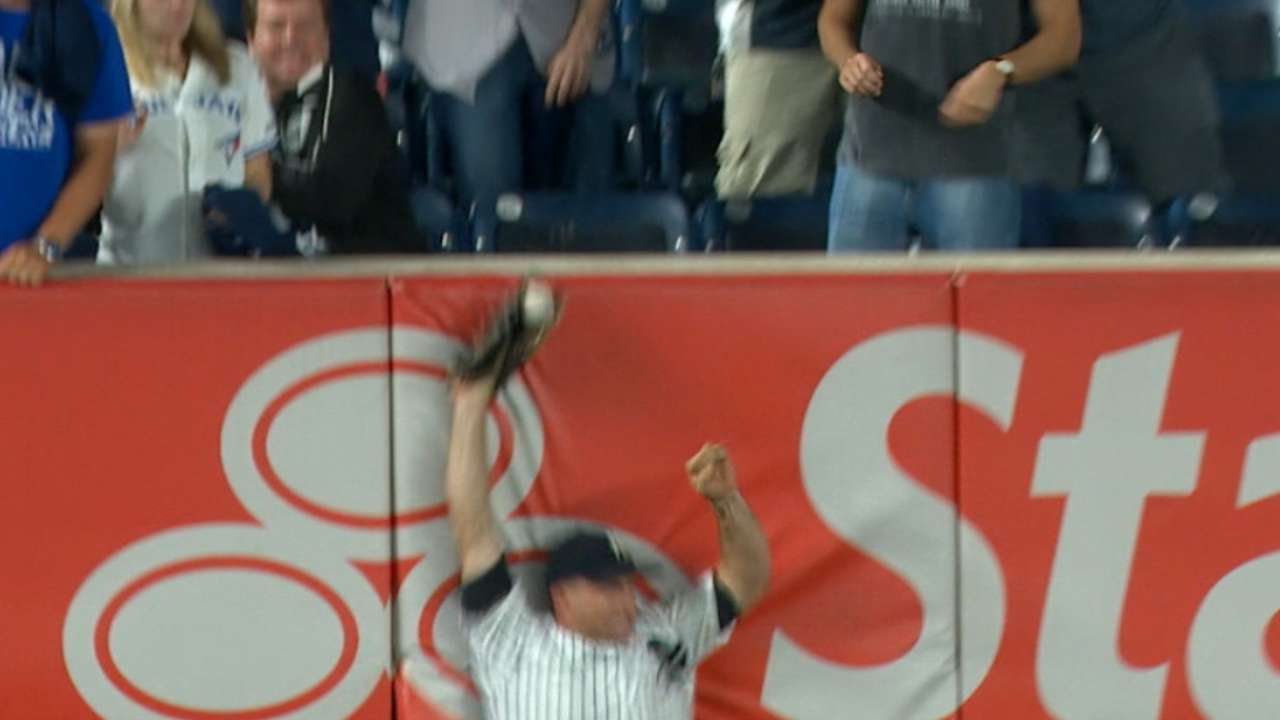 Gardner gleefully embraced hulking rookie right fielder Aaron Judge, recalling that minutes before -- while manager Joe Girardi trudged to remove Dellin Betances from an outing in which he had thrown a season-high 40 pitches -- the 24-year-old rookie wandered across the outfield to remark how intense the game had become.
"My response to [Judge] was that it'd be more exciting if it were 7-4 and not 7-6," Gardner quipped. "But you know, he was excited about the moment -- and he's not the only one."
As the Yankees continue to dig out from their slow start, the victory marked their ninth in 13 games, establishing a high-water mark of seven games over .500. The Yanks remained 3 1/2 games back in the Wild Card, but are now just 4 1/2 out in the division, their smallest deficit since April 28.
"I'm sure teams in front of us have taken notice," Gardner said. "I don't want to say we're scaring some people, but we're obviously playing better baseball, which is good to see."
They arrived there as Blake Parker picked up his unlikely first save in pinstripes, inheriting a bases-loaded mess from Betances. The closer had thrown 22 pitches over the last two days, recording seven outs against the Orioles and Blue Jays, but exhausted himself by needing nearly twice that number while retiring one Toronto batter.
Parker froze Kevin Pillar looking at a curveball for a called third strike, then held his breath as Smoak jumped on a first-pitch hook, launching it to deep left field.
"I feel like I hit it decent -- I barreled it," Smoak said. "I thought it had a chance."
Yankees third baseman Chase Headley said he believed Gardner would make the catch if Smoak's drive stayed in the park, but that wasn't necessarily a given.
"You don't see a lot of left-handers hit the ball out of the ballpark [to left], and I knew he hit it good," Headley said. "With the way the wind was blowing tonight, I really didn't know what it was going to do, but I knew if it stayed in, Brett was going to catch it."
When Gardner came down with the grab, Parker said his reaction was one of "sheer joy."
"I saw him jump up and I saw it kind of squirt out," Parker said. "I didn't know if he had thrown it up to himself in kind of astonishment that he caught it or what. But I saw it pop out and I saw it go back into his glove. I was just happy that he came down with it and we got the win."
Gardner saw it as redemption for a broken-bat Jose Bautista RBI single that he hadn't pursued aggressively enough in the fifth inning, a play that was rendered a footnote by the outcome. As for the final out? The Yankees might just have reason to remember that come October.
"I think we're in a better position now than we were four, five, six, eight weeks ago," Gardner said. "We're running out of time but we're playing good baseball, and hopefully we can keep it rolling."
Bryan Hoch has covered the Yankees for MLB.com since 2007. Follow him on Twitter @bryanhoch, on Facebook and read his MLBlog, Bombers Beat. This story was not subject to the approval of Major League Baseball or its clubs.