Maddon, Hammel brush off rough outing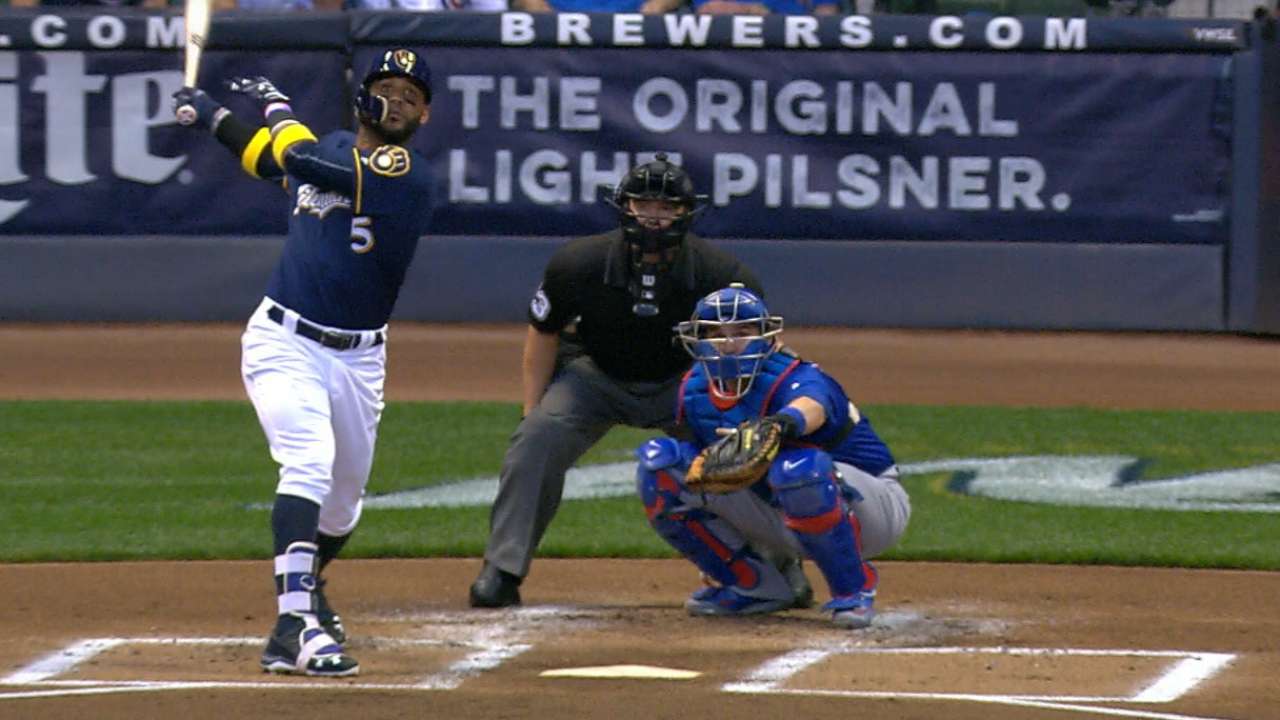 MILWAUKEE -- Cubs manager Joe Maddon won't talk about the playoffs until the Cubs clinch and he knows their opponent, but he made it clear that right-hander Jason Hammel didn't do anything on Tuesday night to knock himself out of consideration for the postseason rotation, despite what the linescore looks like.
Hammel served up a season-high 13 hits over 5 2/3 innings in the Cubs' 12-5 loss to the Brewers on Tuesday. He was charged with eight earned runs, five of which came in the first inning.
"Usually, if they're going to get him, it's going to be early in the game," Maddon said. "When he gets deeper in the game, he normally settles in. ... I thought he righted himself, and it didn't play out."
Jonathan Villar launched Hammel's second pitch into the Brewers' bullpen for a leadoff homer, and after Kirk Nieuwenhuis' bunt hit, Ryan Braun made it 2-1 with a single off Hammel's sixth pitch. The next two batters reached via a hit and a walk, then Domingo Santana made it 4-1 with a two-run single. One more hit loaded the bases, and Martin Maldonado made the first out of the inning with a sacrifice fly.
The five runs were the most by the Brewers off Hammel in 15 career starts.
"I just haven't had a good feel for my slider over the last few [starts]," Hammel said. "I've been trying to feel it right now, feel around for it. I had good curveballs today. Not having that slider, it's usually my effective pitch when I'm behind in counts.
"Too many pitches were up in the zone. I didn't set the tone for us early. This one is on me, and obviously, it doesn't sit well. We're fortunate to have a comfortable lead now, and we'll just brush this off now and move on."
The Cubs do have a double-digit lead, and their magic number to clinch the National League Central remains at 10. There's plenty of time for Hammel to get his slider back.
"The story of the tape for me this year is when I'm bad, I'm really bad," Hammel said. "The overall body of work is really good. I'm not going to beat myself up. I've had a pretty good run against these guys, and they were due for one."
Hammel began the day 10-1 with a 2.50 ERA in 14 career starts vs. the Brewers, and he had opened the season's second half with six consecutive wins.
Maddon stuck with Hammel because he didn't want to use certain relievers and also because the Brewers' lineup matched up well against the right-hander.
"He's a guy that always pitches good against us," Milwaukee starter Wily Peralta said. "Even though we got five runs in the first inning, he went out there and went to the sixth. We got a couple more, but he was battling."
Hammel just needs to get back on track.
"It's not a [postseason] audition -- he's got 14 wins this year," Maddon said. "He's had a nice season. Everybody has bad moments."
Carrie Muskat has covered the Cubs since 1987, and for MLB.com since 2001. She writes a blog, Muskat Ramblings. You can follow her on Twitter @CarrieMuskat and listen to her podcast. This story was not subject to the approval of Major League Baseball or its clubs.