Kluber's brief lapse enough to sink Indians
Hanging 0-2 curveball one of few mistakes for ace, who took first loss since July 3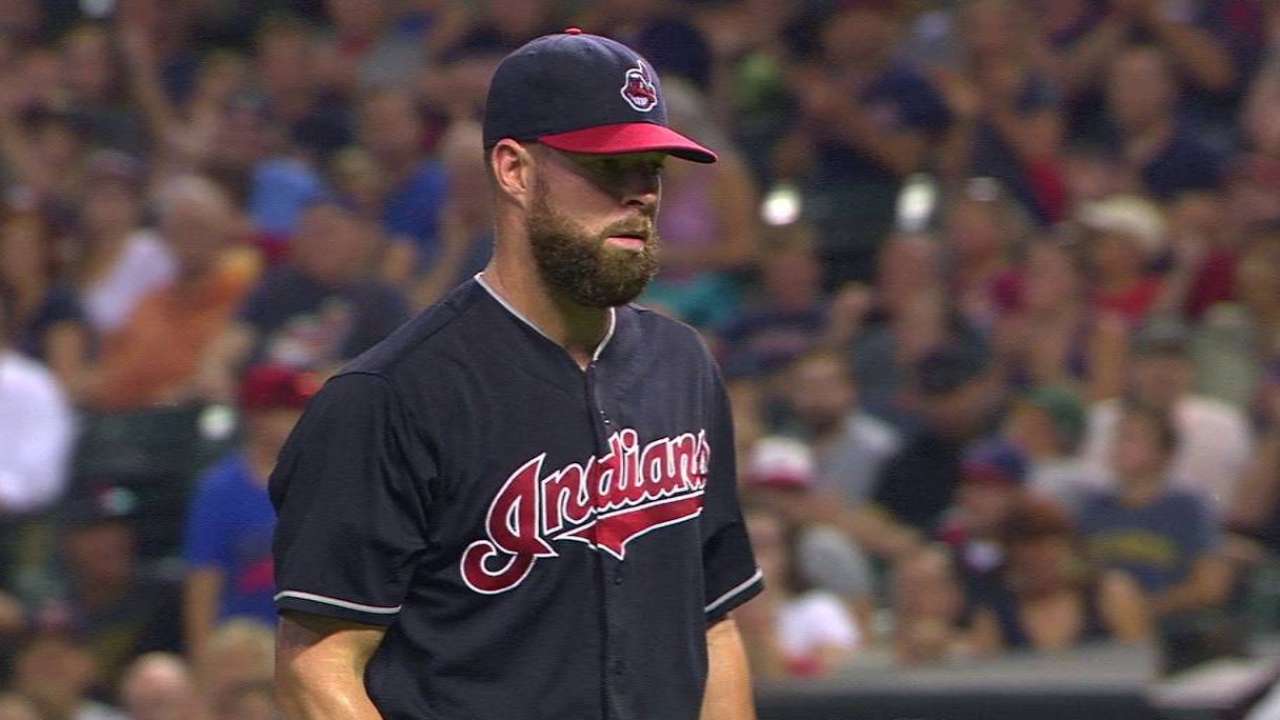 CLEVELAND -- Indians ace Corey Kluber waved catcher Roberto Perez to the mound following a mistake pitch that led to a three-run homer, and the two had a brief discussion to link back up in the second inning on Tuesday night.
"We were talking about sequences," Perez said after Cleveland's 4-3 loss to Houston at Progressive Field. "I think we'll always be on the same page again."
But the damage had been done, and the rare flinch by Kluber proved to be the difference in the game. Kluber was charged with four runs on four hits across seven innings -- leading to his first loss since July 3, and snapping a seven-game winning streak by the reigning American League Pitcher of the Month. He also saw his run of 10 straight quality starts come to an end.
"It wasn't his best performance," manager Terry Francona said. "But, yet, if not for a hanging 0-2 pitch, he would have given up one [run]. He's pretty good."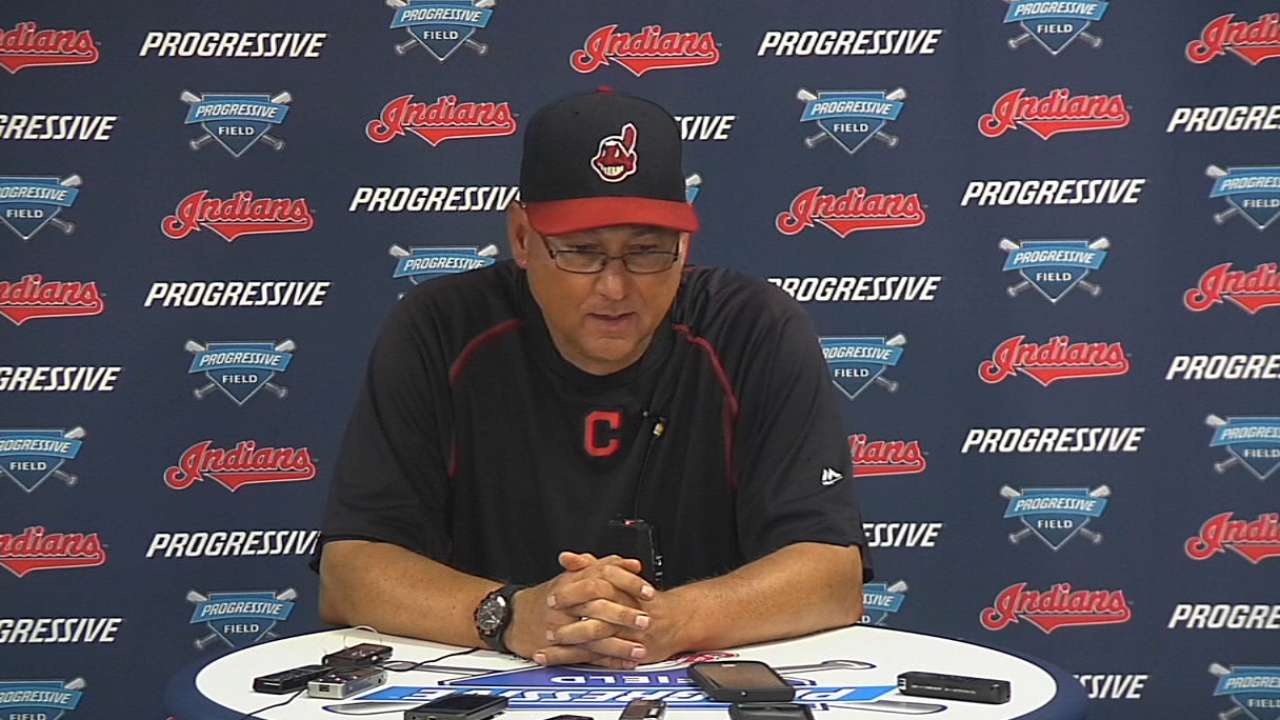 Kluber's catcher agreed.
"Oh man, he's been great, especially for this playoff run we're trying to get," Perez said. "He's been awesome. For me, being behind the plate for him, I've been honored. He's a great pitcher. He's kept us in the ballgame. He's a warrior. He likes to compete. He'll always give you his best."
Kluber certainly gave his best, and he had it outside a six-batter stretch where he appeared to lose his command in the second and third inning. However, due to the offensive struggles for a second straight night, the brief command issues loomed large.
The Tribe ace started the second frame well, retiring the first two batters he faced before he began to unravel. Evan Gattis fouled off Kluber's first-pitch sinker before watching the next four balls go by and trotted to first with a walk. Kluber then issued a free pass to Colby Rasmus after getting ahead in the count, 1-2.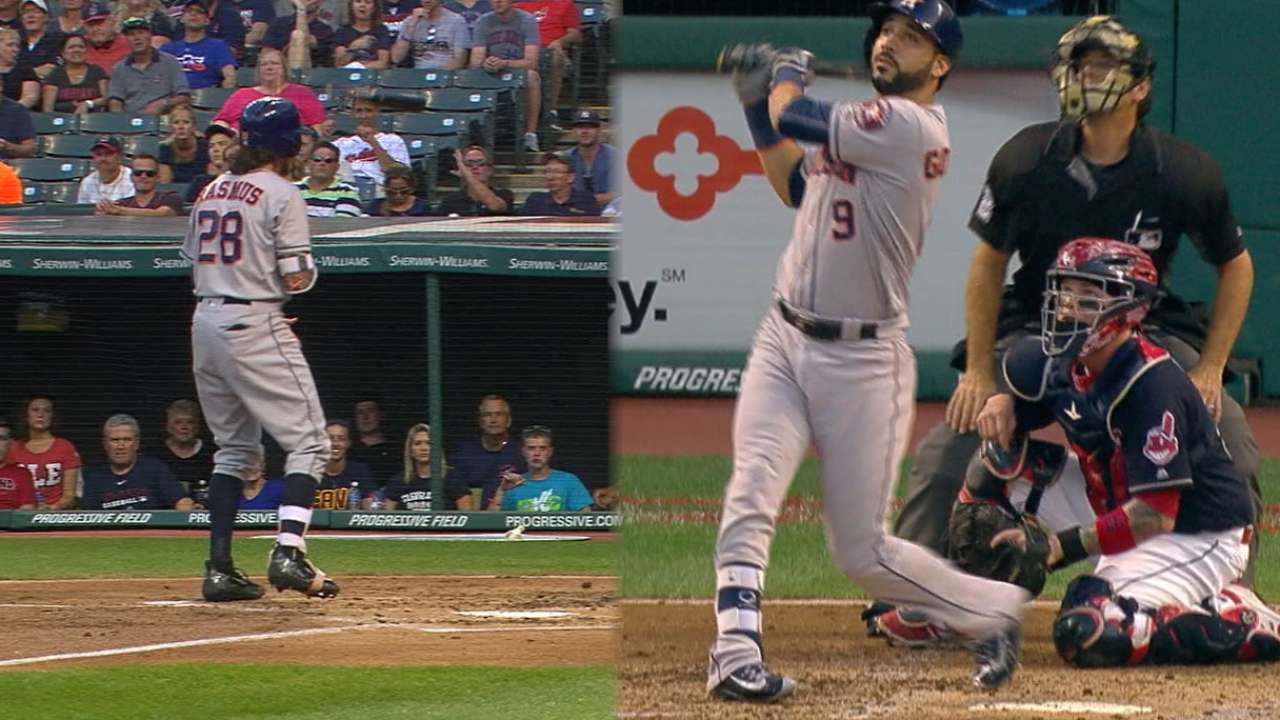 Kluber started ahead of the next batter he faced, Marwin Gonzalez, as well, but he missed on an 0-2 curveball, which Gonzelez deposited into the right-field seats. Kluber had not allowed a home run on an 0-2 count to 193 consecutive batters, representing the longest such run among Major League pitchers.
"I threw a bad curve, just one of them," Kluber said. "The one for the homer, obviously, wasn't a good pitch, but I think the walks were the bigger issue."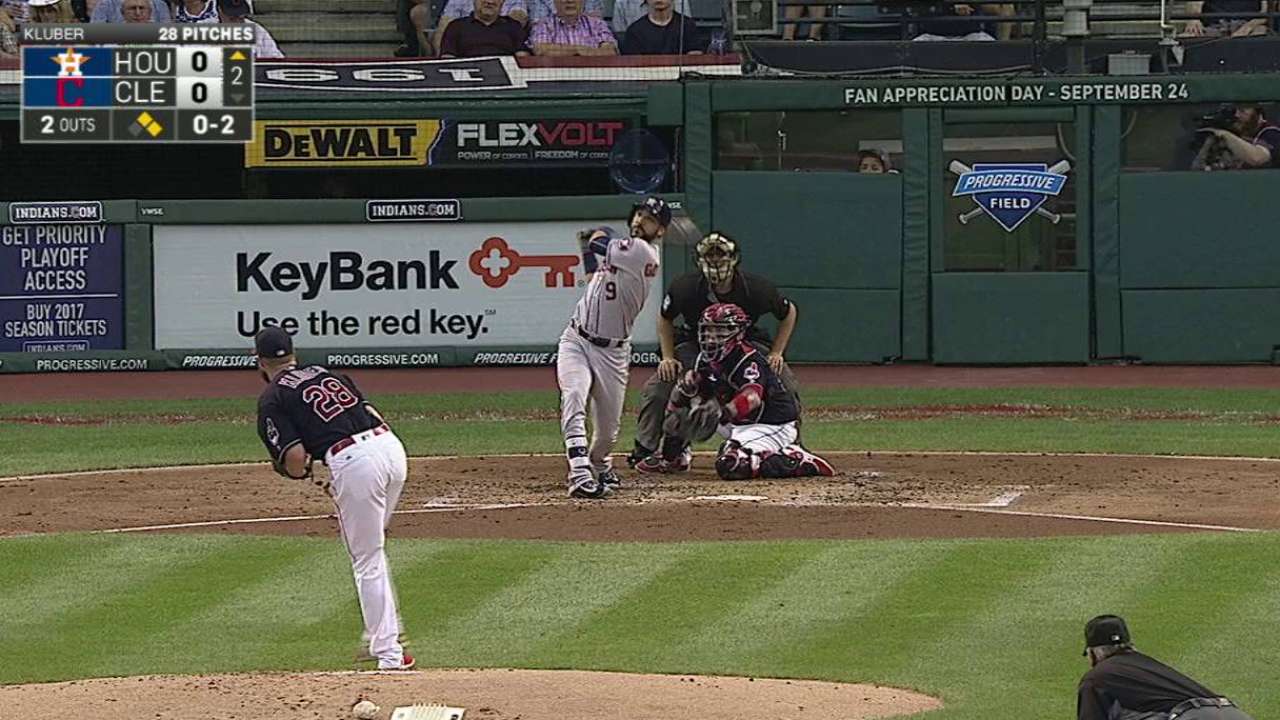 Perez and Kluber regrouped and got out of the inning without further harm. The Astros opened the third with a double by George Springer and Alex Bregman's RBI triple to add a key insurance run.
Kluber then recovered, retiring 16 of the next 17 batters he faced, including 10 in a row to end his outing, but the offense was unable to pick up the slack -- which made the loss sting even more for the Tribe.
"We had a tough time scoring runs today," Perez said. "Same as yesterday, too. The bats will come around. But, man, that was a tough loss."
Shane Jackson is a reporter for MLB.com based in Cleveland. This story was not subject to the approval of Major League Baseball or its clubs.