Rendon stays hot in grand fashion with 1st slam
Durable 3rd baseman continues post-break success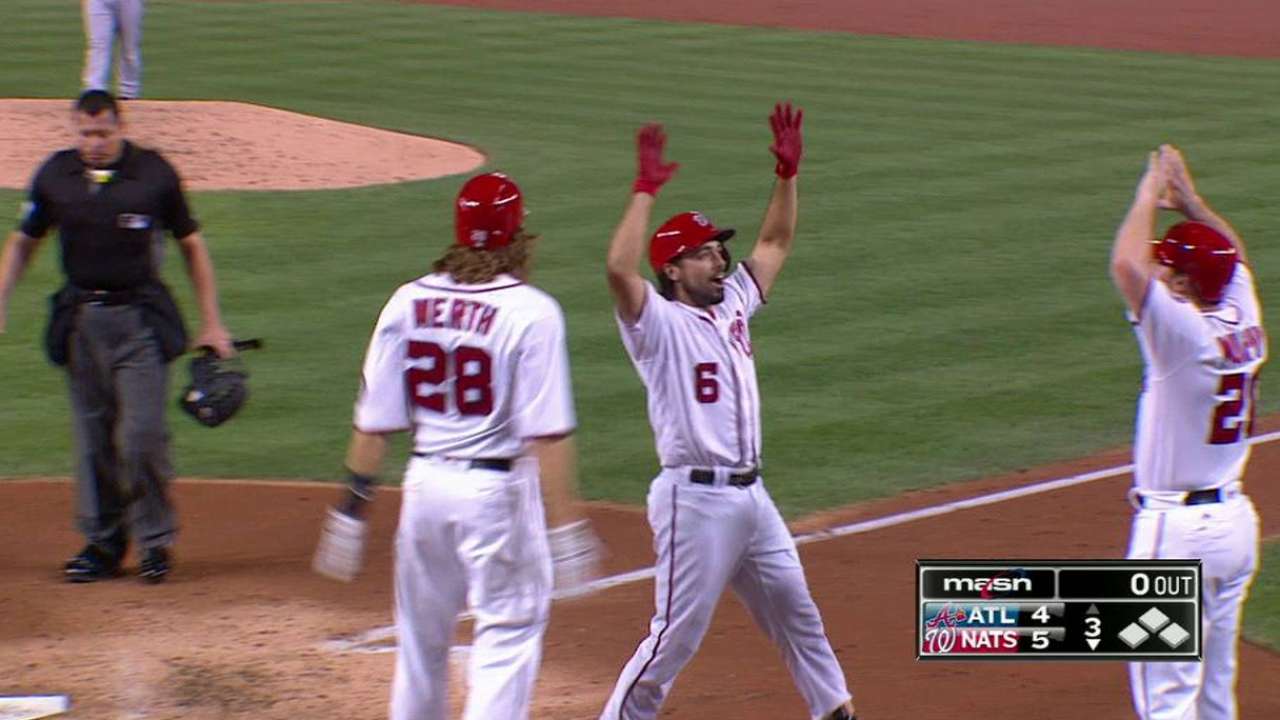 WASHINGTON -- Before the third inning of Tuesday's 9-7 win over the Braves, Anthony Rendon had never hit a grand slam in his professional career. Not in four big league seasons, nor in the Minor League stint that preceded it.
When was the last time the Nationals' third baseman had driven in four runs with one swing?
"Maybe college," Rendon said with a shrug. "I couldn't tell you."
• Grand slams mean 40% off pizza
But with the bases loaded and the Nationals trailing, 4-1, in third inning Tuesday, Rendon launched an 0-2 sinker from Williams Perez into the seats in left field for his first career grand slam.
Rendon said that after falling behind in the count, he was only looking to knock in a run with a fly ball. The three extra RBIs were a bonus.
"Just try to drive the ball," Rendon said of his approach. "Obviously hit the ball to the outfield, try to get a sacrifice fly, get a hit. I'm just trying to put the barrel on the ball."
The home run gave the Nationals their first lead of the game, and though the Braves came back to tie the score the following inning, Rendon's blast prevented what could have been an Atlanta blowout.
The big hit continued an excellent bounceback season for Rendon. After a disappointing 2015 campaign, the third baseman is hitting .275 with 17 home runs, 69 RBIs and an .813 OPS in '16, numbers not too far off his stellar '14 totals (.287, with 21 homers, 83 RBIs and an .824 OPS).
Not only has Rendon been strong at the plate, but he has also excelled at third base, stolen 12 bases and been durable, appearing in 134 of the team's 138 games. Put it all together, and Rendon has been the third-best third baseman in the National League, according to Fangraphs' WAR formula, behind only Kris Bryant and Nolan Arenado.
Rendon has been particularly hot since the All-Star break, hitting .315 with eight home runs in 46 games. Manager Dusty Baker said at the break that he challenged the third baseman to step up his performance, and the results have been impressive.
"He can hit the ball to right field and get the two-out RBI, and he has some power, which he showed tonight," Baker said. "He's been great."
Baker said Rendon will get a day off Wednesday after starting 14 consecutive games and playing every inning of each of them.
As for his first career grand slam, Rendon was characteristically nonchalant. Asked whether the milestone means anything, he replied, "It means four RBIs -- and a win."
Alex Putterman is a reporter for MLB.com based in Washington. This story was not subject to the approval of Major League Baseball or its clubs.