Watson loses late lead after Bucs rally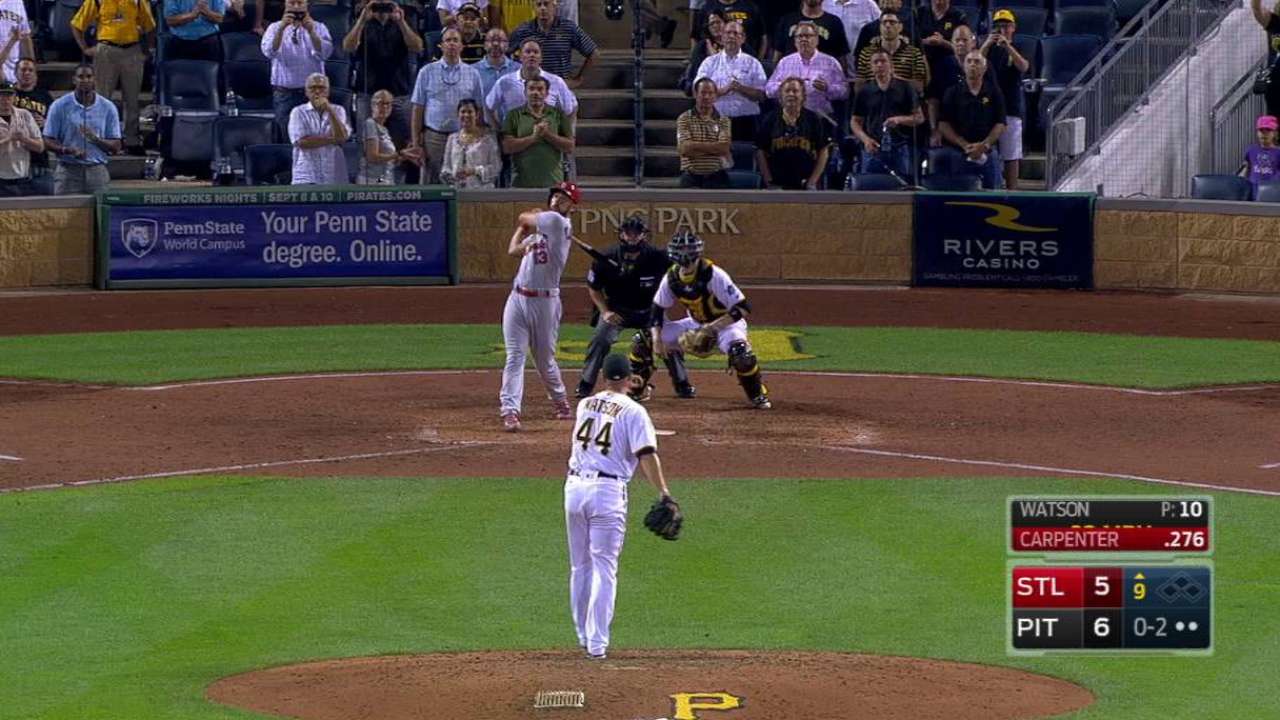 PITTSBURGH -- Each loss only counts as one, even as they continue to pile up on the Pirates. But Tuesday night's defeat may have felt like more -- not only for the gut-punching way it went down, but for how Pittsburgh scratched and clawed back, only to be let down in the ninth inning.
Closer Tony Watson recorded two quick outs followed by two quick strikes against pinch-hitter Matt Carpenter. Then came the Cardinals' barrage, three homers in a four-batter, nine-pitch sequence. By the time it was over, the Pirates were left with the bitter taste of a 9-7 loss, their eighth straight.
"It's tough. A strike away from winning this thing. We're not playing good ball," Watson said. "To be a strike away, then serve up four more runs, it's tough. It's tough to swallow. Get back out there tomorrow and hopefully get the job done."
The Pirates dug their way out of a five-run hole in the middle innings. They masterfully bridged four scoreless innings from starter Ryan Vogelsong to Watson, with Felipe Rivero pitching two of them.
"We battled our butts off," Vogelsong said. "We've been saying that a lot lately, but from what I've seen in the past, teams that keep battling, things start working out for you."
It looked like that might be the case on Tuesday night. The Pirates fell behind right away following the kind of mistake that has marked this stretch of futility, a first-inning defensive miscue by John Jaso that loaded the bases and led to Yadier Molina's grand slam off Vogelsong.
But the Pirates continued to grind away, and by the end of the fifth inning, they were ahead, 6-5. The score held until the ninth, when Watson ran in from the bullpen.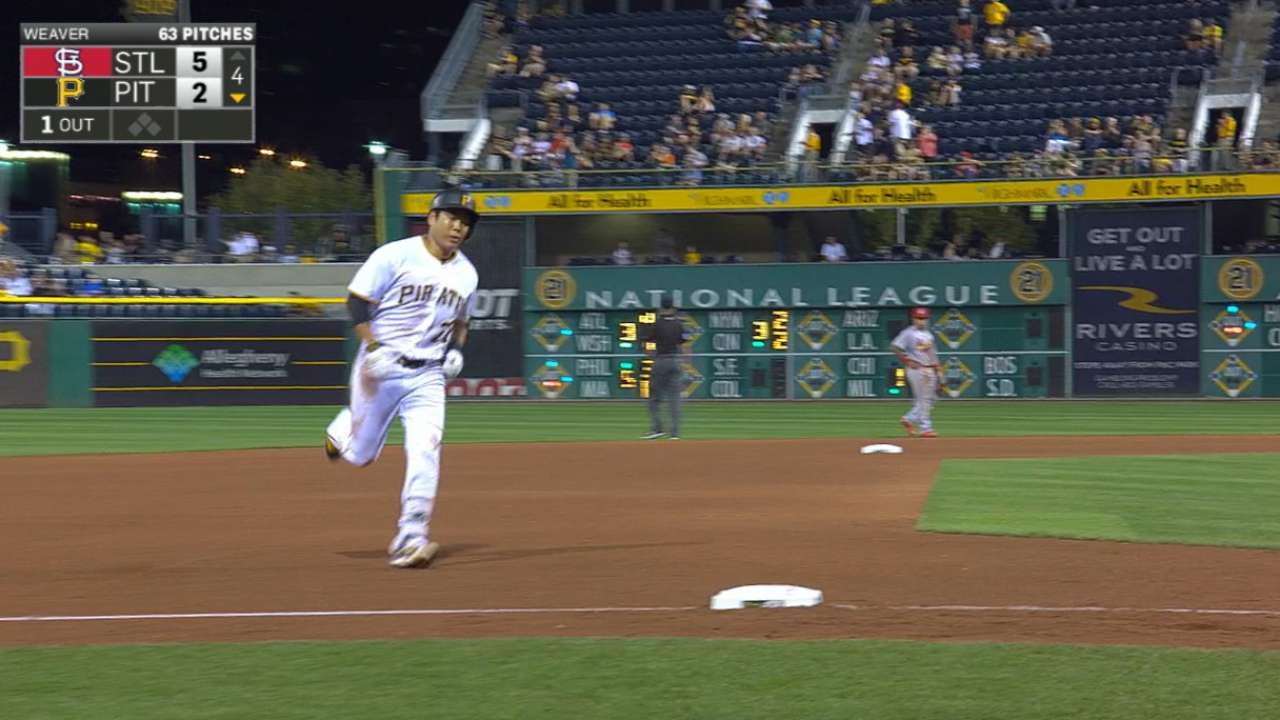 The Pirates felt comfortable trading closer Mark Melancon in July, in part, because they trusted Watson to take over. He had been one of the game's best setup men, but that success hasn't followed him to the ninth inning.
This losing streak began Aug. 29 with Watson giving up a ninth-inning lead at Wrigley Field, and it persisted on Tuesday with another blown save.
"I think he was ready for [the role]," manager Clint Hurdle said. "Obviously right now, the pitch execution has been complicated a little bit."
To that end, Watson left a sinker up in the zone for Carpenter, who crushed it. Molina lashed another high sinker to left for a double. Randal Grichuk blasted a middle-middle sinker to left. Jhonny Peralta crushed a 2-0, down-and-away sinker over the right-center field fence.
Then Hurdle climbed out of the dugout, and Watson slowly walked off the mound. In a mostly quiet Pirates clubhouse, Watson was ready to answer every question. He took all of the blame and acknowledged the reality of the situation.
"Things aren't going well around here right now. We're losing ballgames," Watson said. "We've got to right the ship, get back after it tomorrow and get back to winning ways."
But as the losses add up and time trickles away, how can they do that?
"Keep fighting like we did tonight," Vogelsong said. "That's all you can do."
Adam Berry has covered the Pirates for MLB.com since 2015. Follow him on Twitter at @adamdberry. This story was not subject to the approval of Major League Baseball or its clubs.