Royals' bats erupt to keep pace in WC race
Kendrys' 2nd homer caps big 9th, puts K.C. into double digits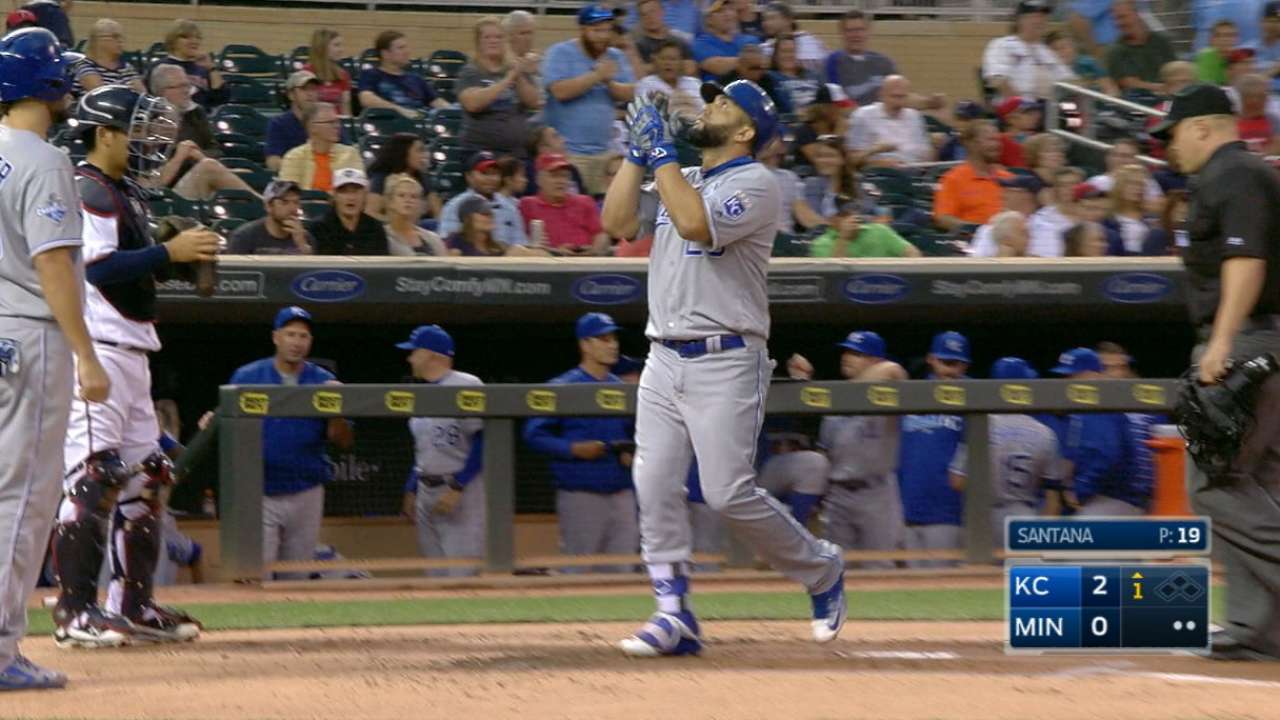 MINNEAPOLIS -- As the saying goes, better late than never.
The Royals' offense, held in check for most of the game by Twins ace Ervin Santana, roared to life against the bullpen for a second consecutive night with a seven-run ninth inning en route to a 10-3 win on Tuesday at Target Field.
Kendrys Morales' second homer of the game capped the decisive ninth that gave the Royals a series win and kept them four games back of the Orioles in the American League Wild Card standings.
The ninth-inning outburst also ensured that the Royals didn't need to use All-Star closer Wade Davis.
"[Morales' second homer] was huge," manager Ned Yost said. "We were trying to keep Wade out of the game. We've really pounded our back-end relievers here in the last two weeks, and every opportunity to give them an extra day is always huge."
The Royals pounced on Twins closer Brandon Kintzler right away in the ninth with back-to-back singles by Whit Merrifield and Alex Gordon, along with a walk by Cheslor Cuthbert to load the bases.
Though Alcides Escobar grounded into a forceout on a drawn-in infield, former Twins catcher Drew Butera delivered the go-ahead RBI single to right in a two-strike count that gave the Royals their first lead since the opening frame. It also chased Kintzler from the ballgame.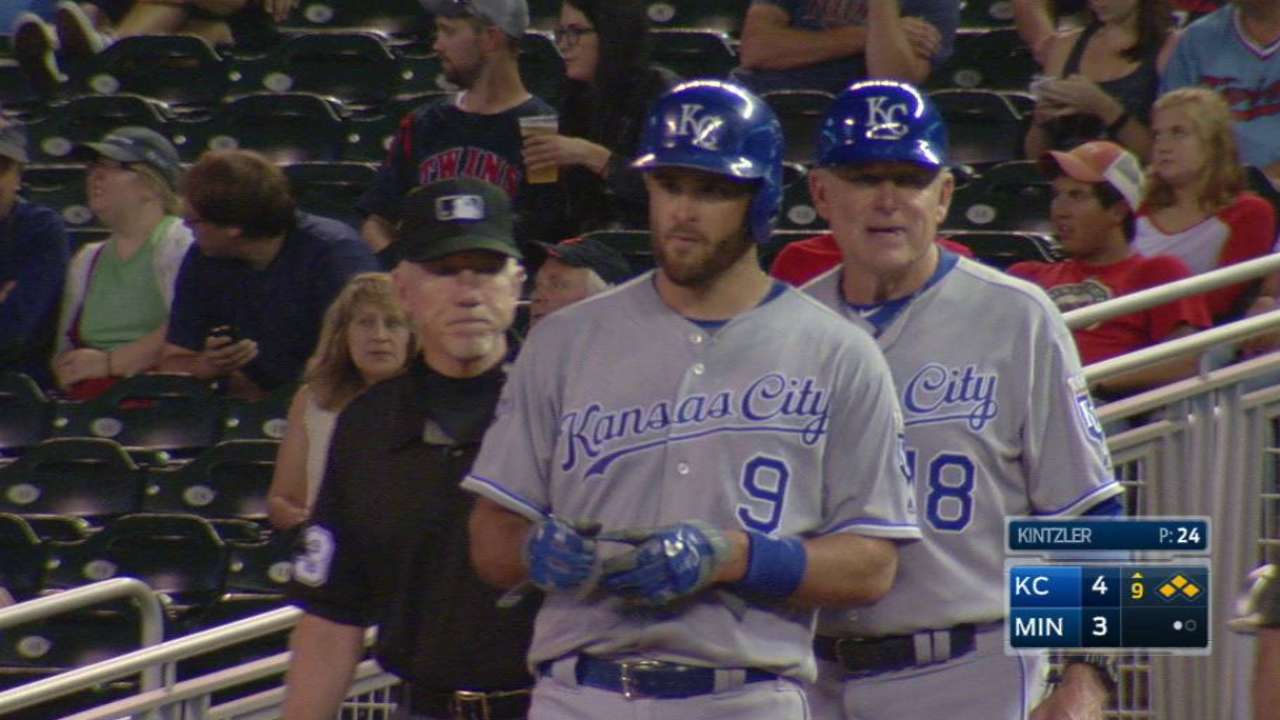 "Great at-bat," Yost said. "He just put the ball in play, hit the ball to right field. Got a pitch that he could hit that way. It was just a good, calm at-bat. He was going to put the ball in play, wasn't going to strike out. He found a hole."
Paulo Orlando and Eric Hosmer added two-out singles to drive in three more runs before Morales dealt the final blow with a three-run homer to left-center that traveled an estimated 418 feet from the plate, according to Statcast™, and pushed the Royals into double digits for the second straight game.
"It's been some time now, where [I'm] starting to feel really, really good," Morales said through an interpreter. "Now, [I'm] really comfortable at the plate and [I'm] making good, hard contact."
Morales hit a two-run homer to open the scoring in the first inning and now has a team-leading 25 jacks after hitting one in Monday's series opener as well. He has homered in four of his last seven games. The 25 blasts are his highest single season total since hitting 34 with the Angels in 2009.
With the late outburst, the Royals reached double-digit runs in back-to-back games for just the second time this season, and the first time since June 17-18 against the Tigers.
Do-Hyoung Park is a reporter for MLB.com based in Minneapolis. This story was not subject to the approval of Major League Baseball or its clubs.